Chris Moorman Climbs Back to the Top of the World Rankings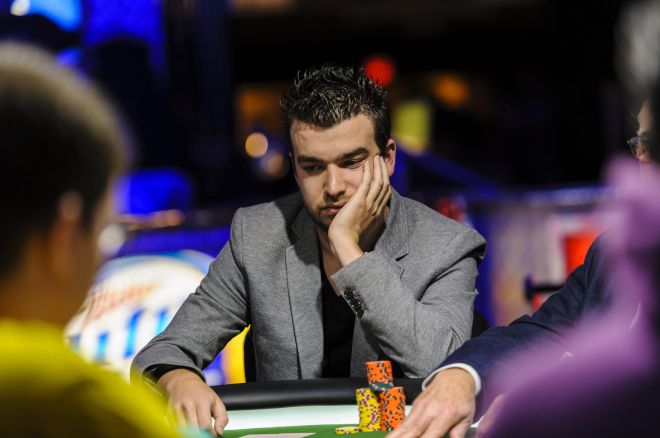 Chris Moorman is back where he belongs, at the top of the PocketFives.com online poker rankings, after a one-week absence. The Essex lad had yet another fantastic week at the virtual felt and now tops both the worldwide rankings and those focussed on the United Kingdom and Ireland.
In the past week, Moorman has reached no fewer than 10 final tables as he keeps up his unbelievable form of the past few months. His biggest results of the past seven days include a third place finish in the PokerStars.fr Sunday High Roller for the equivalent of $10,672; a runner-up finish in the PokerStars $109 No Limit Hold'em Turbo for $12,948 and a second place finish in the $109 No Limit Hold'em rebuy, also at PokerStars, for $7,409. The boy is unstoppable!
Moorman's scintillating form has kept him at the top of the UK & Ireland standings, yet he cannot seem to pull clear of the Jude Ainsworth in second place. Ainsworth, a former Team PokerStars Pro, continues to register some superb results week in, week out to keep tabs on Moorman. Ainsworth tops the Irish rankings, is second in the UK & Ireland combined and is currently sixth in the world.
UK & Ireland Online Poker Tournament Rankings
| Rank | Player | Points |
| --- | --- | --- |
| 1st | Chris "moorman1" Moorman | 7584.99 |
| 2nd | Jude "j.thaddeus" Ainsworth | 7137.71 |
| 3rd | Charlie "chaz_man_chaz" Combes | 6814.28 |
| 4th | Toby "810ofclubs" Lewis | 6650.24 |
| 5th | Sebastian "Seba29072" Saffari | 6475.11 |
| 6th | Rhys "floppinhel" Jones | 6419.96 |
| 7th | Christopher "NigDawG" Brammer | 6108.35 |
| 8th | Jareth "jareth3542" East | 5732.63 |
| 9th | Tomas "luckymo32" Geleziunas | 5608.85 |
| 10th | Jon "EMSBas" Spinks | 5555.77 |
The UK & Ireland top 10 has seen a couple of players shuffled about, one mover being Rhys Jones who climbs one place from seventh to sixth. On Sunday, Jones won the PokerStars $55 No Limit Hold'em $50,000 Gtd for a cool $11,534 and followed that up with a runner-up finish in the PokerStars $55 No Limit Hold'em rebuy for an additional $3,512.
Tomas Geleziunas, playing out of Ireland, returns to the top 10 after a couple of weeks out of the limelight. Geleziunas returns thanks to banking big scores on Monday night when he finished third in the $530 Monday Pot Limit Omaha at PokerStars ($9,750) and by winning the PokerStars.fr Minuit Express Hyper-Turbo for $4,899.
Take on some of the world's best players, in picturesque surroundings at the 2014 PCA Main Event. You could be heading to the Caribbean with a package worth more than $15,000 for free! Find out more here.
Geleziunas' return to the top 10 has forced Bournemouth-based Spaniard Oscar Serradel into 11th place although Serradel may return next week once his victory in the Full Tilt Poker Turbo Hundo registers on his PocketFives.com profile.
Also lurking outside the top 10 are players such as Scott "Aggro Santos" Margereson, a player known by his alias "W4LDO" who we believe to be Burnley's Nick Waldron, Luke "Bit2Easy" Reeves, Andrew "stato_1" Hulme, Ross "RLOG" Loggie and Paul "Paolo69" Foltyn.
Be sure to tune into UK & Ireland PokerNews next week to discover which of our online superstars tops the rankings and which players, if any, have managed to push through into the top 10.
All data courtesy of PocketFives.com
Get all the latest PokerNews updates on your social media outlets. Follow us on Twitter and like us on Facebook now!