Cardiff University Student Ben Foxwell Takes About the Upcoming GUKPT Grand Final and More

Callum Stewart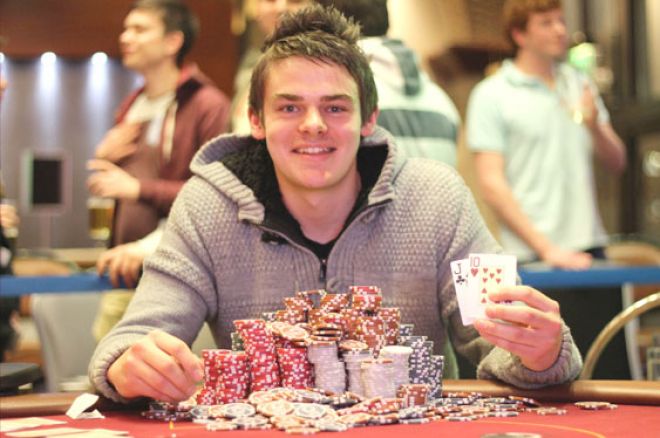 Ahead of the GUKPT Grand Final next week, we took the chance to get to know the students who will be taking on the pros. Ben Foxwell won his seat at the UK Student Poker Championships in March when he beat almost 500 other students to the title. UKSPC organiser and student player Callum Stewart sat down with Foxwell to find out what he had been up to since his superb victory.
You can read more about Foxwell's victory in this article.
Ben Foxwell (BSc) Sport and Exercise Science at Cardiff Met, Year 3
Callum Stewart: Ben, you won the biggest ever UKSPC last year beating almost 500 students. Seven months on, how does it feel?
Ben Foxewell: It still feels pretty good that I can claim to be the UK's student champion! So it all still feels pretty sick! I'm just looking forward to defending the title next year.
Part of your prize was a seat at the GUKPT Grand Final, which starts next week. Are you looking forward to it?
Yeah, massively. It will be great to play against some quality players, where the levels of thinking will be of the highest standard. The field shouldn't be too big though either, and there's a juicy guarantee, so I'm really excited for it!
Have you had many chances to play poker since your victory in the UKSPC?
I haven't played much live, purely due to not having the time or bankroll to play in the bigger, better structured tournaments. I've played online on and off, but not a huge amount. Just been grinding a few tournaments to be honest. Had a number of deep runs but nothing substantial.
You crushed the final table at the UKSPC, how do you think your game will stack up against the more established players next week?
It's always nice to get hands in perfect situations and pretty much always be ahead (with the odd suckout) like at the UKSPC, although I feel that I also played pretty well throughout. There were a few small mistakes that I made in the UKSPC which I'll look to avoid making. But I feel that I have a solid tournament game, and I seem to be able maintain my focus more live than I do online. I'm also prepared to get thinking a few levels deeper than normal too.
Who would the worst player to have on your left on Day 1 and why?
Probably be someone like Jake Cody or Sam Grafton, purely because I know these guys will probably be there, and they're two of the best players to come out of the UK. I mean, Sam has won this event before, and Cody has an EPT, WPT and WSOP title to his name. Hopefully I'll see a few more established pros that I recognise there too. I am looking forward to playing with them as It'll be great to learn off them, but I just hope they aren't sat to my left!
Turning £30 into over £3,500 was an impressive feat. The first prize at the Grand Final last year was over £100,000. That would be some ROI if you went on to take down this year's Grand Final!
I literally don't know what I'd do if I won it. Even a min-cash would be a very nice amount of money for me, although I'll definitely be playing to win! I have a few people backing me, so would obviously pay them their share. Apart from that, have a huge night out with some friends, buy a car, buy my parents something pretty huge like a car too; I'd definitely save a lot of it!
How's the degree going? Are you still working in Tesco?
The degree is going well, thanks. I've put in a lot of work on this year with sorting out my dissertation and other essays, but hopefully it'll all be worth it in the end. I'm striving to come out with a first, so definitely need to put the work in! I'm not currently working at tesco, but have always worked on and off at my local Express in Wotton-Under-Edge. Hopefully they will take me back during the holidays again for a bit of extra cash.
Any big plans for 2014, poker or otherwise?
Well I haven't really planned anything as yet as I need to finish my degree, so I just want to enjoy the summer before settling into getting a job. Apart from that, I will definitely be defending my title at the UK student poker champs; I will probably play the high roller and some side events while I'm there, too. I'll maybe look to satellite online into some GUKPT events, but that all depends on how 2014 goes to be honest. I don't really plan ahead much!
And finally, What is your game plan for next week?
Consistently triple barrel bluff with complete air, and never fold any kind of marginal draw or hand! I'm kidding! On a serious note, it will be table/seat dependent, but early doors I will look to play pretty solid and make use of the fact we will be extremely deepstacked. Use position to my advantage, and just try and take the initiative in favourable spots.
Thanks to Callum Stewart for interviewing Ben Foxwell. Next week, we will talk to Joe Solomon on Warwick University who qualified for the GUKPT Grand Final online. In the meantime, you can follow Callum Stewart on Twitter here.