James Thompson On Top After Flight 2 of the WPT National UK London Main Event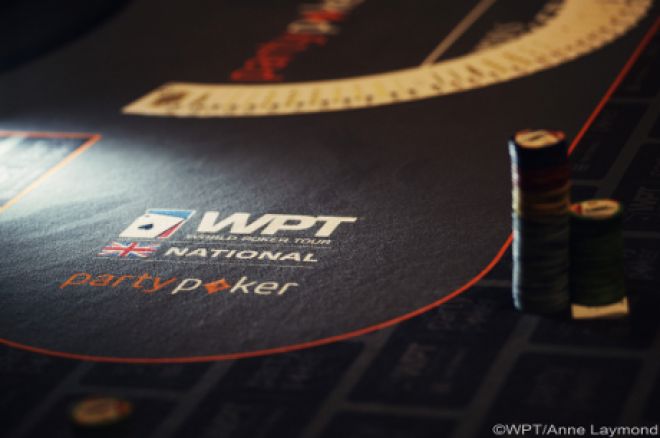 Friday afternoon saw 156 players exchange £200 for 20,000 tournament chips and the chance to write themselves into poker's history books by becoming the winner of the inaugural partypoker World Poker Tour (WPT) National UK London Main Event.
By the time the tournament director called time on Flight 2's proceedings – after eight 30-minute levels – only 72 of the 156 entrants remained and they were all out-chipped by James Thompson and his 162,500 stack. However, the biggest story of the day was of Catalin Cesuc buying into Flight 2 and finishing second in chips with a stack of 146,900.
Why is that such a big story? Because Cesuc also played on Flight 1 and finished that starting flight with 102,500 precious ceramic discs. This means that Cesuc adds both stacks together and takes 249,400 chips through to Day 2, a figure that could increase if Cesuc plays and progresses from the third and final flight.
Download the all-new partypoker today and qualify for future legs of the WPT National UK tour.
The partypoker blog has informed us that Cesuc's massive stack is not the largest in the tournament because the overall chip leader has 268,000 chips. Ivars Muiznieks played on Flight 1 and it was initially thought he ended the day with chips totalling 26,800. However, it is now apparent that he missed a zero from his chip count and actually bagged up 268,000!
Partypoker WPT National UK London Main Event Flight 2 Top 10 Chip Counts
| Rank | Player | Chips |
| --- | --- | --- |
| 1st | James Thompson | 162,500 |
| 2nd | Catalin Cesuc | 146,900 |
| 3rd | Matas Cimbalan | 119,900 |
| 4th | A.Paltannala | 110,400 |
| 5th | Jorge Barbosa | 101,100 |
| 6th | Damian Turnbull | 99,300 |
| 7th | Arkadiusz Brzozowiec | 98,400 |
| 8th | Daniel Marks | 93,200 |
| 9th | Stuart Nash | 83,300 |
| 10th | Eamonn Gavin | 81,000 |
The total attendance figure stands at 344 with one flight remaining; 145 players have navigated their way through to Day 2 so far. These 344 entries have created a £61,920 prize pool, which suggests that there should be around £100,000 to play for by the time Fight 3 closes for registration.
Stay tuned to UK & Ireland PokerNews as we continue to recap the action from the partypoker WPT National UK London Main Event.
Photo courtesy of the partypoker blog, taken by the excellent Anne Laymond
Get all the latest PokerNews updates on your social media outlets. Follow us on Twitter and like us on Facebook now!