Dusk Till Dawn Launch The £50,000 Guaranteed Big Game Featuring an All-New Format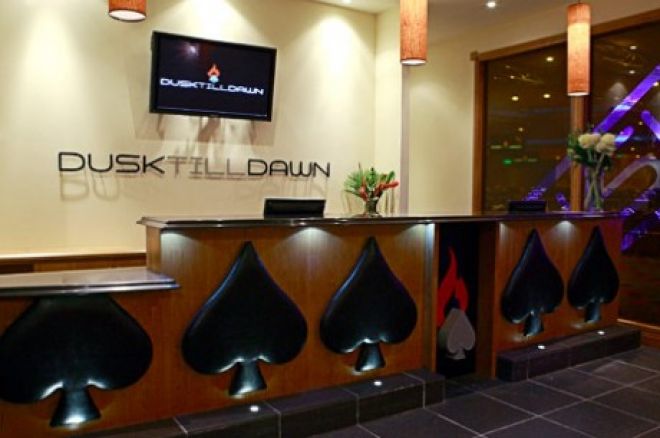 The management team at the Dusk Till Dawn (DTD) poker room in Nottingham has created a brand new tournament format that gets its first outing into the public domain on November 6.
From the outside, the tournament does not look much different from other tournaments that take place, but if you look a little closer the new £50,000 Guaranteed Big Game has some crucial differences that pay attention to.
The Big Game features three starting flights; one starting flight takes place online and the other two at the DTD club. The buy-in for the Day 1's is £100+£10 and for that players receive 20,000 chips and play to a 30-minute clock (12-minutes for the online flight). Nothing new there until you realise that on Day 2 the blinds are rolled back to 500/1000 and players can buy in directly on Day 2 for £500+£50 and receive 100,000 chips.
We had the opportunity to talk about the new format with DTD's Simon Trumper last week and he is excited about this new format. Trumper told PokerNews that this new format takes place over the course of two days and ends on a Saturday, which in itself opens the doors to more players. Trumper believes some players are put off playing in some of DTD's tournament because the final day of them takes place on a Sunday when all the major tournaments take place online and Sundays are traditionally family time for many. As The Big Game finishes on Saturday, professional players are free to grind online on Sundays while players' loved ones will not miss valuable family time either.
The first Big Game takes place on November 6 at DTD's online poker site, with Days 1B and 1C running at the DTD club on November 7 and November 8. Day 2 is scheduled for November 9. According to the DTD site, if the first event attracts 200 x Day 1 entries and 60 Day 2, the tournament will pay 24 places with a min-cash being a hefty £500 and the winner walking away with £15,000.
This new format gives more choice to the players; they can either play a two-day competition for £110 or take part in a one-day tournament for £550. The players buying in for £100 benefit from the Day 2 players boosting the prize pool with their £500 buy-in, while Day 2 players do not have to navigate the minefield that is a Day 1, get to play a one-day tournament that also frees up Sunday.
Personally, I think it will be a big hit with the players and will be well supported on both days. With less than a week until the inaugural £50,000 Big Game, we do not have long to wait to see if that is indeed the case.
Get all the latest PokerNews updates on your social media outlets. Follow us on Twitter and like us on Facebook now!