Chris Moorman Returns to the UK & Ireland Number One Spot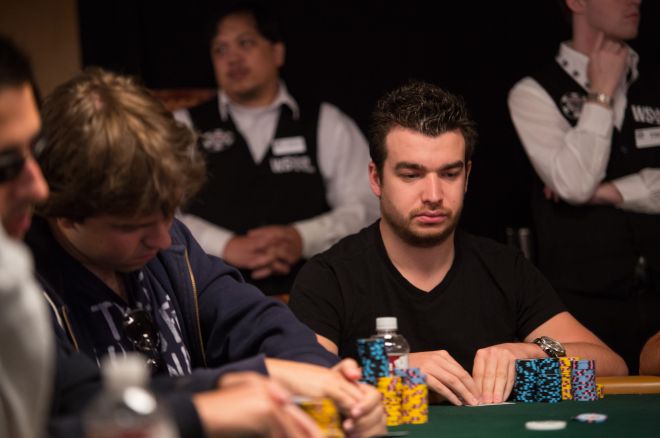 It has been quite the week for Chris Moorman. Not only has the Essex lad surpassed $10,000,000 in online tournament winnings, becoming the first-ever player to do so, Moorman has also returned to the top of the UK & Ireland online rankings and could extend that lead if he complete his 16th Triple Crown.
Moorman passed the $10 million mark last Saturday when he won the $215 No Limit Hold'em $30,000 Guaranteed at the all-new partypoker. That win, the 225th of Moorman's online career, bagged the popular pro $9,651.50 and since then he has won more than $40,000!
One day after winning that now famous tournament at partypoker, Moorman win the $109 No Limit Hold'em Turbo at PokerStars for $5,635.50 and this means that if Moorman wins a tournament on a site other than PokerStars or partypoker before the end of October 5, he will have won 16 Triple Crowns, beating his own record of 15.
Moorman's recent form has seen him reclaim the number one spot in the UK & Ireland rankings and has seen him climb to seventh in the world. Although the European Poker Tour London festival may cut Moorman's online playing time significantly, it is surely only a matter of time before he marches onwards and upwards and take the number one worldwide rank.
Keeping tabs on Moorman at the top of the UK & Ireland rankings are Jude "j.thaddeus" Ainsworth and Toby "810ofclubs" Lewis. Ainsworth pushed through the $5 million online winnings barrier last week and finds himself trailing Moorman by less than 54 points.
Claim your PokerNews exclusive PKR Kickstarter Welcome Package today and get your hands on $300 worth of free gifts!
Lewis, who thanks to winning the Saturday Six-Max at Full Tilt Poker, finds himself slightly more than 16 points behind Ainsworth and within touching distance of Moorman. Like Moorman, UK & Ireland PokerNews would expect both Ainsworth and Lewis to play a bust schedule at EPT London and therefore dramatically reduce their online grinding time.
UK & Ireland Online Poker Rankings
| Rank | Player | Points |
| --- | --- | --- |
| 1st | Chris "moorman1" Moorman | 7100.18 |
| 2nd | Jude "j.thaddeus" Ainsworth | 6946.86 |
| 3rd | Toby "810ofclubs" Lewis | 6930.42 |
| 4th | Sebastian "Seba29072" Saffari | 6746.99 |
| 5th | Christopher "NigDawG" Brammer | 6462.43 |
| 6th | Rhys "floppinhel" Jones | 5999.90 |
| 7th | Charlie "chaz_man_chaz" Combes | 5918.48 |
| 8th | Tomas "luckymo32" Geleziunas | 5544.85 |
| 9th | Jon "EMSBas" Spinks | 5328.05 |
| 10th | Craig "mcc3991" McCorkell | 5318.72 |
Sebastian Saffari's recent Sunday exploits have seen him claim fourth place and he knows he is only one big score away from catapulting into the top three.
Chris Brammer's second place finish in WCOOP Event #54, the $1,050 Pot Limit Omaha Six-Max may have bagged him $30,618 but it did not prevent him from sliding down to fifth place after the latest rankings update.
The rest of the top 10 is almost the same as last week's leader board with Rhys Jones, Charlie Combes, Tomas Geleziunas and Craig McCorkell all remaining in the public eye. There is a return to the top 10 for Jon Spinks whose return to form has seen him finish third in the PokerStars $109 No Limit Hold'em 2x Chance ($7,266), win the same tournament the following night ($14,801), and finish third in that very tournament a couple of nights later!
PokerStars may have to start calling the $109 No Limit Hold'em 2x Chance $30,000 Gtd the Jon Spinks Invitational, like the EPT €2,000 John Eames Invitational events!
There are few points separating the top 10 from the top 15 and with the likes of Martin Malone, Paul Foltyn, Andrew Hulme, and Luke Reeves lurking in those positions anything could happen by the time the rankings are next updated.
Data from PocketFives.com was used to create this article.
Get all the latest PokerNews updates on your social media outlets. Follow us on Twitter and like us on Facebook now!