Become a Skrill VIP and Receive 1% Cashback for 30 Days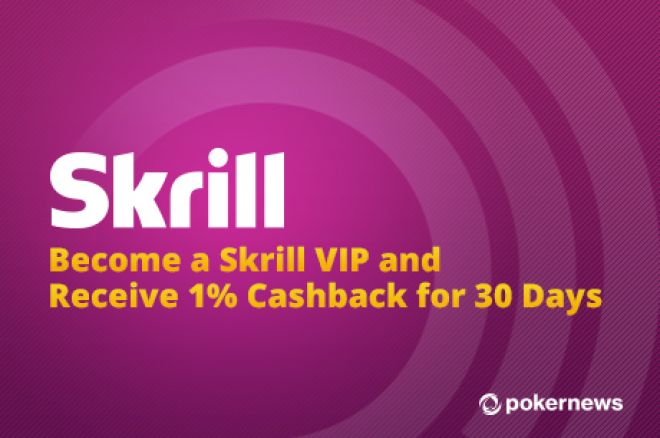 As one of our leading partners, PokerNews recommends Skrill to deposit and withdraw funds at your favorite online gaming site and any other merchant for that matter. For a limited time only, PokerNews readers who become Skrill VIPs can enjoy 1% cashback on all of their transactions for 30 days. Are you interested in getting your hands on some free cash? Keep reading to discover how that can happen.
In order to become a Skrill VIP you must transact €2,000 or more within a 30 day period. Meet this simple requirement and not only will you become a Skrill VIP, but you will also receive 1% cashback for all of your transactions during this time. The more money you transact (deposit and withdraw at online poker sites and other Skrill supported merchants) the more cashback you will receive in your Skrill account.
Log into your Skrill account and apply for Skrill VIP or create a new Skrill account if you do not already have one.
Transact €2,000 or more to Skrill merchants within 30 days.
Get 1% cashback on your transactions from when you apply for Skrill VIP.
A list of sites excluded from this promotion can be found here.
In addition to being able to enjoy 1% cashback, Skrill VIPs can also take advantage of a number of exclusive features such as:
Free money uploads and withdrawals with your Skrill VIP account.
Dedicated account management and Skrill Concierge Service.
Loyalty Club membership, exclusive promotions and top offers.
Access to the extensive Skrill VIP store.
Multi-currency accounts and lower FX rates.
Access to your online funds with a free Skrill Prepaid MasterCard.
Become a Skrill VIP today and reap the rewards almost immediately.
Get all the latest PokerNews updates on your social media outlets. Follow us on Twitter and like us on Facebook now!