Toby Lewis Climbs to Number 3 in the World Rankings; Will he be a Christmas Number 1?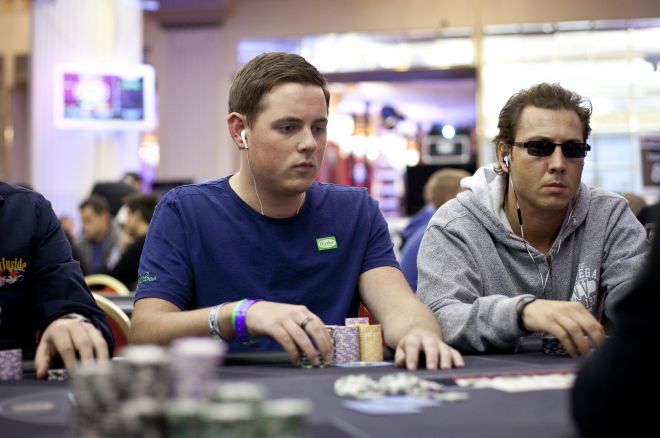 Toby Lewis is going through a purple patch right now and can seemingly do nothing wrong. He won an FTOPS event, then his horse won the European Poker Tour Barcelona Main Event, another of his horses won The Sunday Brawl and Lewis capped off a ridiculous few weeks by winning a World Championship Of Online Poker title.
Lewis' two huge online results have seen him climb to the top of the UK & Ireland poker rankings and soar to number three in the entire world! Back in 2011, Lewis was ranked second in the world but couldn't quite make it to number one. With 2013 rapidly coming to a close, can Lewis top the world rankings by the time Santa Claus is doing his rounds to all of the girls and boys? We think so, although he is going to hit some decent scores on a consistent basis for the next three months.
Thanks in part to those two aforementioned victories, wins that added almost $450,000 to Lewis' bankroll, Lewis now has 7220.16 points on the PocketFives.com sortable rankings. The only players standing between Lewis and that elusive number one spot at the moment are Sweden's "eisenhower1" and Caio "pessagno" Pessagno, but there are some of the world's best players hot on Lewis' heels, such as Ondrej "Vinkyy" Vinklarek, Calvin "cal42688" Anderson and Paul "padjes" Berende.
Also in the top 10 are two of the UK & Ireland's finest in Jude "j.thaddeus" Ainsworth and Christopher "NigDawG" Brammer who currently lie in seventh and tenth place worldwide, and second and third in the UK & Ireland standings.
Lewis may be the man in the headlines right now, but you cannot take your eye off Chris "moorman1" Moorman who continues to crush tournaments for fun. Moorman has already won six tournaments in September, including a record-setting 15th Triple Crown and is rapidly approaching $10,000,000 in online tournament winnings.
UK & Ireland Online Rankings Top 10
| Rank | Player | Points |
| --- | --- | --- |
| 1st | Toby "810ofclubs" Lewis | 7220.16 |
| 2nd | Jude "j.thaddeus" Ainsworth | 6751.28 |
| 3rd | Christopher "NigDawG" Brammer | 6619.36 |
| 4th | Chris "moorman1" Moorman | 6280.88 |
| 5th | Sebastian "Seba29072" Saffari | 6142.74 |
| 6th | Rhys "floppinhel" Jones | 5666.26 |
| 7th | Charlie "chaz_man_chaz" Combes | 5477.89 |
| 8th | James "JamerOK" Cawley | 5332.87 |
| 9th | Craig "mcc3991" McCorkell | 5269.98 |
| 10th | Andrew "stato_1" Hulme | 5146.80 |
Lurking outside the top ten and finding themselves a decent win away from breaking into it are players such as Martin "molliemalone" Malone, Luke "Bit2Easy" Reeves, Mathew "matfrankland" Frankland, Sam "TheSquid" Grafton and a player who only entered his scores into the system a couple of days ago going by the name of "jareth3542." With so many British and Irish players in top form the rankings could change dramatically by next week. Interesting times are upon us.
Data from PocketFives.com was used to create this article.
Get all the latest PokerNews updates on your social media outlets. Follow us on Twitter and like us on Facebook now!