Poker Writer Lee "chingster23" Davy Wins MiniFTOPS Event #9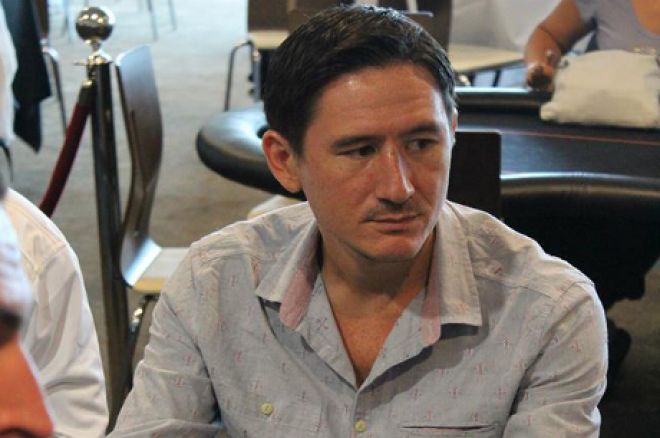 People often ask me if working in the poker industry helps my own game develop and I always answer yes. Why wouldn't it help? Being around and having access to some of the best poker talent in the world has to help you to improve, doesn't it?
One of the first people I ever met in the poker industry was Lee Davy. We both started our live reporting jobs for PokerNews at European Poker Tour Barcelona back in Season 7 and have since somehow managed to continue working in this amazing industry.
Lee and I both like to dabble in the world of online poker and have had varying degrees of success. We've each won a handful of poker tournaments, possibly proving that hanging around poker players helps your game, but now Mr Davy has definitely got one over on me because he has only gone and won a MiniFTOPS event!
Event #9 of the MiniFTOPS was the $22 buy-in Pot Limit 5-Card Omaha Super Stack. The tournament attracted 1,228 players who helped created a $24,560 prize pool. More than 20% of that prize pool is now in the Full Tilt Poker account of Davy after he went all the way and won Event #9 for a cool $5,022.52.
Davy found himself battling it out with two British players at the final table, the Star Wars loving "ObiWanKanobi" being one and Oliver "Olycrawford" Crawford being the other. The former finished in fourth place for $1,743.76 and the latter was Davy's final victim of the tournament as he finished in second place for $3,315.60.
I have just won #MiniFTOPS #9 for $5k. But who cares about the money I just won a MiniFTOPS event!!!!!!!!!!!!!!!!!!!!!!!!!!!

— Lee Davy (@Chingster23)
Davy, owner of Needy Helper, recently featured in our Stay Stacked lifestyle piece where he discussed making positive changes with Lynn Gilmartin. You can check out that video below.
MiniFTOPS Event #10: $33 No Limit Hold'em Rebuy
Event #10 saw a huge crowd turn out, 1530 players to be exact, 1530 players who made 1,642 rebuys and purchased 1,142 add-ons; no wonder the $75,000 guarantee was completely smashed.
Unlike in Event #9, there were no British or Irish winners in this tournament, although "D4LE" and Chris "smurf0" Murphy finished sixth and fifth for scores of $5,565.06 and $7,765.20 respectively.
MiniFTOPS Event #11: $22 No Limit Hold'em Rush Super Turbo
When the field size is 1,839 players deep and only a few percent of those players are from the UK & Ireland, it is always going to be a difficult task to have one of our players win. That said, Ronnie "mrx122" Ballantyne (13/1839 for $202.29) and "mookyman1" (9/1839 for $441.36) came close and should be immensely proud of their performances.
Two more MiniFTOPS events kick off today, the $22 No Limit Irish at 16:00 UK time and the $33 Pot Limit Courchevel at 19:00. Good luck to all UK & Irish players taking part in either of those events, here's to you following in Davy's footsteps.
Get all the latest PokerNews updates on your social media outlets. Follow us on Twitter and like us on Facebook now!