Jude Ainsworth Tops the UK & Ireland Rankings, Chris Moorman Close in Second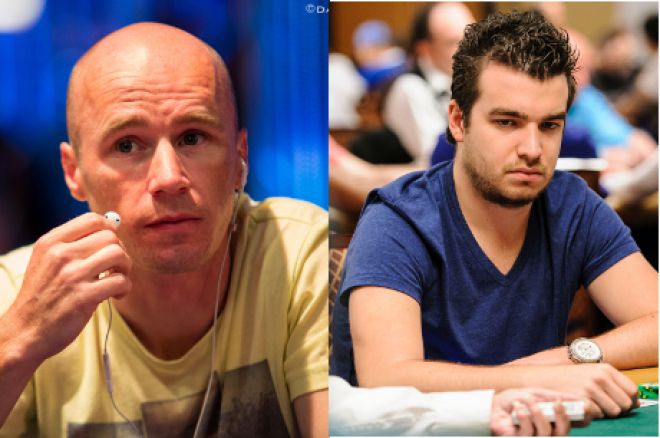 The UK & Ireland online poker tournament rankings are closer than ever before with five players all within touching distance of each other at the top of the leader board.
Our current number one is Ireland's Jude "j.thaddeus" Ainsworth with 6,959.69 points, closely followed by Chris "moorman1" Moorman with 6,901.18. Positions three, four and five are filled by Christopher "NigDawG" Brammer, Toby "810ofclubs" Lewis and Sebastian "BassySaffari" Saffari who are only around 150 points from the top position and only 10 points separate them from each other! We told you the rankings are closer than ever.
Ainsworth climbed back to the number one rank thanks mainly to his third place finish in World Championship Of Online Poker Event #37. That result was worth $74,547 to Ainsworth and saw him awarded 464.46 points in the PocketFives.com rankings. Ainsworth, a former Team PokerStars Pro, had impressive results in the PokerStars.fr Sunday High Roller (8th for $3,600), the Full Tilt Poker Tyrannosaurus Rex (6th for $3,362) and The Hot €30 at PokerStars.fr (1st for $3,456).
Head to PKR where new customers can help themselves to a special Kickstarter Welcome Package.
The eyes of the poker community are fixated on the results of Moorman and have been for the past week thanks to the Essex lad closing in on an unprecedented $10 million in online poker tournament winnings. At time of writing, Moorman is less than $25,000 away from achieving this remarkable goal and if he doesn't cross the $10 million barrier over the weekend we would be stunned.
Third place Brammer is doing his best to keep up with Ainsworth and Moorman and his quest to do so was aided by a runner up finish in the WCOOP 2nd Chance 54 that netted the Southampton-based pro $30,618 and a barrow full of points.
UK & Ireland Online Poker Tournament Rankings
| Rank | Player | Points |
| --- | --- | --- |
| 1st | Jude "j.thaddeus" Ainsworth | 6959.69 |
| 2nd | Chris "moorman1" Moorman | 6901.18 |
| 3rd | Christopher "NigDawG" Brammer | 6756.60 |
| 4th | Toby "810ofclubs" Lewis | 6750.97 |
| 5th | Sebastian "Seba29072" Saffari | 6746.99 |
| 6th | Rhys "floppinhel" Jones | 5823.93 |
| 7th | Charlie "chaz_man_chaz" Combes | 5777.79 |
| 8th | Tomas "luckymo32" Geleziunas | 5595.57 |
| 9th | Craig "mcc3991" McCorkell | 5379.79 |
| 10th | Andrew "stato_1" Hulme | 5370.64 |
Although all eyes are on Moorman now, we think you should be looking out for Saffari, especially in the Sunday Majors. Every Monday morning, we pen an article depicting the results of UK & Ireland players in the biggest Sunday tournaments. For the past fortnight, Saffari's name has cropped up on at least half of a dozen occasions, each time with a big score next to it. While Moorman attracts the attention, Saffari could climb back to the top of the standing by the time next week.
The top 10 has a brand new name in it and although he is actually Lithuanian, he does reside in Dublin and is therefore eligible for our article! Tomas "luckymo32" Geleziunas shot up the rankings thanks to a monster-sized score of $201,390. Geleziunas won a $1,050 seat to WCOOP Event #30 in an $11 rebuy satellite and went on to win the target tournament! An amazing result we are sure you will agree.
Now that Geleziunas has a decent bankroll it will be interesting to see if he continues to play high stakes tournaments or if he returns to his usual $5 to $50 games at PokerStars.
Tune into UK & Ireland PokerNews at the same time next week as we bring you the latest UK & Ireland poker rankings.
Data from PoketFives.com was used to create this article.
Get all the latest PokerNews updates on your social media outlets. Follow us on Twitter and like us on Facebook now!