Michael Clarke Wins the GUKPT Bolton Main Event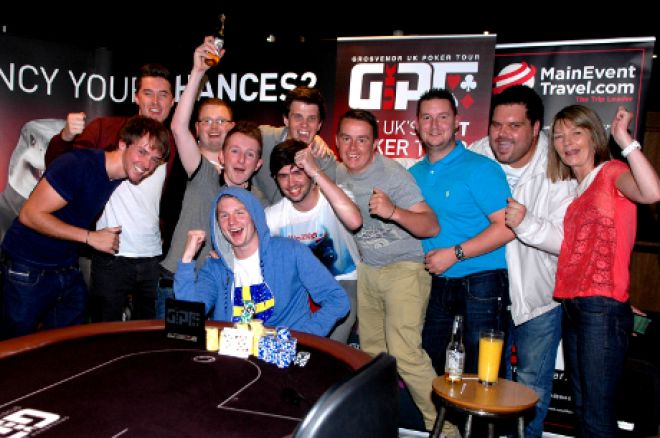 £6,666.67 per day, that is how much Michael Clarke earned over the weekend by playing in the Grosvenor UK Poker Tour Bolton Main Event. Clarke, the tournament's champion, took home £20,000 for three day's work, which is not a bad day rate by anyone's standards.
Clarke started the third and final day's play as the chip leader with 602,500 chips, around 65,000 more than his closest rival, Todd Robinson. When the dust finally settled in the G Casino Bolton, it would be Clarke and Robinson who finished one-two in the standings.
GUKPT Bolton Final Table Seat Draw
| Seat | Player | Chips |
| --- | --- | --- |
| 1 | Todd Robinson | 537,000 |
| 2 | Don Alpert | 212,500 |
| 3 | Mark Dyson | 230,500 |
| 4 | Allan McLean | 202,500 |
| 5 | James Conway | 142,000 |
| 6 | Martin Hogarty | 189,500 |
| 7 | Liam Batey | 191,500 |
| 8 | Kerry O'Connor | 399,000 |
| 9 | Michael Clarke | 602,500 |
The cards were in the air by 14:00 on Sunday, with the blinds and antes starting at 4,000/8,000/1,000a, and within the first 20 minutes, the final table lost its first player. A raise to 16,000 opened the action and Martin Hogarty three-bet all in for more than 100,000 chips. Clarke cold-called and when the initial raiser got out of the way, the cards were flipped onto their backs.
Hogarty revealed


and Clarke a pair of tens for one of tournament poker's many coinflips, a coinflip that Clarke won when the board ran out eight-high without ever hinting at helping Hogarty. With Hogarty on the sidelines, Clarke lead the final eight players with a monster stack of more than 800,000.
Former BMX Pro Sent on His Bike
Less than ten minutes later and the ever-dangerous Liam Batey busted at the hands of Robinson. The former BMX pro Batey, sat in the big blind, called a raise to 16,000 from Robinson and then checked on a



flop. Robinson continued with a 19,000 bet and then called when Batey check-raised to 45,000. The turn was a three, which did not look like an action cards, but that did not stop Batey shipping his 140,000 chips into the middle of the GUKPT felt. Robinson beat him into the pot with a call and it was easy to see why when the cards were turned onto their backs. Although Batey held ace-queen for top pair top kicker, Robinson had flopped a set of nines, leaving Batey drawing dead.
Fifteen more minutes passed and another player lost his stack; the tournament had got off to a blistering start. James Conway looked down at pocket threes and opted to open-ship his 95,000 stack into the middle in an attempt to pick up the rising blinds and antes. But Conway picked up more than the blinds, he picked up a caller in the shape of Robinson and his ace-queen. Robinson paired his queen on the flop to take the lead, and when neither the turn nor the river came to Conway's rescue, it was game over for him.
Although it took another hour before a player lost their chips, the action did not slow down one iota. There were all-in bets, big folds and so much action you would have sworn it was a Hollywood movie and not a £550 buy-in poker tournament taking place. Something had to give eventually, and it did at around 16:30 when Kerry O'Connor lost with ace-king to Robinson's pocket fives with the chips going in preflop. O'Connor exit meant there would not be a female GUKPT champion in Bolton.
O'Connor didn't even have time to make it to the cashier's desk before she was joined by a former table mate. Don Alpert opened to 25,000 and Clarke called in the big blind. The pair saw the dealer spread the



flop in front of them, a flop that Clarke checked on. Alpert set the price to play at 32,000 only to face a check-raise all in from Clarke. After much deliberation, Alpert made a fantastic call with a pair of fours to discover Clarke had been making a move with ace-jack. As is often the case in poker, the Poker Gods did not care for the excellent call and instead rewarded Clarke with a jack on the turn. The

river kept Clarke's hand best and condemned Alpert to a fifth place finish.
Royal Flush!
Four-handed play lasted 90-minutes before Alan McLean and Clarke created the most unlikely of hands. A raise to 33,000 from Clarke was called by McLean, who was in the big blind. Both players checked the arrival of the



flop. The passivity continued on the

turn, too. When the

fell on the river, McLean led for 50,000, Clarke choved and McLean snap-called.
McLean showed


for a straight flush, but was actually crushed by the


of Clarke that had improved to a royal flush! Amazing scenes indeed!
Clarke's run-good continued after the dinner break when he sent Mark Dyson to the rail by hovering up his stack. Robinson opened to 45,000, Dyson three-bet all in to 450,000 and Clarke re-shoved. Robinson folded king-queen face up, which is the exact hand Clarke held. Dyson could only muster


. Neither player improved by the river and Dyson headed off to collect third place money.
Going into heads up, Clarke held a 1,600,000 to 1,200,000 chip lead and it took him around 30 minutes to press home this advantage. Robinson raised to 45,000 and Clarke set the price to play at 90,000. Robinson then committed his entire stack and Clarke called.
It was another coinflip, Clarke being narrowly ahead with his pocket eights against the ace-nine of Robinson. The



flop kept Clarke'e eights ahead, as did the four on the turn. Clarke's fans on the rail were screaming at the tops of their voices for an eight, while Robinson's followers demanded an ace or nine. It was Clarke's supporters who were granted their wish as the river was an eight, improving their hero to an unnecessary set of eights and winning him the title of GUKPT Bolton Champion.
2013 GUKPT Bolton Main Event Final Table Results
| Rank | Player | Prize |
| --- | --- | --- |
| 1st | Michael Clarke | £20,000 |
| 2nd | Todd Robinson | £14,140 |
| 3rd | Mark Dyson | £8,810 |
| 4th | Alan McLean | £5,480 |
| 5th | Don Alpert | £4,330 |
| 6th | Kerry O'Connor | £3,320 |
| 7th | James Conway | £2,660 |
| 8th | Liam Batey | £2,000 |
| 9th | Martin Hogarty | £1,500 |
Lead image courtesy of the GUKPT Live Blog.
Get all the latest PokerNews updates on your social media outlets. Follow us on Twitter and like us on Facebook now!