Legendary Footballer Bryan Robson Talks Poker, Sam Trickett, and More

Michelle Orpe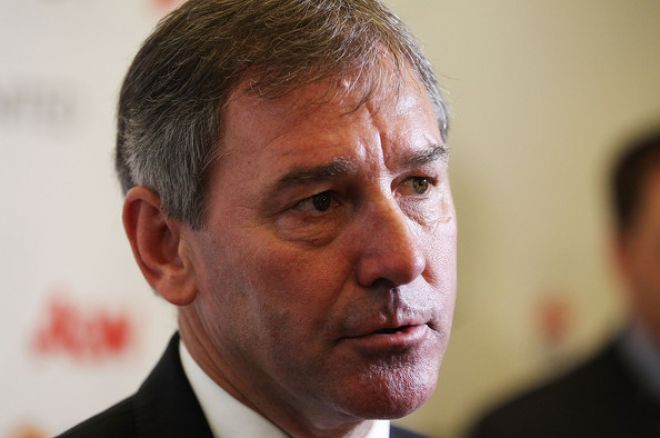 On Sunday, Day 1 of the PartyPoker Road to Old Trafford poker tournament came to a brief halt after four levels when Bryan Robson entered the room. All eyes were on the former Manchester United and England skipper as he was greeted by the PartyPoker team. The man known as "Captain Marvel" then took the microphone and was interviewed by PartyPoker Ambassador Kara Scott.
Robson started his career as a professional footballer in 1972 and moved to Manchester in 1981 where he became the longest serving captain in the club's history. That makes him a perfect ambassador for the club today.
With 90 caps for England, making him the sixth most capped England player of all time, Bryan thoroughly deserves his legend status. PartyPoker was delighted to have him representing Old Trafford at the poker tournament. I was quite happy to momentarily leave my seat in the tournament, where I was enjoying a fleeting few minutes of having more chips than Sam Trickett, to get an interview.
Bryan, you have had an exceptional football career as a player and a manager. How does it feel to be so respected and well thought of by your peers?
I think when you start off in football and you get to the pinnacle of your career and you've played for Manchester United and England, when you look back and people are saying you were hard working and they really respect you as a player, that's all you can ask for. So I am quite fortunate how people speak quite highly of how I played the game and my attitude towards it, so that's really nice.
On top of all your career achievements you have been made an official officer of the British Empire. Do you make people call you Sir?
I received the OBE and I was really pleased it was from the Queen that was a great honour, but no I like everybody to know me as Bryan.
You have done so much in your career. What would you say has been the highlight?
Playing for your country in World Cup Finals is the pinnacle of any footballer's career. Absolutely amazing.
Do you think being an overachiever comes naturally to you or have you had to work very hard at it?
It's a little bit of natural ability, but you have to work very hard at it to make yourself better and push yourself forward.
Who would you say is the best football manager at the moment?
Well now that Alex (Ferguson) has finished, they all have to prove themselves again. I think (Jose) Mourinho has got a fantastic record as a manager.
You have been described as a superb all-rounder with great anticipation, movement, and timing and on and off the ball. That is quite a list of attributes. Do you think they will all come in handy at the felt today?
I think mental strength and keeping your cool and not getting too emotional will help in poker, just like it does in football.
One main difference between poker and football is the element of luck that comes with poker. How do you deal with any bad beats at the table?
Well sometimes in football you need a little bit of luck as well, when you've hit the post and it doesn't go in and bounces out instead and sometimes you get decisions from the referee that can go with you or against you. I think poker is a bit like that and that's why it's quite important how you hold your emotions, whether your hand is a good one or a bad one. I guess there is a bit more luck in poker than football so you have to be more in control.
Have you played poker before?
Yes I played it when I was a football player, but when you become a manager you get way too busy. I haven't played it now for about 20 years. My son plays a lot with his friends around the house so I see it played a lot.
Do you ever join in on the home games?
No, although sometimes I will look over their shoulders to make sure they are not getting carried away.
As a football manager you are used to coming up with good strategies. Have you come up with a good strategy for tomorrow's game of poker?
Win.
Simple as that?
Simple as that.
Do you think your years of immense pressure in football will help you keep your cool at the table?
Yes, I would like to think I wouldn't show the kind of hand I've got, whether it's a good hand or a bad hand. I know there is a lot of staring out that goes on at the poker table, so I will be ready for that.
Yes there is, but maybe your opponents will be intimidated by your celebrity status.
That would be good. I don't mind if they are intimidated by me, as long as it helps me win.
A lot of poker players play under an alias. You have been given the nickname "Captain Marvel." Will that be your poker alias?
I think I will go with Captain Seven rather than Captain Marvel. Seven is my lucky number, even though I'm not superstitious.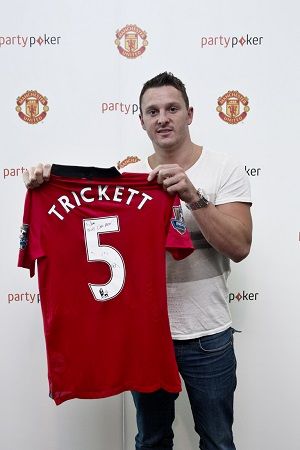 Do you have a favourite poker hand?
The winning one.
Who is your favourite poker player?
It will have to be Sam Trickett as he did so well in the competition last year and he is a big Manchester United fan.
If you could play heads up poker against anyone in the world who would it be and why?
Teddy Sherringham, because he plays a lot and I would love to get one over on him by never playing it and then beating him.
Do you think you can win the tournament?
I'm going to give it my very best shot.
Get all the latest PokerNews updates on your social media outlets. Follow us on Twitter and like us on Facebook now!