Jake Skidmore Wins The Record-Breaking 2013 GUKPT Goliath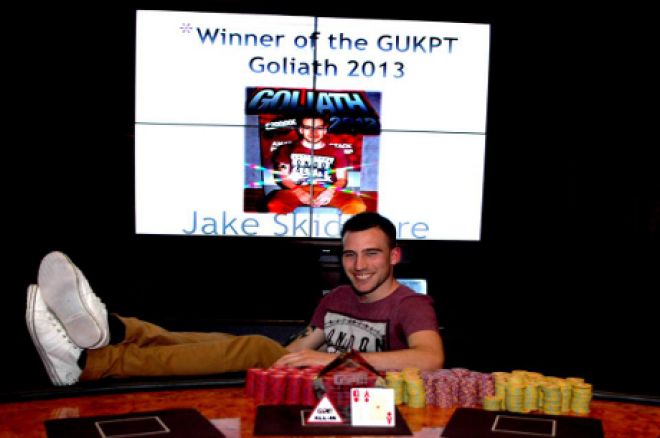 Jake Skidmore is the new Grosvenor UK Poker Tour Goliath Champion after mounting a remarkable comeback on his way to victory. Skidmore started the nine-handed final table as the shortest stack, a far from ideal situation in a quick structured tournament such as this, but Skidmore stuck to his guns, chose his spots well and the rest, as they say, is now history.
2013 GUKPT Goliath Final Table Seat Draw
| Seat | Player | Chips |
| --- | --- | --- |
| 1 | Nishid Pnadipleuman | 5,125,000 |
| 2 | Steven Winstanley | 4,350,000 |
| 3 | Daniel Arbon | 8,660,000 |
| 4 | Luke Vinnicombe | 4,355,000 |
| 5 | Jiri Sladkovsky | 18,025,000 |
| 6 | Robert Trueman | 4,515,000 |
| 7 | Daniel Cullen | 13,380,000 |
| 8 | Kevin Stevens | 2,305,000 |
| 9 | Jake Skidmore | 3,330,000 |
The first elimination of the day occurred after the very first hand of play. Daniel Arbon committed his stack with


on a



flop only to run into the


of Daniel Cullen. The

turn and

river were not Arbon's outs and he exited in ninth place, a finish worth £2,400.
Almost immediately after Arbon's demise, Kevin Stevens busted from the final table. Stevens opened the betting and after a flurry of raises and reraises found himself all in with


against the


of Robert Trueman. By the river the board read





, which was no good for Stevens and it confirmed his bust out.
Meanwhile, Skidmore was trying his luck when Cullen, and his pair of black eights, snapped off his shove with


. Skidmore's bravery was rewarded in the shape of two beautiful looking fives on the flop, improving him to trips. The turn and river failed to alter the path of the hand and Skidmore climbed to around six million chips – a comeback made all the more impressive by the fact he was down to a single big blind on Day 3!
A lull in eliminations was broken when Trueman made an ill-timed move in a battle of the blinds with Jiri Sladkovsky. The action folded to Sladkovsky in the small blind and he put in a raise, and rightly so because he held


. Trueman thought about what the best play for his


was before three-betting all in. Sladkovsky called and when the board ran out





it was game over for Trueman.
Another blind-on-blind clash claimed the tournament life of Nishid Pnadipleuman shortly after taking Trueman's. After the action folded to him in the small blind, Pnadipleuman open-shoved while holding the


. Usually, this would pick up the blinds and antes uncontested, but not on this occasion. The reason that scenario never played out was because Steven Winstanley woke up in the big blind with the dominating


. Winstanley was already ahead when he paired his ace on the river of a





board. Good game, Pnadipleuman.
At this stage, it looked like Sladkovsky and Cullen were running away with the show as they held 49,465,000 of the 67,930,000 (almost 73%) chips in play.
Cullen picked up more chips when Luke Vinnicombe shipped his ever-shrinking stack into the middle of the felt with the lowly


and Cullen called with the dominating


. Neither player's hand improved on the





board, Cullen being the victory by virtue of his queen-kicker.
Four became three with the elimination of Winstanley after he couldn't come from behind to win one of tournament poker's many coinflips. Winstanley's fate was in the hands of


, which needed to hit against the black queens of Sladkovsky. But hit he didn't as the board double paired but lacked an ace or a king. The £11,000 Winstanley won for his fourth plce finish will surely help distract from the pain of falling so late in this amazing tournament.
Cullen then went from hero to zero in a few short hands. First, he was coolered when he got his chips into the middle of a



flop with


only to run into the unlikely


of Skidmore. The turn or river failed to help Cullen and he lost his chip lead to Skidmore.
Shortly after, Cullen was involved in a huge hand where he hero-called off a large percentage of his stack, again to Skidmore. Cullen opened from the button to 800,000 and then called when Skidmore three-bet to 1,600,000. The pair shared a



flop and Skidmore check-called a 1,400,000 bet from the aggressive Cullen. The

saw Skidmore lead for 1,700,000 and Cullen call. The

saw Skidmore continue with his role of aggressor, setting the price to play at 2,100,000. Cullen went deep into the tank, so deep we're surprised he didn't get the bends when he came up for air. Cullen called, but mucked his


when he saw the


in Skidmore's hand.
Skidmore then helped himself the rest of Cullen's stack when the latter open-shoved the rest of his rather short stack from the small blind with what turned out to be


. Skidmore continued to run unbelievably well and awoke with


in the big blind. Skidmore picked up a heart flush draw on the flop, which came in on the river to send the 2013 GUKPT Goliath into its heads up stages.
Heads-up was over almost as quick as it had begun and we already know that Skidmore won, but how did he take this tournament down? Sladkovsky opened to 800,000 only to see Skidmore three-bet to 1,800,000. Sladkovsky four-bet shoved and Skidmore called.
Skidmore:



Sladkovsky:


Skidmore was ahead, a fact that only remained true until the



flop appeared on the felt. The

turn kept Sladkovsky's pair of queens in front, but Skidmore's run-good continued, as the river was the

, improving Sladkovsky to two pair but Skidmore to a Broadway straight!
2013 GUKPT Goliath Final Table Payouts
| Rank | Player | Prize |
| --- | --- | --- |
| 1st | Jake Skidmore | £56,540 |
| 2nd | Jiri Sladkovsky | £31,000 |
| 3rd | Daniel Cullen | £19,000 |
| 4th | Steven Winstanley | £11,000 |
| 5th | Luke Vinnicombe | £8,000 |
| 6th | Nishid Pnadipleuman | £6,100 |
| 7th | Robert Trueman | £4,800 |
| 8th | Kevin Stevens | £3,200 |
| 9th | Daniel Arbon | £2,400 |
Lead image courtesy of the GUKPT Facebook page.
Get all the latest PokerNews updates on your social media outlets. Follow us on Twitter and like us on Facebook now!