A Week in the Life of Full Tilt Poker Ambassador Martins Adeniya - UKIPT Galway

Chad Holloway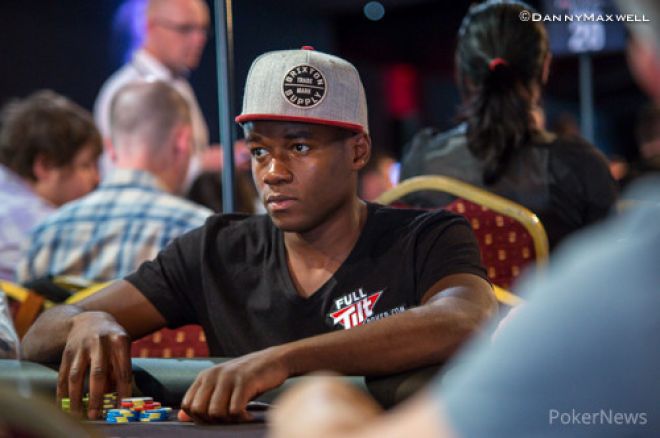 Last month Martins Adeniya was announced as one of four Full Tilt Poker Ambassadors brought in to represent the online room at all stops of the United Kingdom and Ireland Poker Tour (UKIPT). His first assignment was the FTP UKIPT Galway Festival, which has been playing out over the last week on the west coast of Ireland.
Adeniya discovered poker while studying business at the University of Bath and quickly worked his way up from low-stakes home games to multi-tabling $10/$20 no-limit hold'em cash games online. After earning over $180,000 for a third place finish in the FTOPS Main Event, Martins decided to focus 100% on poker.
Since then Adeinya has become a rising star in the poker world with $487,965 in career earnings dating to 2009. Among his notable accomplishments are a seventh-place finish in the 2011 EPT/UKIPT London Main Event for $134,964; 13th in the 2010 World Series of Poker $25,000 No Limit Hold'em – Six Handed for $58,699; ninth in the 2010 WSOP $2,500 No Limit Hold'em – Six Handed for $40,547; second in a 2010 Venetian Deep Stack $500 No Limit Hold'em for $28,265; and 474th in the 2009 WSOP Main Event for $25,027. The only win thus far on Adeniya's résumé came in 2012 in the £500 London Super Stack Series – High Roller for $16,899, though he's sure to add more in the near future.
The PokerNews Live Reporting Team, who will be documenting Adeniya's exploits both on and off the felt in the FTP UKIPT Galway blog, recently caught up with the Londoner in Ireland to see what's kept him busy over the last week.
PokerNews: You've been in Galway for a week and a half now. What's it been like?
Adeniya: It's my first time here and it's a great city. The weather has not been great this week, but we actually made it down to the races on one of the days. Had a few bets. It was pretty cool actually. All the Ambassadors went down and it was a fun day out.
The Galway Races seem to be extremely popular. Can you describe you experience a little bit?
I've been to the horse races before in Newbury, but it was nothing in comparison to what I've seen here. The stands were packed shoulder to shoulder. All the women were dressed up real nice. It's a good environment. Everyone has a good buzz about them. I actually got right up in front of the stands, which you can actually see your winner run past—if I did have a winner.
What's your impression of the FTP UKIPT Galway Festival venue?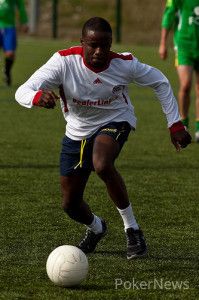 When they told me that they were just building it from scratch I had no idea what to expect, but what I've seen so far outweighs my expectations. The game room with all the drinking and everything is great. Gus Hansen is on the Pacman nonstop, we've been playing pool. There's foosball and a lot of drinking going on in that room.
The tournament room is fine. There's wi-fi everywhere, drinks, food, it's a great environment to play poker in. It's quite relaxing.
We saw a picture of you on the pitch playing football. What's the story behind that?
So we had a UK vs. Ireland heads-up tournament at the start of the week. Jake Cody and I were co-captains for the UK and or team knocked out all of Team Ireland by the quarterfinals. We crushed them in the point standings. We had Gus on our side but he switched over to the Irish side, so it made their score look a bit more respectable in the end.
They decided they wanted a rematch against Team UK in the football. We were happy to take them on, but we got crushed in the football. They had some ringers in, and our players had a big night out the night before, so we were already up against it.
So you've gotten the chance to go out in Galway. What's the nightlife like?
The nightlife has been good actually. I've been to a few restaurants, there are some really cool restaurants in town that aren't all that expensive. I've been to few pubs. They're all very traditional with live music going on. The Irish are just good fun. Everyone is happy and very welcoming. We've had some great nights out here so far. The other night the Ambassadors and Gus were all out playing drinking games in one of the pubs until 3 a.m. even though on the pub door it said they closed at 1 a.m.
Speaking of the FTP Ambassadors, how are you all getting along?
We've all played before against each other before, but we didn't really find out who each other were until our first photo shoot out in Croatia, which was a couple of months back. So we all got to know each other out there. It was really chill, like photos, food and drinks. We're a tight group now, we all know each other quite well.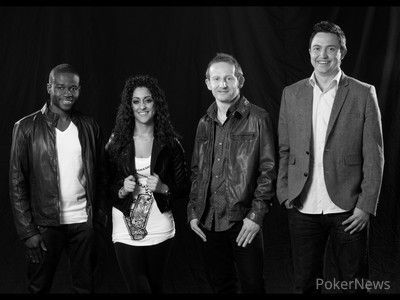 What are your plans for the weekend aside from playing the Main Event?
I've been playing some cash during the week. FTOPS is going on at the moment, so if I do bust I'll play the FTOPS. I'm going out drinking tonight with a few of the boys, and just a bit of relaxing outside of play. Hopefully I'll go deep though.
Adeniya is playing Day 1a of the €1,000 Main Event (€1,000,000 Guarantee) in Galway. The PokerNews Live Reporting Team will be following his progress and posting updates in our live blog all weekend long. Be sure to follow the action in our Live Reporting Section.
Get all the latest PokerNews updates on your social media outlets. Follow us on Twitter and like us on Facebook now!