1979 WSOP Main Event Runner-Up Bobby Hoff Passes Away

Chad Holloway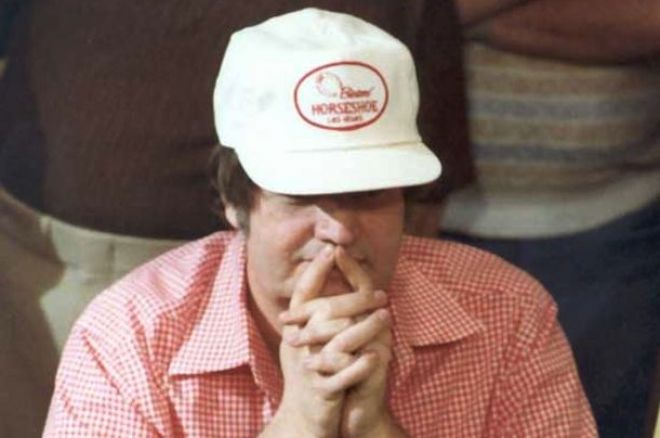 On Sunday, the poker world lost another legend of the game in Bobby Hoff. The 73-year-old pro was best known for his runner-up finish to Hal Fowler in the 1979 World Series of Poker Main Event. Hoff's cause of death was not immediately known.
Hoff, who was known as "The Wizard," was born in Victoria, Texas in 1939 and attended the University of Texas on a gold scholarship in 1958. Three years after graduating, he learned poker in Las Vegas, which is also where he spent several years in the blackjack industry – both as a dealer and as a member of a team. Eventually Hoff joined up with other famed Texas "road gamblers" such as Doyle Brunson and Bryan "Sailor" Roberts.
Al Moe described Hoff's start in poker in one of PokerNews' now antiquated Legends of Poker pieces:
The Horseshoe Casino in downtown Las Vegas had just put in a poker room, and Bobby began playing seriously again. He ran into some of the better players of the time, and eventually his six-figure bankroll was just a faded memory. Fortunately, his best friend, Sailor Roberts, staked him in other poker games, and Hoff began to beat the local pros.
The games were good, if you didn't mind sitting at the table with players like Doyle Brunson, Johnny Moss or Puggy Pearson. Since the early 1960's there had been an exodus of top pros to Las Vegas (ever since Felton "Corky" McCorquodale introduced the game of hold'em there), but W. C. Fields may have had a premonition about the games when he said, "Never give a sucker an even break," and there were plenty of suckers in those games.

Poker author and professional player Bob Ciaffone, calls Bobby Baldwin "brilliant, a pure player, very polished," and while Hoff says he learned a lot about poker from Doyle and Sailor, but he calls Bobby Baldwin the best no-limit player he ever saw. Baldwin was coming off a win in the championship of the 1978 World Series of Poker when the 1979 series started. After three days of play, the field was reduced to just eight players: former champions Johnny Moss and Bobby Baldwin; and challengers Crandall Addington, Hal Fowler, George Huber, Sam Moon, Sam Petrillo, and Bobby Hoff.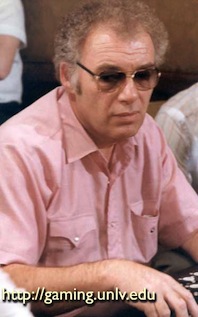 Hoff's journey to the final table was a rocky one. Back then, players started with 10,000 in chips, and he was down to just 1,730 after Day 1. He battled back and eventually found himself at the final table, albeit as the short stack. Not to be deterred, Hoff held on as Baldwin, Petrillo and Addington all hit the rail short of the money. It was at that point that Hoff eliminated Moss, a three-time Main Event winner, when his


got lucky to overcome Moss'


when the

spiked on the river. Moss was felled in fifth place for $27,000.
After the eliminations on Moon (4th - $54,000) and Huber ($81,000), Hoff and Fowler were left to battle it out in heads-up play. Interestingly, Hoff had eliminated Fowler from the Main Event the year before.
"By the time the play was heads-up, Fowler was taking Valiums like candy, and he was certainly relaxed," Moe explained in his Legends of Poker piece. "He and Bobby Hoff fought for over ten hours, the lead changing subtly every hour or so. Two hands stand out in Hoff's mind from the dogfight. The first saw him with a chip-lead of about $150,000 when he got Fowler all-in with a pair of jacks to Hoff's queens. However, a river king paired Fowler's kicker and won him the pot."
Moe concluded: "Later, Hoff made a preflop raise with pocket aces. Fowler called with 7-6 offsuit. The flop was jack-three-five, giving Hoff top pair, and he bet half his stack. It wasn't enough to scare off Fowler, however, and when a gut-shot four hit the turn, he took down the rest of Hoff's chips and won the championship."
Needless to say, the poker community was saddened by the loss of Hoff. Many of the game's greats took to social media to express their condolences:
RIP Bobby Hoff = poker legend. He took several bad beats playing heads-up in 1979 WSOP main losing to 1st amateur to win it - Hal Fowler.

— Mike Sexton (@MikeSexton_WPT)
So sad to hear about Bobby Hoff. He was a true NL artist + always such a pleasure to see at + away from the tables. #RIPwizard

— Erik Seidel (@Erik_Seidel)
Well said: RIP Bobby RT @Erik_Seidel Sad to hear about Bobby Hoff. He was a true NL artist + a pleasure to C at + away from table #RIPwizard

— phil_hellmuth (@phil_hellmuth)
While Hoff never did capture an elusive WSOP gold bracelet, he did managed 11 cashes for $301,583. Hoff, who suffered a stroke in December 2010, spent the latter years of his life in the Los Angeles area.
*Photos courtesy of gaming.unlv.edu.
Get all the latest PokerNews updates on your social media outlets. Follow us on Twitter and like us on Facebook now!