PokerStars Unveils New Security Measure for Player Accounts

Pamela Maldonado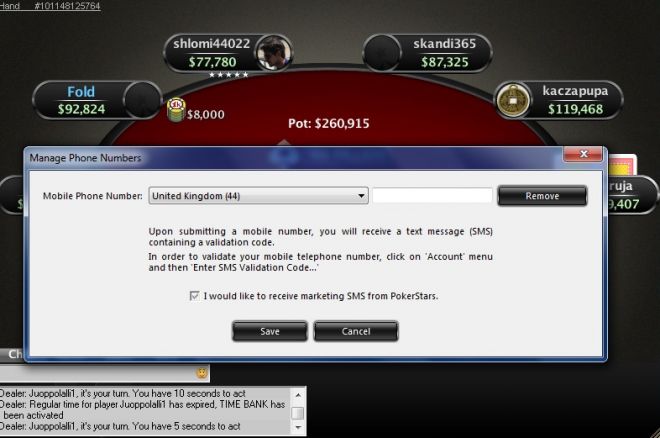 On Monday, PokerStars announced a new security feature designed to protect player accounts. "SMS Validation" was created to reduce the vulnerability of player accounts to unauthorized hackers.
The service is free to all users and can be found in the latest PokerStars software update. It will be available first to accounts registered in specific countries before launched globally.
To use the SMS Validation option, after a player has activated its use in the PokerStars client, they will receive an SMS text message when potential irregularities with the operation of their account are detected by PokerStars systems. If irregularities are detected, the ability to conduct real money transactions, including deposit, cash out, transfer, tournament registration and cash games, will be suspended until the player provided the code number included in the SMS text message.
In order to use the latest security feature, a player must first register a mobile phone number in the PokerStars software to receive SMS messages, and then activate the feature in the "SMS Security Options" section of the PokerStars software.
In addition, PokerStars has started allowing certain accounts the ability to reset their account password by SMS. This will allow players to easily reset their account password and regain access to their PokerStars account.
Michael Josem, Head of Public Relations at PokerStars, said: "PokerStars is once again delivering on the importance of security for our customers. We were the first online poker operator to provide RSA Security Tokens and now the first online poker operator to offer this SMS security mechanism. The service is free to all players and adds an additional security mechanism to help PokerStars player accounts remain safe and secure against online threats."
The RSA Security Token is a piece of hardware issued by PokerStars, in addition to a player's password. The token displays a six-digit code that changes every minute. Once a RSA Security Token is enabled to a player's account, they will be required to enter the RSA Security Passcode at every login.
With more than 50 million registered users at PokerStars, the SMS Validation adds an additional security mechanism to ensure that player accounts remain safe and secure against different online threats.
For more information, visit PokerStars.com.
Don't have a PokerStars account and want to get in on the micro madness? Then download PokerStars via PokerNews, enter the marketing code "UKPOKERNEWS" when you create your account and the bonus code "STARS600" when you make your first deposit and you will be eligible for a 100% match up to $600 first deposit bonus and be able to compete in all future promotions PokerStars and PokerNews hold together!
Get all the latest PokerNews updates on your social media outlets. Follow us on Twitter and like us on Facebook now!