One Year Later: Gaëlle Baumann and Elisabeth Hille Reflect on WSOP Main Event Runs

Pamela Maldonado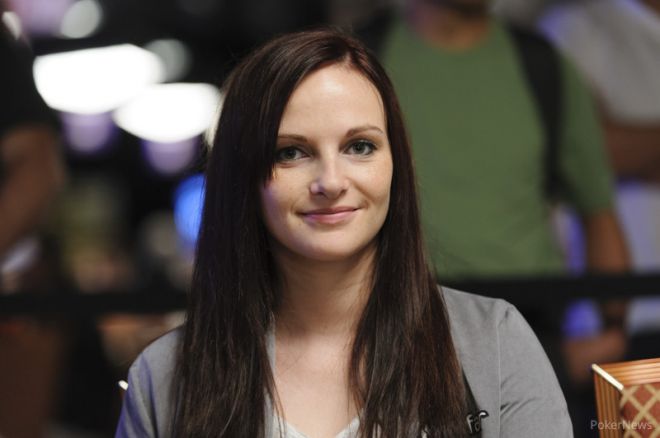 A year ago, there weren't many — if any — who could identify Elisabeth Hille and Gaëlle Baumann in a crowded poker room. Hille, a soft-spoken waitress from Norway at the time, was playing in her very first World Series of Poker. Baumann was an online cash game player from France who had just a handful of live tournament cashes to her credit.
That changed when Hille and Baumann made a historical run during last year's WSOP Main Event. For the first time since 2000, two women were seated at the final two tables of the prestigious tournament, each with a chance to become the first woman to make the final table since Barbara Enright in 1995. As fate would have it, though, Hille and Baumann landed directly on the final table bubble, leaving an all-male final table for the 17th straight year.
Baumann and Hille are back in 2013 to have another go at it, and both are playing Day 2 on Tuesday after advancing through Day 1 over the weekend. Both were kind enough to discuss their memorable journey, one year later, as well as the changes in their life since becoming instant poker stars.
It was around this time last year when Baumann caught the attention of the poker industry. She was the overall chip leader after Day 2a/b of the 2012 Main Event, finishing with 505,800 in chips. But, like a true poker pro, she was taking it one step at a time without letting the big picture cloud her judgment at the table.
"I knew I had the chip lead but I was just wanting to make it to the money first," Baumann told PokerNews on Monday. "I took every day as it came and didn't think about making it to the final table at all."
Meanwhile, Hille slowly plodded along, finishing with 213,000 on Day 3. But she made headlines on Day 4 when she increased her stack to 2,014,000, finishing the as one of the top ten stacks.
"I didn't have a big stack until Day 4," Hille told us. "I was short-stacked and then had some pots that came my way. I then got the hand where I flopped a set of fives. That was a really huge pot that helped. After that hand I was more comfortable and felt I could breathe a little easier."
"I'm not sure if I even thought making the final table at all," Hille added. "I just thought it was incredible that I was ending well each day."
Both women performed exceptionally well on Day 5; Baumann ended the day in the top 10 with 3,980,000, and Hille in the top 20 with 3,390,000.
"It was so early in the tournament that I didn't once think I could make it that far," said Baumann. "It was the same with the prize money. I had a friend on Day 5 who told me we made it to $100,000 in prize money. I was in shock because I never once looked at the prizes until the end."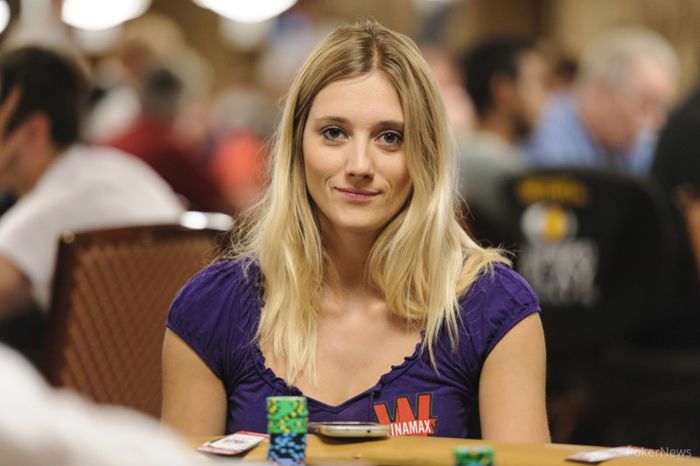 But Day 5 will also be remembered as the day that potentially prevented Baumann reaching the final table. In one of the most controversial hands of the tournament in recent years, Baumann opened for a min-raise from early position and action folded to Andras Koroknai, who moved all in from the small blind. Gavin Smith folded from the big blind, and thinking the action was completed, Koroknai mucked his hand. With Baumann still to act, the floor was called to determine whether Koronkai should be forced to hand his chips over to Baumann and be eliminated from the tournament. However, WSOP Tournament director Jack Effel ruled that Koroknai would only have to hand over a portion of his bet and would keep the rest of his chips. Baumann showed pocket kings, and Koroknai supposedly said he had pocket jacks.
Ironically, Koroknai and Baumann went to battle again on the final table bubble, where Koroknai eliminated Baumann to leave her one spot shy of the October Nine.
"It was really devastating for a bit after the WSOP was over but I'm long over thinking about it," Baumann said about the controversial hand. "It was one of those situations you cannot control. I didn't make a mistake and didn't have a choice on the outcome so you just have to be okay with how it worked out."
The final ruling stirred a lot of debate. Many felt Effel made the right decision, while others felt Koroknai should have been eliminated.
"I'm still indifferent on the ruling," Baumann admitted. "Now, a year later, I think it was fair. Even though it may have been fair it was still tough to live through."
The tournament pressed forward, and Baumann and Hille continued accumulating chips they began to realize the prospect of a life-changing experience.
"When it was Day 6 and I had a decent chip stack I realized that I at least had a shot at making it really deep, to maybe reach the bubble," said Hille. "I knew it would be really tough to actually make the final table though because there were so many great players left in the field."
Both women were still in great shape as Day 7 commenced with 27 players remaining, but it didn't end like they hoped. Hille was the first to go after she three-bet shoved for 3.65 million on the button with


against Koroknai's pocket sevens. Hille was unable to connect with the board and she was sent to the rail to collect a hefty sum of $590,442. While the money helped, she was disappointed in the result.
"It's so hard for me to find something to complain about when I did so well," she said. "Of course though, Baumann will always have that title of the last woman standing that year. Even though I was just behind her it is not a title I will have."
But Baumann's run didn't last much longer. She ran


into Koroknai's


, and was knocked out one spot short of making the final table.
Over the past year, both women have traveled the tournament circuit in search of a title. Hille has cashed in five events, with her deepest run an eighth-place finish for nearly $4,000 in a €500 buy-in tournament at the 2012 Betfair Poker Live series. Hille is now a sponsored pro by Betfair, having sealed an endorsement deal with with online poker room during last year's Main Event.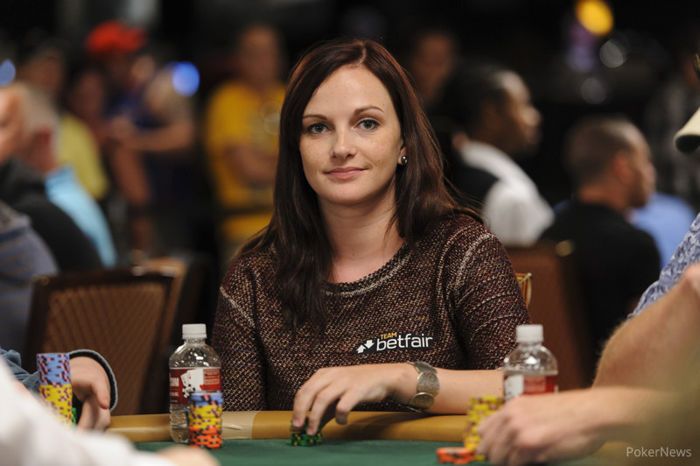 On life after the 2012 Main Event, Hille said, "Obviously I won a large amount of money so after that the opportunity to not work so much came up and instead play a lot more poker. I've been playing more online and started traveling once a month to different tournaments."
Baumann continued her tournament routine as well. Her biggest success since last year's mishap was a $16,527 score for an 11th-place at the 2012 European Poker Tour stop in San Remo.
"It was a relief to have made such a deep run because with that prize money I was able to continue traveling the live tournament circuit after," said Baumann, who is sponsored by online poker room Winamax. "It was very nice for my first year of sponsorship to have done so well. Otherwise it hasn't changed much. Now, I play more live and less online."
Now, both ladies are back for the 2013 WSOP Main Event. Things are quite a bit different for them this time around.
"Before the Main Event last year I used to take advantage of the fact that I was a woman because guys typically don't think that women can play poker or we can't play aggressive," Baumann said. "Now it doesn't work anymore."
Baumann reflected on her game over the last year by saying it "hasn't changed much."
"Yesterday I played really tight because I was card dead and the players on the table were playing pretty standard," Baumann told PokerNews on Monday. "There was one player who called every bet. He wasn't folding to anything so you have to really have a hand to be up against a player like that. Hopefully on Day 2 I will have a good table and better cards."
Hille admitted to being nervous at this year's Main Event because she knew "the expectations are there for me to do well." In looking back at least year's event and comparing it to this year, Hille said, "Now everyone recognizes me. People have either seen me or know my name from the reports of me making a deep run."
Both women successfully made it through Day 1 of the 2013 Main Event. Baumann ended with 28,575 in chips, while Hille saw a bit more success with about 50,000 chips to work with going into Day 2 on Tuesday. Be sure to follow their progress in our WSOP Main Event Live Reporting Blog.
Get all the latest PokerNews updates on your social media outlets. Follow us on Twitter and like us on Facebook now!