How are the Octo-Niners, Team Ivey & Team PokerStars Fairing in the 2013 WSOP Main?

Pamela Maldonado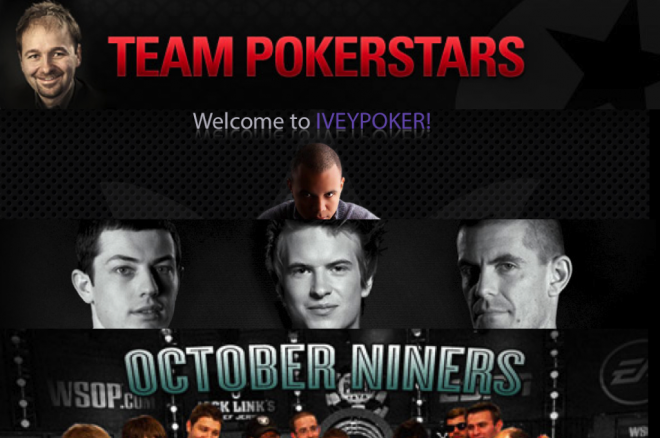 The Main Event of the World Series of Poker is the perfect blend of amateurs and professionals. The largest tournament in the world attracts first-time players, WSOP Circuit grinders, recreational regulars, and all the biggest names in poker. Some of the best players in this year's field were members of Team PokerStars, Full Tilt Poker, Team Ivey and last year's October Nine. With the first three days of the Main Event Championship completed we thought it'd interesting to see how each sector faired in the early days of the industry's grandest spectacle.
Here's a look at pros from each region for a comparison of their success in the Main Event from last year to this year.
The 2012 October Nine
The 2012 Main Event Champion Greg Merson has probably been the most watched player in the Main Event. Everyone wants to see if he can make another deep run and possibly do the unthinkable—win for a second consecutive time. Merson finished Day 1 this year with 81,650 in chips, compared to the 56,000 he had last year. In 2012, he cashed in four WSOP events including first place in the $10,000 No-Limit Hold'em Six-Handed event for his first-ever gold bracelet followed by his Main Event championship victory. This year, Merson hasn't been as fortunate with zero cashes for the 2013 series. Granted, he hasn't played much. That said, he will be sitting with nearly 390,500 going into Day 4.
Runner-up finisher Jesse Sylvia had a pretty successful 2013 tournament series. He scored five cashes with his best being 34th in Event #2: $5,000 No-Limit Hold'em 8-handed. Last year Sylvia pulled only one cash, which was the biggest of his tournament career. He scored over $5 million in earnings after he landed second to Merson in the Championship event. This year, he was one of the first to go after busting early in Day 1b. Although his elimination hand wasn't reported, he did post his exit statement on Twitter:
Out of the main. Lots of tough beats + played just ok. Was really excited for this one too :( Can't complain, had a decent series overall

— Jesse Sylvia (@MrJesseJames888)
Here's how the other seven players of last year's Main Event final table faired this year: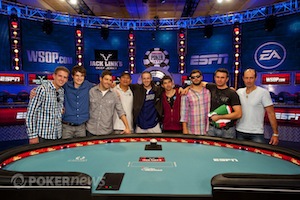 | Player | 2012 Main Event | 2013 Status as of Day 3* |
| --- | --- | --- |
| Jake Balsiger | 3rd Place | Busted Day 2a |
| Russell Thomas | 4th Place | 562,000 |
| Jeremy Ausmus | 5th Place | Busted Day 3 |
| Andras Koroknai | 6th Place | Busted Day 1c |
| Michael Esposito | 7th Place | Busted Day 1c |
| Robert Salaburu | 8th Place | 285,00 |
| Steve Gee | 9th Place | 292,000 |
Team Ivey Poker
Team Ivey Poker is the newest poker squad to have formed over the past year. Ivey began assembling his roster of elite pros in October of last year starting with Patrik Antonius, Jennifer Harman and the aforementioned Greg Merson. His team has since grown to three-dozen players to be part of IveyPoker.com, a site created to provide free, downloadable video instruction to the poker community.
Christian Harder has perhaps had the most success in this year's WSOP Main Event. Harder has cash in three previous championship events including 100th in 2010, 92nd in 2011, 505th in 2012 and 29th 2009 if you include WSOP Europe. He made it through Day 3, though he will have less than 40 big-blinds as the money-bubble approaches.
As far as the namesake man was concerned, Phil Ivey was alive on both Day 1 and 2. After a pretty unsuccessful summer, he ended the first day of the Main with 119,650 chips, and then made a slight improvement at the end of Day 2 with 198,800. His tournament run was looking hopeful when he was chipped-up from 198,800 to 330,000 in Level 11. He was well on his way to emerging as one of the leaders until he ran set into set against Max Steinberg. That was the hand that busted Ivey from the Main Event for a mediocre conclusion to his summer.
Here a look at the Ivey Poker Pros still alive in the 2013 WSOP Main Event: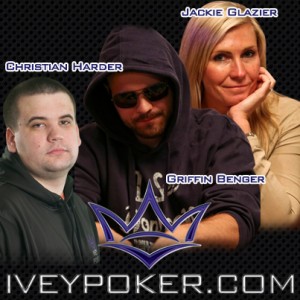 | Player | Status as of Day 3 |
| --- | --- |
| Christian Harder | 345,500 |
| Greg Merson | 390,500 |
| Jonathan Jaffe | 214,000 |
| Ronnie Bardah | 321,500 |
| Allen Kessler | 85,000 |
| Andrew Lichtenberger | 95,000 |
| Jonathan Tamayo | 155,500 |
| Jackie Glazier | 315,000 |
And those that have fallen: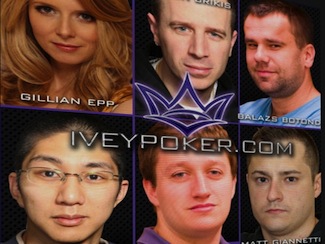 | Player | Status |
| --- | --- |
| Aaron Jones | Busted Day 3 |
| Gillian Epp | Busted Day 3 |
| Mike Leah | Busted Day 1c |
| Jennifer Harman | Busted Day 2c |
| Josh Brikis | Busted Day 2ab |
| Matt Giannetti | Busted Day 2ab |
| Phil Ivey | Busted Day 3 |
| Toby Lewis | Busted Day 2 |
| Cherish Andrews | Busted Day 2c |
| Christina Lindley | Busted Day 3 |
| Dan Smith | Busted Day 2ab |
| James Dempsey | Busted Day 2ab |
| John Eames | Busted Day 3 |
| Patrik Antonius | No attendance |
Team PokerStars
Team PokerStars is comprised of some of the biggest and most competitive players in the industry. Jason Mercier, Vanessa Selbst and Daniel Negreanu alone account for over $35 million earned in career-tournament earnings. However, their star status couldn't help them to advance as all three busted in Day 2c. Last year, Negreanu saw further success finishing in 659th for a $19,227 payday. Two-time bracelet winner Selbst was the chip leader at the end of Day 1 last year when she finished the day with 168,350. This year she slipped further and further into the abyss until she lost a big hand against Stacy Taylor, who eliminated her a short time later.
Mercier also has two WSOP bracelets under his belt, along with 37 WSOP cash for over $2 million in WSOP earnings. None of that could have helped him in the Main Event after he was eliminated early in Day 2 .Mercier was floating around the starting stack most of the day until he finally got it all in. His hand went unreported but he did tweet his defeat on Twitter.
Here a look at the Team PokerStars Pros still alive in the 2013 WSOP Main Event: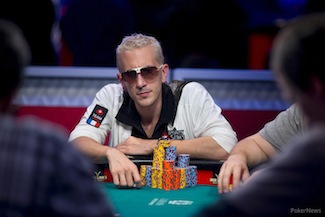 | Player | Status as of Day 3** |
| --- | --- |
| Bertrand Grospellier | 444,000 |
| Jake Cody | 350,000 |
| Humberto Brenes | 132,500 |
| Marcel Luske | 386,000 |
And those that have fallen:
| Player | Status |
| --- | --- |
| Jason Mercer | Busted Day 2c |
| Vanessa Selbst | Busted Day 2c |
| Daniel Negreanu | Busted Day 2c |
| Chris Moneymaker | Busted Day 2ab |
| Live Boeree | Busted Day 3 |
| Jonathan Duhamel | Busted Day 1c |
| Joe Cada | Busted Day 2ab |
| David Williams | Busted Day 2ab |
| Eugene Katchalov | Busted Day 2ab |
| Leo Margets | Busted Day 2ab |
| Lex Veldhuis | Busted Day 1b |
| Johnny Lodden | Busted Day 3ab |
| Toni Judet | Busted Day 2ab |
Full Tilt Poker's The Professionals
There is no comparison with Full Tilt Poker pros compared to the other fields. Tom Dwan and Gus Hansen were barely in attendance, while Viktor "Isildur1" Blom didn't show up for a single WSOP event. Hansen and Dwan both "played" the Main Event but didn't actually show up and play a single hand on Day 1. Instead, their stacks were put into play and blinded off. Hansen's stack was 17,975 at the end of the day, while Dwan finished with 18,075.
Dwan finally made his Main Event appearance on Day 2 but had a late arrival. Beginning the day with a shallow stack, Dwan was eliminated fairly quickly.
Hansen on the other hand, was in his seat to start the day but saw the same result of elimination after crippling his stack with pocket tens.
As for Blom, he opted to skip out on the WSOP all together and stick to what he knows best, online games.
How the Full Tilt Poker Professionals faired: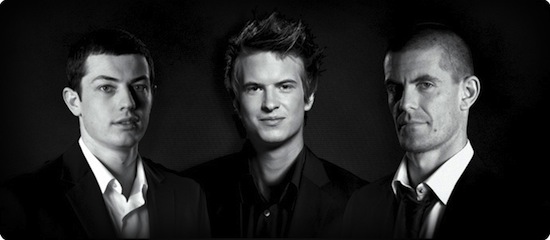 | Player | Status |
| --- | --- |
| Tom Dwan | Busted Day 2c |
| Gus Hansen | Busted Day 2c |
| Viktor Blom | No attendance |
Day 4 will resume on Friday at noon with 666 players remaining. Only 648 spots will be paid so the early levels will be crucial to most players. Follow the PokerNews Live Reporting to follow your favorite players and their progress.
Get all the latest PokerNews updates on your social media outlets. Follow us on Twitter and like us on Facebook now!