Daniel Cates Challenges Ben Grundy to Heads-Up For Rolls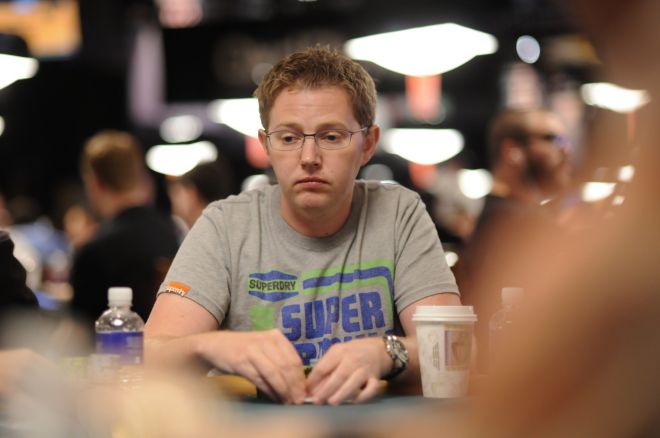 A thread on the Two Plus Two forum that was discussing multi-accounting in the high stakes online cash games took a bizarre twist when Daniel "Jungleman12" Cates challenged British pro Ben "MilkyBarKid" Grundy to what looks like the classic "heads-up for rolls."
Some of the online poker world's most-respected players stars have been participating in the multi-accounting thread, including Full Tilt Poker Ambassador Tom "durrrr" Dwan, Ben "sauce123" Sulsky, Dani "Ansky" Stern, Thayer "THAY3R" Rasmussen, Gavin "gavz101" Cochrane and the aforementioned Cates and Grundy.
Grundy seemed to anger a number of the thread's readers when he claimed he knows people who have and do multi-account, but refused to name them because he said they "trusted me with the info at the time, so I'm not going to break that trust." One such member who seemed to take an instant dislike was Wladimir "insyder19" Taschner, who wrote:
Grundy, you are such a piece of ****. Are you teaming up with the harrington nerd?

Saying you want action at 10/20+ and nobody will play you is just a lie. Go play Galfond/Sauce/Isil/Ben, there are for sure more who are willing to play you. What you want to do is get action from WEAKER player who will not play you, rightly so.

It is so funny and I can't stop laughing about how guys like you are calling out every bumhunter but then out of sudden start to pussy out of matches where you quickly drop a ton or notice there is no edge.

Didn't you post here a while ago saying there is no point playing the durrrrr challenge for you because there is much more "less variance" money to be made. Why don't you go play 5/1k vs Isildur HU, he will gamble all day. Not rolled for it probably? Guess why I wouldn't play you at 10/20 but play all day at 1/2?

To you, and to all the serious grinders, its about freaking money. Poker to me is a job, maybe you have nothing else in life to find challenge in. I just play this game to be able to afford all the sports and travel I do. I would offer you a street fight for money but you wouldn't do it, just like I wouldn't play you for serious money. I mean why the **** would I? I get zero satisfaction even if I win.
Several posts later, Cates piped up with:
yo ben grundy, im waiting for you all day you lil bitch. Any stake you want including 5001k
At time of writing, Grundy has yet to reply.
Three years ago, Grundy posted a graph of his online pot-limit Omaha winnings that seemed to show that he had won $7,805,169 in 320,000 hands and had done so relatively variance free considering the how swingy PLO can be. There were many who believed the graph to be fake, but equally as many – if not more – who said the graph was legit.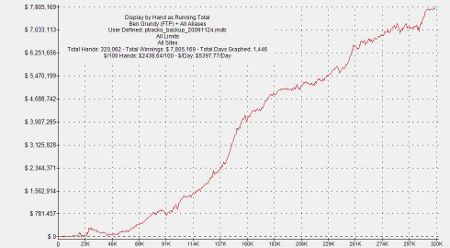 Grundy has not been as active in the high stakes online cash games in recent years, having invested large percentages of his bankroll, and the fact he likes to meticulously game select probably means Grundy will not take up Cates on his offer. That said, UK & Ireland PokerNews will be keeping an eye open for Grundy logging onto PokerStars or Full Tilt Poker in the coming days and weeks, especially if the Jungleman is also logged on!
Get all the latest PokerNews updates on your social media outlets. Follow us on Twitter and like us on Facebook now!