Compete in the Weekly Sky Poker Syndicate Freeroll and Potentially Win Huge Prizes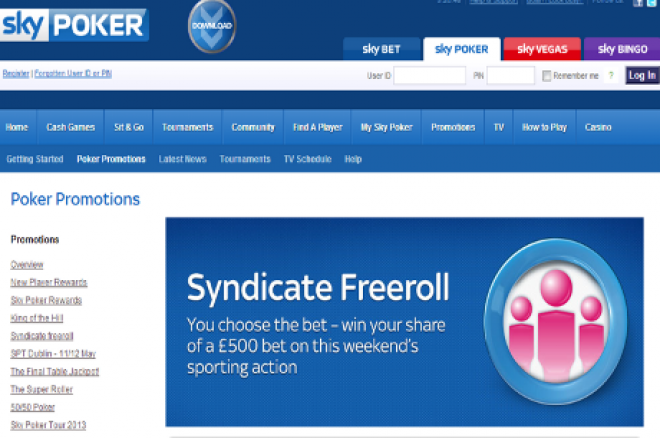 Poker and sports betting go together like beans on toast, like Bonnie and Cher and other such weird and wonderful pairings you can conjure up in your mind's eye. This is definitely the case with Sky Poker who run a fantastic weekly tournament called the Syndicate Freeroll.
Every Thursday morning, three possible bets for the weekend's sporting action are put up in the vibrant Sky Poker forums where players vote for the best they think is the best value. Once the allotted voting time is over, the bet with the most votes is deemed the winner and is bet on to the tune of £500.
The following evening — 18:00 on Friday to be exact – Sky Poker hosts a Syndicate Freeroll where the top 200 players win a share in the £500 bet on the chosen weekend punt! If the bet then wins, those 200 players participate in a timed 60-minute Syndicate Freeroll at 19:00 on Monday where the winnings of the bet are put into the prize pool!
For example, if the best value bet is deemed to be Norwich City to defeat Queens Prk Rangers at even, and the bet came in, the Monday night Syndicate Winners Freeroll would have a prize pool of £500.
Please note: only the winnings are added to the prize pool and not the £500 stake.
Should the bet lose, the 200 winning players from Friday's freeroll are put into a £250 consolation freeroll.
The maximum capacity for each freeroll is 1,000 runners so we would advise you register as soon as you possibly can in order to avoid disappointment.
Take a look at the table below to see some of the previous weeks' bets and results.
| Week | Bet | Odds | Result |
| --- | --- | --- | --- |
| 1 | Ronnie O'Sullivan to win the Snooker World Championship | 5/6 | Winner |
| 2 | Liverpool to beat Fulham away | 20/21 | Winner |
| 3 | Man Utd to beat West Brom away | 4/5 | Loser |
| 4 | Borussia Dortmund to win the Champions League | 19/10 | Loser |
| 5 | Dawn Approach to win the Derby | Evens | Loser |
| 6 | Francine Lewis to place Top 3 in Britain's Got Talent | 4/1 | Loser |
| 7 | Italy to be Mexico | 13/10 | Winner |
| 8 | British Lions (-4pts) to beat Australia | 20/21 | Loser |
| 9 | Hull KR to beat St.Helens | 3/1 | Winner |
| 10 | Al Kazeen to win the Eclipse Stakes | 7/4 | Winner |
In addition to being able to qualify for the Syndicate Freeroll, players who download Sky Poker via UK & Ireland PokerNews will be eligible for a massive 200% match up to £500 first deposit bonus. New customers who have used UK & Ireland PokerNews' links can also claim a free £10 and automatically join Sky Poker's reward scheme where you can exchange your Sky Poker Points for cash!
Get all the latest PokerNews updates on your social media outlets. Follow us on Twitter and like us on Facebook now!