Best of the British Isles: Dave Hulmes of Grassroots Poker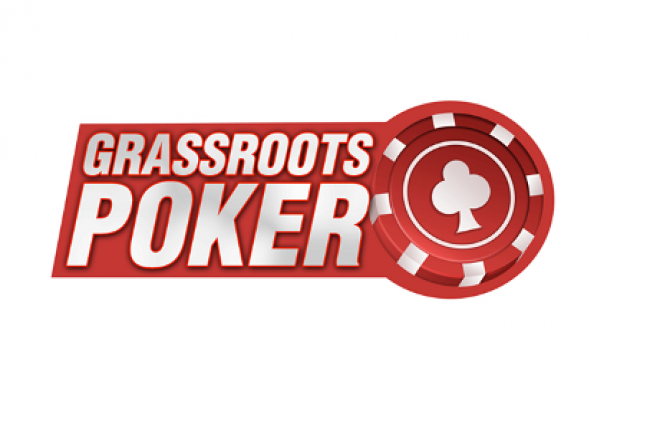 UK & Ireland PokerNews' best of the British Isles feature return today, albeit with a slightly different approach. Previous articles in the series have focussed on high stakes tournament and cash game players, but in this latest edition we speak to Dave Hulmes who is attempting to change the game for recreational players by creating a brand new pub poker league.
Without further ado, let's get this show on the road.
Thanks for taking the time from your busy schedule to speak to us today, Dave. Why don't you introduce yourself to our readers.
My name is Dave Hulmes and I am the owner of Grassroots Poker. I am 39 years old and live in a small town on the outskirts of Manchester called Mossley. I joined the Royal Air Force (RAF) at the age of 17, but returned home to Mossley 12 years later.
It was while serving in the RAF that I played my first ever game of poker whilst in the RAF. I wasn't taken with the game back then, I was more into the drinking and going out with the lads.
You mentioned that you weren't overly into the poker playing, more the social aspect of the game. When did you start to take poker a little more seriously?
After I came out of the RAF, I played a couple of times online, mainly freerolls and play money games, as I didn't have a clue about what I was doing to be honest. After reading an article online about someone who had turned $50 into thousands more, I made my first deposit o $50 and 15 minutes later I was bust!
My cousin, Lee, invited me to a game in a pub not far away one night; a £5 buy-in tournament. Although I sucked at the game, I had a great night and met some brilliant people who have since become good friends. I kept going to this game on a weekly basis and eventually I won one of the tournaments. That was the moment that I got hooked on the game.
From there, I played a few times at various casino's and other local games and found that the more I played, the better I got.
If you had to rate your poker skill level how would you describe yourself?
I rate myself as an OK player, one who is not great but also not totally rubbish.
You have a passion for the game and recently launched Grassroots Poker. Tell our readers about what Grassroots Poker is and why you decided to set it up.
In recent times, I have been involved in a couple of online poker magazines with friends but that never quite worked out. This coincided with me reaching a point where I was personally not enjoying playing that much anymore; I think the reason for that was constantly writing about the game and trying to improve the online sites. I was going to completely quit poker altogether, but for some reason I couldn't.
You don't quit poker, poker quits you! What changed your mind about leaving poker?
I had a chat with a friend of mine Dawn Cooke who gave me some solid advice. She told me to not make a decision until a few days had passed and try to think about what really excites me about the game.
Over the past few years I have played in quite a few events and the experience of playing in UKIPT events or the GSOP game at Old Trafford a few years back were brilliant. That said, I had more fun playing in local venues with local characters and that's when I realised what I wanted to do – set up my own pub poker league.
The reason I set up Grassroots Poker was because I thought that an element of fun was going out of the game of poker and I want to create an environment for complete amateurs to learn the game, have a chance to win into events that in all reality they probably would never get the chance to otherwise. Above all, though, I wanted them to do this whilst having fun.
There are other more established pub poker leagues out there for people to participate in, what makes Grassroots Poker different? How does Grassroots Poker work?
I honestly think that there is a massive hole in the market and that is where Grassroots Poker comes in. Grassroots Poker is not just another "Pub Poker League" I am looking to make Grassroots THE poker community for amateur players. When you play in a pub, you really have to commit for a full season at least one night a week, maybe more, otherwise you do not stand a chance of winning one of the end prizes. Grassroots puts the winner of EVERY game into a special free roll on our sponsor's site 888poker. We also run a live final for the players who do best in the league, however, we are doing this with a slight difference.
We could copy other leagues and host area finals, but I have always enjoyed doing things differently. For example, during Season 1 of Grassroots Poker, our players will be playing for seats into a live satellite at Grosvenor Leeds Merrion with a 1 in 20 chance of winning a package to the World Series of Poker Europe. Our live sat will be free for our qualifiers, but non-members can satellite in via 888poker or by buying in on the day for £100 +£10. This special event will be on the 29th Sept
You are in partnership with 888poker, who are a major company. How did that partnership come about? Are 888poker prepared to add anything to your prize pools? Are you looking for more partnerships with major companies?
I contacted a number of companies whilst trying to get Grassroots off the ground, but when I talked to Gareth Edwards of 888poker, I immediately realised that 888 was the online site that I wanted to go into a partnership with. Everything that they have said they have delivered on and they are an absolute pleasure to deal with. Obviously, being one of the biggest companies in the world, which is nice!
More recently, we have added Loaded Magazine as a partner. This addition will add a bit of spice to our events.
As for 888poker adding to prize pools , I am keeping my cards close to my chest, but what I can say is watch this space! There are some very exciting things in the pipeline.
Is Grassroots Poker ready to launch?
Season 1 starts on the 1st August and runs for eight weeks until September 25. Currently, we are concentrating on the North of England for our venues, although we are currently recruiting venues across the UK all the time. We offer very competitive rates that are favourable to the landlords of establishments. We also allow home games to join in. Ultimately, I want as wide and diverse a poker community as possible.
What can we expect from Grassroots Poker in Season 1 and beyond?
As stated, we are running a live satellite to the WSOPE in October at the end of Season 1 and I am confident that we will be sending a minimum of seven players to Paris with the chance of winning a WSOP bracelet and a potentially life changing sum of money. For Season 2, all I can say about that is join up to Grassroots Poker for more details, I can't give all the details out publically at this time, you never know who might be reading ;-)
So there you have it. There is a new kid on the block in regards to local amateur poker. Be sure to check out Dave Hulmes' Grassroots Poker for more details, you never know you could win a WSOPE package.
Get all the latest PokerNews updates on your social media outlets. Follow us on Twitter and like us on Facebook now!