2013 WSOP Main Event Day 7: JC Tran Leads November Nine; Carlos Mortensen Bubbles

Chad Holloway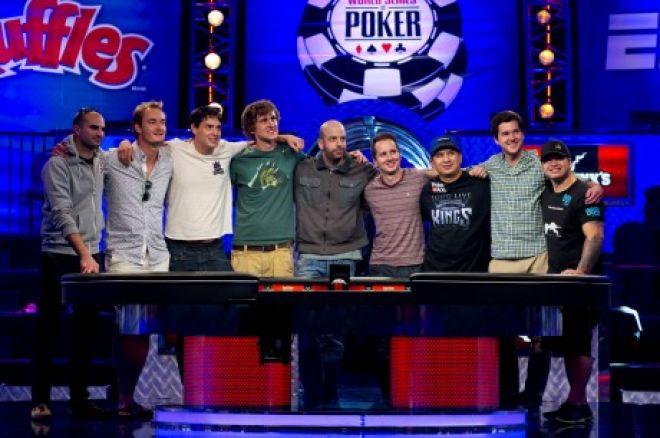 The 2013 World Series of Poker November Nine is set. It took ten full days of play for the field of 6,352 players to reduce itself to the final table, and now just nine players remain in contention for the $8,359,531 first-place prize and the gold bracelet.
The 2013 WSOP November Nine*
| Seat | Player | Country | Chips |
| --- | --- | --- | --- |
| 1 | Sylvain Loosli | France | 19,600,000 |
| 2 | Michiel Brummelhuis | Netherlands | 11,275,000 |
| 3 | Mark Newhouse | USA | 7,350,000 |
| 4 | Ryan Riess | USA | 25,875,000 |
| 5 | Amir Lehavot | Israel | 29,700,000 |
| 6 | Marc McLaughlin | Canada | 26,525,000 |
| 7 | JC Tran | USA | 38,000,000 |
| 8 | David Benefield | USA | 6,375,000 |
| 9 | Jay Farber | USA | 25,975,000 |
*For more information on this year's November Nine click here.
The man leading the pack is two-time WSOP bracelet winner and World Poker Tour World Poker Challenge champ JC Tran, who is the November Nine chip leader with 38 million. It wan an impressive feat considering Tran was down to just 12,500 at the 1,000/2,000 level on Day 3. Fortunately he was able to overcome that setback and thrived on Day 7, eventually taking the chip lead in Level 34 in a hand against Jay Farber, who also made the final table.
"It's been really, really tough," Tran said in an interview with PokerNews. "My wife has been absolutely amazing. She's pregnant at the moment so her body is exhausted. Plus we have a two year old so things can get pretty hectic. She even wakes up to make me breakfast, prepare my coffee, drop me off, and meet me on dinner break. Right now she's not feeling well but still trying to do things for me. I told her right now just rest and relax. Once this is over, it will be all family time for a long time. I might make one stop for that big $10 million guarantee (in Florida) but other than that I'm not going to Asia, not going to Europe, nothing. That will be it."
Tran is joined by the likes of 2011 WSOP Event #7 $10,000 Pot-Limit Hold'em Championship bracelet winner Amir Lehavot; WSOP Circuit regular Ryan Reiss; and online legend and former member of the Ship It Holla Ballas David "Raptor" Benefield, just to name a few.
Day 7 resumed in Level 30 (60,000/120,000/15,000) with just 27 players remaining at three tables. It took just three hands at an outer table for the first elimination of the day to occur, and it happened when Benjamin Pollak opened to 250,000 from the button and Maxx Coleman moved all in from the big blind for roughly 3.8 million. Pollak called off for approximately 2.9 million in chips and the cards were turned up: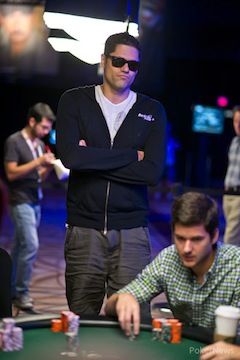 Pollak:



Coleman:


According to the PokerNews Odds Calculator, Pollak had a 66.62% chance of winning the hand, while Coleman would come from behind 32.90% of the time. The



flop gave Coleman a 29.80% chance of winning with any ace, five or running clubs to send Pollak, who saw his chances of survival jump a little to 70.20%, to the rail. The turn of

made Pollak the 84.09% favorite and left Coleman drawing to seven outs, which he'd hit 15.91% of the time. Unfortunately for the Frenchman, the

was one of Coleman's outs. With that, Pollak was eliminated in 27th place for $285,408.
From there, Jorn Walthaus (26th - $285,408) and Jason Mann (25th - $285,408) both hit the rail before Steve Gee joined them a short time later.
Gee, who finished ninth in the 2012 WSOP Main Event, was looking to become the first person to make back-to-back final tables since Dan Harrington did it in 2003 and 2004, though Gee would have been the first to do it since the establishment of the November Nine. Unfortunately history was denied on Hand #44 of the feature table when Gee raised to 250,000 from the small blind and start-of-the-day Anton Morgenstern three-bet to 550,000 from the big blind. Gee then four-bet shoved for 2.93 million and Morgenstern snap-called.
Gee:



Morgenstern:


Gee needed help and found very little from the



flop, which gave Morgenstern a set of eights. The

turn left the 2012 Octo-Niner drawing dead, rendering the

river moot. Gee shook hands with his opponents and then took his leave in 24th place for $285,408.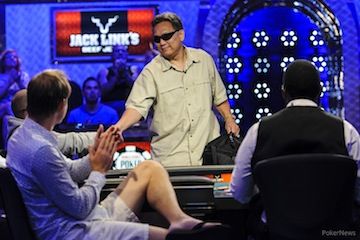 Level 31 (80,000/160,000/20,000) featured just two eliminations in Clement Tripodi (23rd - $285,408), Yevgeniy Timoshenko (22nd - $285,408), but Level 32 (100,000/200,000/30,000) saw a few more in Maxx Coleman (21st - $285,408), Anton Morgenstern (20th Place - $285,408) and James Alexander (19th - $285,408).
The eliminations of both Morgenstern and Alexander came as quite a surprise considering the former was the start-of-the-day chip leader and the latter had nearly double his starting stack up to 17 million in the early goings. Morgenstern had is stack up to nearly 30 million at one point but then tangled with poker pro Mark Newhouse in two big hands. In the first, Newhouse's ace-queen overcame Morgenstern's pocket eights to give him a double, while the other saw Newhouse flop deuces full of aces against his German opponent's trip aces. Considering the second-biggest stack headed into the 2012 October Nine was 29.375 million, Morgenstern was no doubt disappointed to fall before the final two tables when he ran into Fabian Ortiz's pocket aces.
As far Alexander was concerned, his slide began when he doubled two shorter stacks and then made a lose call to do the same to Rep Porter. Lehavot then doubled through Alexander by making quads and and then turned right around and eliminated him.
"It never even occurred to me that I was in the World Series of Poker, the biggest and best tournament around," Alexander told PokerNews' Pamela Maldonado after his elimination. "I was relaxed the entire time and I played to win the entire time. I'm a loose and aggressive player. That's the way I've always played and that's how I'll continue to play. I never once had someone ship all in and I look down and see aces. I had to fight the entire time. It was fun and I know some of the plays I made will look questionable, but like I said I was playing to win. I was picking spots where I could gamble. I'm sure I'll look back and think of the mistakes I made but at the end of the day I am very happy. It was a great run and lots of fun."
After a dinner break, the final two tables returned for Level 33 (120,000/240,000/40,000) and it didn't take long before Jan Nakladal fell in 18th place after running queens into Matthew Reed's aces. Over the next two hours, he was followed out the door by Fabian Ortiz (17th - $357,665) and Chris Lindh (16th - $357,655). After the clock rolled over to Level 34 (150,000/300,000/50,000), the pace picked up a bit as Bruno Kawauti (15th - $451,398), Sergio Castelluccio (14th - $451,398), Alexander Livingston (13th - $451,398) and Rep Porter (12th - $573,204) were all dispatched.
Just two players needed to fall before the final table was set, and both would go in Level 35 with the blinds at 200,000/400,000/50,000. Reed was first to go after his


failed to overcome Tran's


, and that brought about the unofficial final table of ten. In the first 18 hands of ten-handed play, 2001 WSOP Main Event winner Carlos Mortensen dwindled a bit before getting involved with Tran on the nineteenth.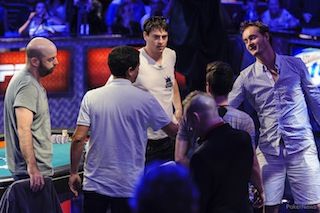 It began when Mortensen raised to 800,000 in the cutoff and Tran called from the big blind. The flop came down



and Tran check-called 800,000 from Mortensen to see the

turn. Tran shoved for about 3.575 million effective and after a few seconds, Mortensen called for his tournament life.
Tran:



Mortensen:


Tran pulled ahead on the turn with a straight, while Mortensen needed a club to survive. The dealer burned one last time and put out the

. It was a blank for Mortensen and he fell in tenth place for $573,204.
With that, the 2013 WSOP November Nine was set.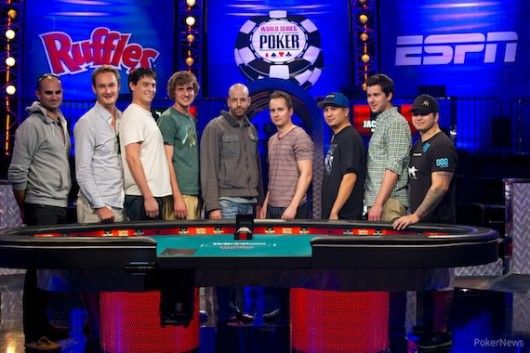 That does it for the PokerNews Live Reporting Team's coverage from the 2013 World Series of Poker, though we'll have plenty of interviews and features with the year's November Nine in the days to come, so be sure to check back then.
What are your thoughts on this year's November Nine? Who is your pick to win? Let us know either on Twitter or in the comments section below. Get all the latest PokerNews updates on your social media outlets. Follow us on Twitter and find us on Facebook!