Want Some Superb Ongoing Poker Promotions? Then Check Out 188BET

PokerNews Staff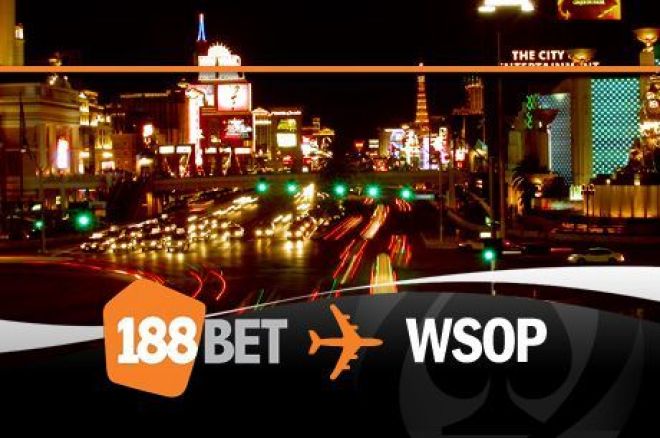 188BET has some fantastic ongoing promotions and features for you to take advantage of. In this article, we take a look as a small selection of them.
Start Your Poker Career With a €500 Freeroll
Do you want to try out 188BET but are not sure about making a real-money deposit? Fear not. 188BET is offering you the chance to play in a freeroll with a €500 prize pool just for registering for a poker account.
The next €500 freeroll takes place at 19:00 BST on June 29 and registration is already open. Visit the €500 poker freeroll page today for all the information you will require.
Can you stand the heat from Blaze Poker?
Blaze Poker is 188BET's offering to the exhilarating world of "fast-fold" poker. Instead of being seated at the same table, Blaze Poker players join a large player pool in which opponents change every hand!
If you get dealt a weak hand such as


and do not want to play it, just fold — even if the action is not yet on you — you will be whisked to a new table and dealt another hand. Don't like your new hand either? Fold again and receive new cards almost instantly!
Those of you who are superb at multitasking will be happy to know it is possible to play multiple Blaze Poker tables simultaneously, meaning you will be able to play many more hands per hour than you would at a standard online poker table. This in turn potentially increases your profits by a substantial margin!
Remain a mystery at the Anonymous Tables
188BET Poker has anonymous tables that are superb if you want to remain unknown. Do you sometimes feel that certain players are following you around and always winning pots? Then sit down at an anonymous table where each player's alias, avatar and profile remains completely secret at all times!
Lose With Quads and Potentially Win Huge!
The revamped 188BET Bad Beat Jackpot could pay you a potentially life-changing sum of money when you lose with four-of-a-kind or better and you have opted into the Bad Beat Jackpot.
Imagine you are sat at a cash game at 188BET and after a brief but intensive raising war you get your money in on the flop with a set and find yourself up against a straight flush draw. The turn improves you to quads, but the river is cruel and completes your opponent's straight flush. Ouch. The pain of losing with such a strong hand is suddenly replaced by joy, as tens of thousands of euros are deposited into your 188BET account because you just triggered the Bad Beat Jackpot!
As you have probably gathered from the above example, the Bad Beat Jackpot is triggered every time you lose with four-of-a-kind or better. All you need to do to have a chance to win a vast sum of cash is opt into the Bad beat Jackpot — which only costs €0.02 per hand — and hope to lose with quads or better! Think of it as an insurance policy if you will; an insurance policy that could pay dividends when it pays out. And at just €0.02 per hand, can you really afford not to be in the Bad Beat Jackpot?
It is not just the loser of the big hand that receives part of the Bad Beat Jackpot. Almost everyone who has opted in will receive a payout. Check out the list below to see who benefits when the BBJ is triggered. Eighty percent of the current jackpot is distributed as follows:
40% is awarded to the losing hand (the bad beat winner)
20% is awarded to the winning hand
10% is awarded to the other players at the table where the jackpot was triggered
10% is awarded to players playing the same stakes and have opted into the bad beat jackpot.
The remaining 20% of the jackpot is used to "seed" — that is start — the next Bad Beat Jackpot.
Check out the Bad Beat Jackpot page for full terms and conditions.
If you wonder about 188BET, let us fill you in. 188BET is a leading Asian sportsbook owned by Cube Limited, which is licensed and regulated in the Isle of Man. Those of you who are fans of English Premiership football will be happy to know 188BET is a partner with Aston Villa, Chelsea, Everton and Liverpool. 188BET is also the principal sponsor of Bolton Wanderers in the Championship.
You may not be familiar with 188BET, but it is a major player in the sports-betting world and is now branching out into online poker, using MPN as its home.
Get all the latest PokerNews updates on your social media outlets. Follow us on Twitter and like us on Facebook now!