Tony G's Visit to Oxford University; an Oxford Student's Tale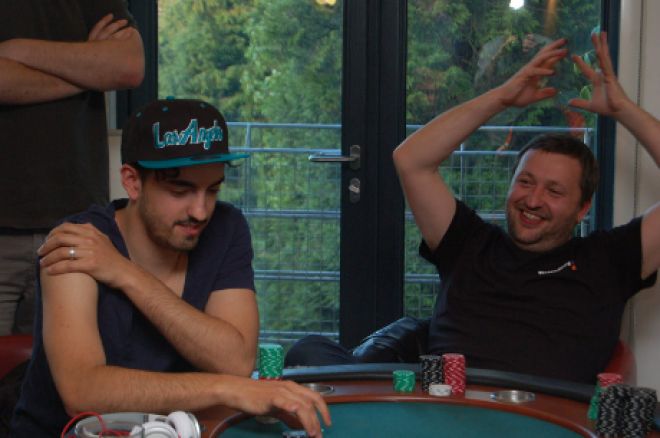 During the recent International Stadiums Poker Tour, the infamous Tony G was invited to Oxford University for dinner and a poker tournament. Here, Oxford University student Eugene Lowrie gives a recap of Tony G's visit.
At Oxford University, people tend not to refer to calendar dates, but the weeks of term. 7th Week of Trinity Term saw the Oxford Cup return to Oxford for its eleventh outing. Some people seem to believe that an education at Oxford University is qualification for many things. While David Cameron does his best to show that running the country is not one of them, Tony G and Nick Wealthall came to the Oxford Cup to find out if Oxonians can make better bets at the poker the table.
The first Oxford Cup is the largest poker tournament in Oxford. Joe Barnard, currently of the International Federation of Poker, organised the first event in 2002 as the president of the Oxford Poker Society and still comes back every year to run it with the current society. Over the years, the tournament has seen Gus Hansen, Phil Hellmuth and Anthony Holden play against students and residents of Oxford.
This year the Cup had two events: one on Tuesday (of 7th) and the main event on Sunday. Both were held in the University Club. In an example of excellent bankroll management, Tony G came to Oxford for a £10 turbo rebuy. The tournament got off to a good start for Tony G with him more than doubling his stack within the first couple of levels. However, his luck turned as the players became eager to get involved in as many hands as possible with him and started calling him down with marginal hands.
As the end of the rebuy period drew near, Tony started shoving every hand. He got the first few through but soon the table made a stand. He lost 6 or 7 on the trot, adding one or two 5,000 chip starting-stacks to several players on the table. He managed a double-up just in time. Unfortunately in ran into the QQs of Joe Barnard after the first break and got knocked out of the tournament.
The evening continued with a cash game for those busted out of the tournament. Texas Holdem was mixed with Omaha Hi/Lo, Stud and many more. Tony's last hand was in a game of Crazy Pineapple. In this game, players start with three hole cards and must discard one after the flop. At the flop, Tony called someone's all-in. Tony had



face-up. He discarded the

after the



flop. The two players chose to run the turn and river twice. Tony's flush held the first time, but improved to a straight flush with


the second. With a plane to catch in just a few hours' time, Tony stood up and declared he couldn't improve on a straight flush. 'It's time for me to leave. If I thought I could end on a better hand, I'd stay. But I can't beat a straight flush.'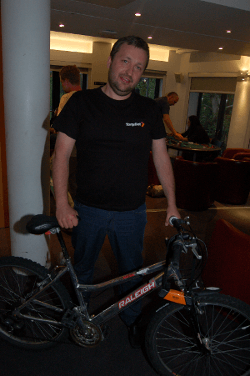 However, Tony G brought more than just his game to Oxford. He borrowed one of Oxford's famous bikes and rode around the venue. As Latoya van der Meer put it: 'I really enjoyed the event with Tony G. I found him to be a really nice guy who really cares about the game and having a good time rather than making lots of money from it. It was fantastic to see how he got on the bike. He really is a good sport!'
Before the game, a few of us got to chance to talk to Tony when he generously bought us all a round in a local pub. We talked not just about poker but about his businesses and his other interests, including what it was like living in the Olympic Village when he was managing the men's Lithuanian basketball team.
Tony G also suggested that next year we start an inter-university student tournament with a match between Oxford and Vilnius universities.
Nick Wealthall came to the main event on Sunday to continue an older university rivalry: that between Oxford and Cambridge. 'As a Cambridge man I was looking forward to showing Oxford's students the benefits of a proper education.' [Wealthall, Nick; Email (12 June 2013)]
This year the Cup swapped the £20 rebuy format of previous years for a £50 triple-chance tournament. Each player started with a stack of 3,000 chips and two tokens. At any point up to the first break, players could trade a token for another 3,000 chips. Many opted to cash in their tokens straight away to capitalise on the higher value each chip has earlier on and bully the rest of the table. Many more opted to hold on to their tokens as insurance for all-ins gone wrong.
The event was an opportunity for students to take part in proper tournament against fellow students and older more experienced players. One student commented: it was my first exposure to serious poker tournament play and was generally played in a very good spirit. Exposure to players much better and more experienced than myself was very rewarding, and in coming in the top 25 I feel I held my own!'
Nick Wealthall had a bounty on his head. In his last hand, a player opened from the cut off and Nick shoved for about 22,000 to pick up about 6,000 from the pot. The all-in was almost equal to the stack of the opener, who thought for a long time but made a solid call with


- not easy for his whole stack. Nick had


and stands by his bluff: 'If he's thinking that hard about


it means he's folding most of the hands he opened'. The player won an online training course with Nick from transformmypoker.com for his call.
The game reached two, and a student of the University of Oxford facing a student of Oxford Brookes. Sam Wai raised all-in and Latoya van der Meer called with


. Sam, the chip leader, had


but hit a night straight away and the five on the turn. In Latoya's words: 'Game over'.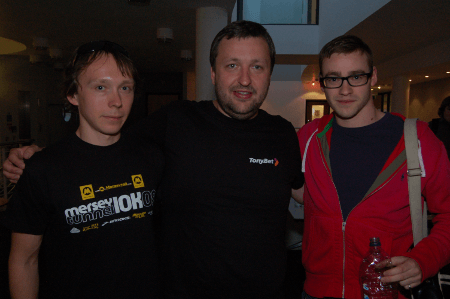 Oxford Cup XI Results
| Rank | Player | Prize |
| --- | --- | --- |
| 1st | Sam Wai | £1,620 |
| 2nd | Latoya van der Meer | £1,026 |
| 3rd | Ashley Deppeler | £716 |
| 4th | Andrew Last | £567 |
| 5th | Kane Thomason | £405 |
| 6th | Cristian Ceocoiu | £297 |
| 7th | Daniel Reeves | £203 |
| 8th | Lee Rutter | £162 |
| 9th | Nicholas Williams | £122 |
| 10th | Richard Adams | £95 |
| 11th | Barry Styles | £95 |
| 12th | Carlos Gerones | £95 |