Sandeep Pulusani Wins First WSOP Bracelet in Event #44; Mercier's Run Ends With Horrific Beat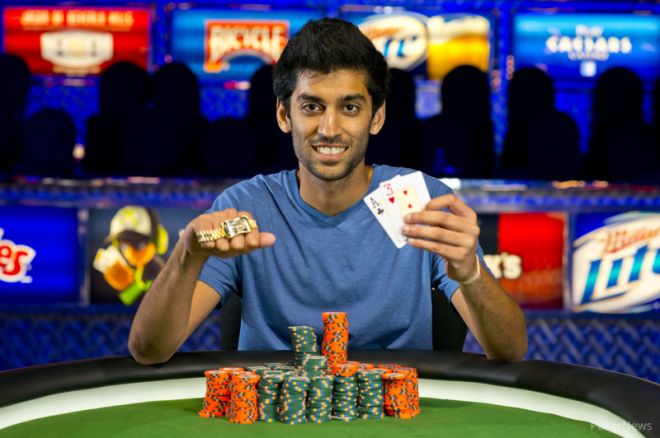 One bracelet was awarded on the 29th Day of the 2013 World Series of Poker. Sandeep Pulusani outlasted over 1,000 players to earn his first career WSOP victory. Across the room, the highest buy-in tournament of the summer got underway, as 166 players entered Event #47: $111,111 One Drop High Rollers No-Limit Hold'em.
The day also saw the beginning of Event #48: $2,500 Limit Hold'em (Six Handed), and two other events returned for Day 2.
Event #44: $3,000 No-Limit Hold'em
Before Wednesday, the biggest cash of Sandeep Pulusani's career was for $38,605, and he'd never made the final table of a WSOP event. Now he not only has a final table experience, but he has a World Series gold bracelet and a first-place prize of $592,684.
Final table results
| Place | Player | Prize |
| --- | --- | --- |
| 1 | Sandeep Pulusani | $592,684 |
| 2 | Niall Farrell | $366,815 |
| 3 | Michael Rocco | $229,500 |
| 4 | Martin Hanowski | $166,579 |
| 5 | Zohair Karim | $122,974 |
| 6 | Mark Teltscher | $92,186 |
| 7 | Nam Le | $70,120 |
| 8 | Pedro Rios | $54,053 |
| 9 | Phillippe Vert | $42,230 |
Twenty-two players out of the starting field of 1,072 survived the first two days. Niall Farrell was the chip leader, followed closely by Michael Rocco, but the headliner was Jason Mercier. Mercier started the day eighth in chips and was in good shape to make his first final table of the 2013 WSOP. It was not to be, however. Mercier, who has a lot of money tied up in bracelet bets this summer, was eliminated in 16th place when his full house lost to a two-outer on the river.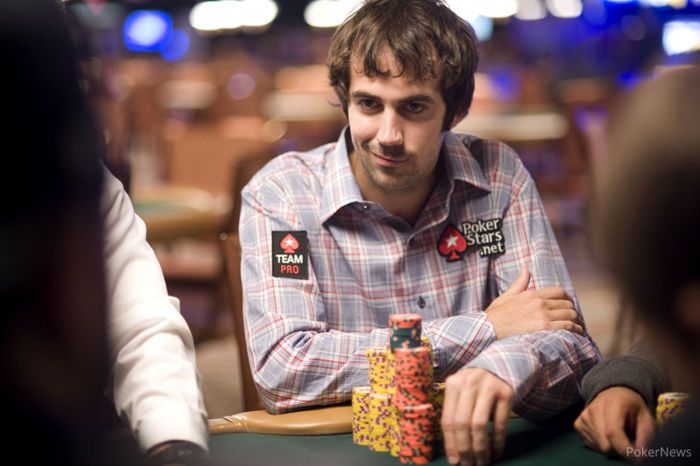 After almost six hours of Day 3 play, the official final table was set. It took only 20 minutes before the first final table bustout. In a hand that was remarkably similar to Mercier's elimination, Phillippe Vert and was up against Martin Hanowski's pocket aces. Hanowski spiked one of his two outs on the river, and Vert's day was over.
About an hour after Vert's elimination, play was paused for the dinner break. When play resumed, two players were eliminated in a span of four hands. On the first hand back from break, Pedro Rios moved all in with


and lost to Hanowski's pocket eights. Three hands later, Nam Le's pocket kings ran into Niall Farrell's pocket aces. The board ended up with four spades, giving both players a flush, but Farrell's flush was higher, sending Le to the rail.
After the small flurry of bustouts following the break, it took another 40 minutes before the next elimination. Mark Teltscher exited in sixth place when he lost a coin-flip. His


failed to improve against Niall Farrell's pocket fives. Eleven hands later, Zohair Karim was eliminated by Martin Hanowski. Karim was all-in preflop with


, and flopped a queen to take the lead in the hand against Hanowski's


. However, an ace fell on the river, giving Hanowski a higher pair and eliminating Karim from the tournament.
Martin Hanowski was the next casualty. He had pulled into the chip lead, but was crippled in a coin flip against Niall Farrell. Six hands later, Farrell finished the job when his


flopped an ace against Hanowski's


, knocking out Hanowski in fourth place. Soon after, Michael Rocco was eliminated in third place when his pair of sixes ran into Farrell's pair of kings.
Heads-up play lasted over two hours, but eventually Farrell was all in preflop with


against Pulusani's


. The flop included a three, knocking Farrell out of the tournament and securing victory for Pulusani.
For more on Pulusani's win, head over and read the complete live reporting blog.
Event #45: $1,500 Ante-Only No-Limit Hold'em
The 2013 WSOP schedule contains only one ante-only event, and Paul Lieu leads the final nine after two days of play with 579,000 in chips. Day 2 of Event #45 restarted with 71 players out of the 678 who entered the tournament. At end of another ten levels of play, only nine remained, and they'll return on Thursday for the final table.
Final table chip counts
| Place | Player | Chips |
| --- | --- | --- |
| 1 | Paul Lieu | 579,000 |
| 2 | Ben Volpe | 523,000 |
| 3 | Daniel Johnson | 479,000 |
| 4 | Louis Bonnecaze | 330,000 |
| 5 | Horatio Chaves | 314,000 |
| 6 | Chris Moorman | 279,000 |
| 7 | Adam Stone | 214,000 |
| 8 | Blair Hinkle | 182,000 |
| 9 | Saul Panzica | 153,000 |
Chris Moorman started Day 2 as the chip leader. He remained near the top of the leader board most of the day, but gave up a lot of chips to Lieu in a big pot near the end of the night. Moorman barreled on two streets with a flush draw, and Lieu called him down with top pair. The hand helped catapult Lieu into the chip lead, and Moorman will be sixth in chips when final table play begins. Blair Hinkle also made the final table. He currently sits eighth in chips with 182,000.
Several notable players finished in the money but failed to advance to the final table. Among them were Daniel Idema (49th), Gabriel Nassif (38th), Allen Cunningham (21st), David Williams (18th), David Vamplew (16th), Aaron Massey (12th), and Tommy Vedes (10th).
Play resumes Thursday at 12:45 p.m. local time. Check out the live reporting on PokerNews as the final nine players play to a winner with each trying to claim the Ante-Only gold bracelet.
Event #46: $3,000 Pot-Limit Omaha Hi-low 8-or-Better
Day 2 of Event #46 began with 139 players returning from the starting field of 435. After 10 levels of play, only 17 remained, led by Alexey Makarov, who bagged 471,000 in chips. He is followed on the leaderboard by Ashly Butler (456,000) and Zhen Cai (414,000).
Only 45 places were paid, so 94 of the players who started Day 2 would leave with nothing. Some of those to fall short of the money were Eric Baldwin, Huck Seed, Thomas Keller, Yueqi Zhu, Jeff Madsen, and Matt Giannetti, among others. Right on the bubble Ali Eslami was eliminated by Ari Engel when Engel caught a flush and a better low to send him packing. Joe Hachem, Amnon Filippi, Gavin Smith, Mike Matusow, Raymond Davis, Tom Koral and Mark Gregorich were among those to make the money but not last through the end of Day 2.
The players will return to the Amazon Room Thursday at 2 p.m. to battle it out to a winner. Seventeen remain, but only one can claim the bracelet, so be sure to stay tuned to PokerNews where for live updates from Day 3.
Event #47: $111,111 One Drop High Rollers No-Limit Hold'em
The most prominent event in the Rio on Wednesday was the $111,111 buy-in One Drop High Roller event, which supports the One Drop Foundation. You can read all about this prestigious event here.
Event #48: $2,500 Limit Hold'em (Six Handed)
Event #48 started with 343 players. By the time play concluded for the night, only 119 remained, led by Paul Mattioda with 57,900 in chips. With this ammunition in his arsenal heading into Day 2, Mattioda will be looking to add his first WSOP cash, a final table run, and perhaps even a shiny gold bracelet to his growing poker resume.
Mattioda has company when it comes to stack size, however, with dangerous pros like Marco Johnson (46,600), Jon Turner (43,800), Tom Schneider (38,000), David "Bakes" Baker (35,800), and Joe Cada (20,400) hot on his heels. Schneider and Baker are both in the midst of astonishing hot streaks at this year's WSOP. Schneider has six cashes and two bracelets, while Baker has six cashes and four final tables. They currently sit in second and third place in the WSOP Player of the Year race.
In addition to these notables, Ronnie Bardah (30,200) will also return Thursday with an above average chip stack hoping to win this event for the second consecutive year.
Check back with PokerNews Thursday afternoon at 2:00 p.m. local time to follow all of the action live from the Rio, as the $2,500 Limit Hold'em Six-Handed event continues.
On Tap
Two gold bracelets will be awarded on Day 27 on the 2013 World Series of Poker, as both Event #45: $1,500 Ante-Only No-Limit Hold'em and Event #46: $3,000 Pot-Limit Omaha Hi-low 8-or-Better will play down to a winner. Two new events will begin, Event #49: $1,500 No-Limit Hold'em and Event #50: $2,500 10-Game Mix (Six Handed). Event #48: $2,500 Limit Hold'em (Six Handed) will return for Day 2. But all eyes will be on the other event returning for its second day, the $111,111 buy-in One Drop High Rollers No-Limit Hold'em event. Play resumes at 1 p.m.
Video of the Day
Antonio Esfandiari, Jeff Gross, and Phil Laak traveled to Honduras and El Salvador to see the impact of the One Drop Foundation's work firsthand. Kristy Arnett spoke to Esfandiari and Gross and about the life altering experience.
Be sure to follow our Live Reporting page for continuing coverage of every event at the 2013 World Series of Poker, and follow PokerNews on Twitter for up-to-the-minute news.