Getting to Know Tom Schneider: Songwriting, Stand-Up Comedy, and Kicking His Own Ass

Pamela Maldonado
Tom Schneider has been a hot topic at the 2013 World Series of Poker this week. Known as "Donkey Bomber," he won two bracelets in nine days, bringing his career total to four. He first won the $1,500 H.O.R.S.E. event for $258,960, then nine days later took down the $5,000 H.O.R.S.E. event for another $318,955.
Everyone is now familiar with Schneider's poker success, but his hobbies and accomplishments away from the tables are likely to be unknown to the masses. Not only is Schneider a four-time bracelet winner, but he is also an author, announcer, avid golfer, singer-songwriter, and former stand-up comedian.
We chatted with Schneider to get to know about more about his life outside of poker.
PokerNews: You are obviously quite the personality. Have you always been so witty or has your spirit come with age?
Schneider: I've always been a jokester. I used to be the guy in class cracking jokes, and I'm still the guy who tries to make everyone laugh on the poker tables. I sometimes have a dry sense of humor, though.
You're active on Twitter, and you have a blog and a podcast. Is being an on-air personality something you've always wanted to do?
I like doing it. I like to make people laugh. I actually did stand-up comedy in front of 300 people or so with my daughter at the Tempe Improv in Phoenix. It was something I always wanted to do, although it was lot harder than it seems. I did pretty well, but it was more frightening than I expected but worth it for a one-time deal.
Have you ever wanted to be a radio host, perhaps for a country music station or similar?
I would absolutely love to do that. My wife calls me a 'ham-bone.' I like doing weird things; I like entertaining people. I try to make jokes at the table and make people laugh. I didn't so much on the final table because at that point the environment is a little more serious but I always, always try to entertain.
Awhile back you released a five-track country album with titles like "Kick My Own Ass," and "I Don't Like Cats." Can you tell us about the experience and title choices?
It's interesting because the CEO of LoudMouth golf can sing and the founder can play the guitar. I mentioned to them a great way for us to promote the product would be for us to get on "America's Got Talent," to which we can wear full LoudMouth outfits. It wasn't an attempt to win the competition but rather just a promotion tool. I had never written a song before and at the time I wrote one called "The Most Fun You Can Have With Your Pants On' and another called "I Hope You Have Fun In My Pants." I then started coming up with more song ideas before thinking up the idea to make an album.
Two years ago was a horrible year for me during the series. I couldn't scrape myself out of bed and had that wandering thought of what are you going to do with the rest of your life? I couldn't get out of bed for a few days and that is typically not like me. I'm usually energetic, lively, and at the time I was just the complete opposite. So then I started writing songs in my bed and that was when I wrote "Kick My Own Ass." Sometimes you can't blame what's happening on anyone else and just need to say to yourself 'hey I'm the only one that can kick my own ass, no one else.' It was intended to be motivational yet with a funny take at how you can become lazy and recognize that you need a jolt to break you from that funk.
"I Don't Like Cats" is about my daughter and a kitten she found. I told her immediately, "no I hate cats, and we are not keeping the cat." At home she asked me to hold it and I just didn't want it. I wanted it out of the house. Well, I held the cat and my daughter looked at me with those puppy dog eyes and told me if we didn't keep the cat, the pound would put it to sleep. It has since become part of the family and I am literally crazy about this cat. There's something about her, she's like my child, and we all just love her to death. So I wrote the song about how I don't like cats turned into I love my cat.
Any aspirations for another album?
I have a strange aspiration to want to write a hit song. That's my goal, is to write a hit song or at the least write a song that is good enough for someone to want to produce. I wrote a song about the Sandy Hook tragedy called, "Just Another Day." I once had a thought that every day is the same routine. You wake up, brush your teeth, and go about your business for the day. For those victims, it was a realization that it will never just be another day for some. It's a bit of a sad song but a lot of times the sad songs are the best songs.
Do you think you could put together a good rap mix single?
Oh yes. If I were given the time, I think I could. I may not do the beat very well, but I think I could bust out the lyrics. I actually liked Brett Richey's song, "Stack 'Em to the Top." I thought it was well-done.
On the golf course, what is the best score you've ever tallied?
It was a 68 at Arizona Country Club.
Do you have any memorable OJ Simpson shots? (When a player hits a bad shot and gets away with it)
A dead slice you mean? Oh yeah. I have a great memory. I was once playing in the World Series of Golf. It was a $10,000 entry fee and you bet on every shot. It was like a poker tournament on the golf course. I hadn't topped the nine-iron in 20 years but that day I pulled out my nine and my caddie asks me, "is that enough club?" He immediately put doubt in my mind, and I think that made me swing a little harder and there went a horrible shot.
Do you have any prop bets or last-longer bets running this summer?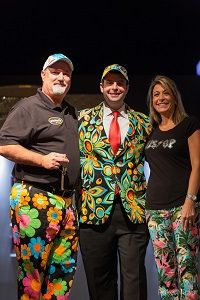 None. I'm not big on those bets because I think they can change your goals and I think goals need to be modified as you go through a tournament, based on your chip stack and each table you face. I don't want my mind being swayed by some of those things.
What is the story behind your clothing choice?
A couple of years ago I was watching John Daly playing golf and thought I really enjoyed his clothing, and poker that really needed to be more fun. So I called the CEO of LoudMouth and told him I wanted to wear the line during the series. I get a lot of people who tell me they hate it but also get a lot of people who tell me they love it. I just want to spread more fun and humor at the tables. Not everyone can wear LoudMouth. It really takes someone who doesn't mind getting made fun of or mind people staring. It's a clothing line meant for fun, to say don't take things so seriously. For the most part, it puts a smile on people's faces.
I had Eric Buchman at my table and he said, "You know, I like your hat but I hate the rest of the stuff you are wearing." It was funny because you're taught the concept of if you can't say anything nice then don't say anything at all. But he just passionately said, "I hate the pants." So I ended up busting him because I didn't like the way he treated LoudMouth.
On your Twitter Feed, you have a lot of jokes. Is there any joke you absolutely love to retell?
Mitch Hedberg is a stand-up comedian who passed in 2005. Well, he has a Twitter account that is used to keep his spirit alive, and I follow it daily. He has a joke, it's kind of dry, but I'll always remember it. It goes like this, "I bought a doughnut, and they gave me a receipt for the doughnut. I don't need a receipt for the doughnut, man, I'll just give you the money then you give me the doughnut! End of transaction. We don't need to bring ink and paper into this. I just can't imagine a scenario where I would have to prove that I bought a doughnut. I got the documentation right here. Oh wait, it's at home in the file under 'D'" [http://www.youtube.com/watch?v=gWx6uA5aCrE] I don't know. Some people may not find the humor in it, but it was the way he said it, his expression. It was the funniest thing to me and I'll always remember it.
Everyone wants to know, how do you do it?
I would like to know, too. If I knew then I would do it more often. Sometimes you get to the point where you tell yourself that you really need to make something happen or do something different, and I was at that stage. I won't be upset if I move away from poker little by little. The game is getting tougher, the field is getting larger, and just the other day someone told me that the economy was bad? I don't know about that one. But in honesty, it's important to have a well-rounded life. I play golf, I work, I write songs, I'm learning the guitar; you know, things other than poker. If all you do is poker, and have a bad streak, you will go crazy. I'm fortunate that I have enough to do outside of poker that I may not play for a month because I don't feel like it or whatever the reason. It's a tough game. The toughest part is putting up your own prize pool. Putting up your own prize pool means the good players will end up with the money and the bad players will go broke. As opposed to other sports, players get paid. The bad football players will be on the bench, but they'll still get a check at the end of the day. There's more pressure on poker players and you can see it. That's why it's important to have other sources of income, and to keep diversity within your life.
Be sure to follow Schneider's run at the 2013 WSOP Player of the Year award throughout the rest of the series at the PokerNews live reporting pages.