Check Out Some of the Promotions That 188BET Customers Enjoy

PokerNews Staff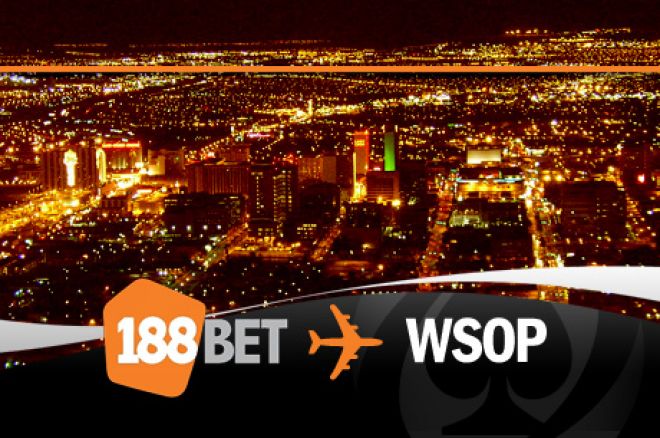 188BET, a major player in the sports-betting world, is now venturing into online poker. This spells out superb news for PokerNews customers because 188BET is the home to some fantastic ongoing promotions. Check out some of them in this article
Risk Free €3,000 WSOP Trip!
The 2013 World Series of Poker is in full swing and you could be heading there armed with a risk free package worth €3,000. What is a "risk free" package? it is a thing of beauty, that is what it is! The first 100 players to win a WSOP package on MPN — that is the vibrant network that the 188BET site is on — are guaranteed a risk free WSOP. Be one of the lucky 100 and fail to cash in the WSOP event your package buys you into and 188BET will refund your buy-in into your 188BET account!
No other site is offering such a spectacular WSOP promotion so why would you try and qualify for the WSOP anywhere else?
Familiarise yourself with the full terms and conditions here
Win Big When You Lose With the 188BET Bad Beat Jackpot!
With 188BET poker, you could win a massive cash prize for losing, thanks to its Bad Beat Jackpot.
The Bad Beat Jackpot is triggered every time you lose with Four-of-a-Kind or better and could see you walk away with tens or hundreds of thousands of euros! All you need to do to be in with a chance of winning a vast sum of cash is opt into the Bad beat Jackpot — which only costs €0.02 per hand — and hope to lose with quads or better!
Check out the Bad Beat Jackpot page for full terms and conditions.
Can you stand the heat from Blaze Poker?
Blaze Poker is 188BET's offering to the exhilarating world of "fast-fold" poker. Instead of being seated at the same table, Blaze Poker players join a large player pool in which opponents change every hand!
If you get dealt a weak hand such as


and do not want to play it just fold — even if the action is not yet on you — you will be whisked to a new table and dealt another hand. Don't like your new hand either? Fold again and receive new cards almost instantly!
Those of you who are superb at multitasking will be happy to know it is possible to play multiple Blaze Poker tables simultaneously, meaning you will be able to play many more hands per hour than you would at a standard online poker table. This in turn potentially increases your profits by a substantial margin!
Start Your Poker Career With a €500 Freeroll
Do you want to try out 188BET but are not sure about making a real money deposit? Fear not. 188BET is offering you the chance to play in a freeroll with a €500 prize pool just for registering for a poker account.
The next €500 freeroll takes place at 19:00 BST on June 15 and registration is already open. Visit the €500 poker freeroll page today for all the information you will require.
Get all the latest PokerNews updates on your social media outlets. Follow us on Twitter and like us on Facebook now!