2013 World Series of Poker Day 22: Aussie Jarred Graham Wins First Bracelet

Rob Kirschen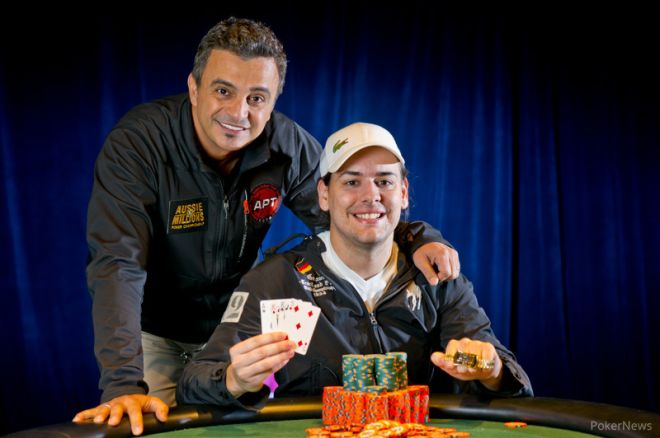 Day 22 at the 2013 World Series of Poker was highlighted by the first bracelet of the summer for an Australian when Jarred Graham won Event #31: $1,500 Pot-Limit Omaha Hi-low 8-or-Better.
Also on Wednesday, both Event #32: $5,000 No-Limit Hold'em (Six Handed) and Event #33: $2,500 Seven-Card Razz played down to 14 players and will continue until a winner is determined on Thursday.
Event #31: $1,500 Pot-Limit Omaha Hi-low 8-or-Better
Australian Jarred Graham won the first WSOP bracelet of his career in Event #31 $1,500 Pot-Limit Omaha Eight-or-Better. The tournament began with 936 entries on Monday. When play resumed for Day 3 on Wednesday afternoon, only 14 players remained. Nearly four hours later, five players had been eliminated and the official final table was set.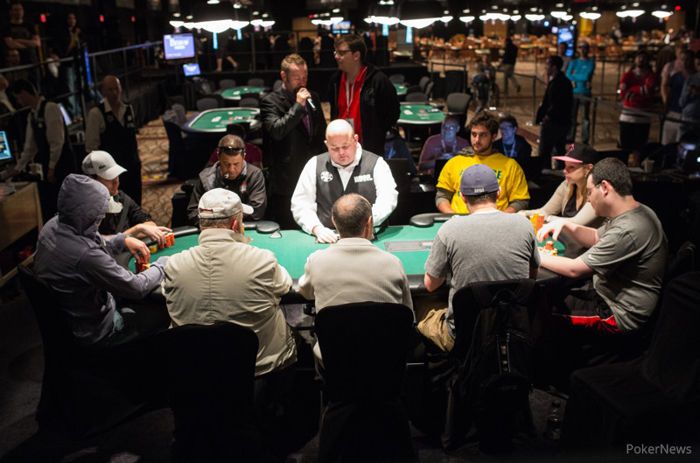 It took over an hour before the first player was eliminated from the final table. Perry Green, a patriarch of the game who won three bracelets in the 1970s, began the day as chip leader. When the final table began, though, he was in the middle of the pack and destined to be eliminated by Barry Greenstein. The players got their chips in the middle when Greenstein had draws to a nut low and an inside straight, and Green held pocket kings and a flush draw. Greenstein hit both his draws, but Green failed to improve.
About half an hour after Green busted, the table lost three more players in quick succession. Marco Johnson eliminated Joao Simao by scooping the all-in pot with a wheel. Just a few hands later, Eric Rodawig was eliminated in seventh place by Noomis Jones when he missed his low draw and Jones made trip kings for high. Two hands after Jones eliminated Rodawig, he sent Loni Harwood to the rail as well. Harwood raised all in on the flop, and Jones called with top pair and a flush draw. Harwood had a low draw and an inside straight draw, and both failed to materialize.
It took another half-hour of play before the next bustout. Johnson eliminated Gabriel Blumenthal with two pair and a seven-five low. About 30 minutes later, Jarred Graham eliminated Noomis Jones in fourth place. Jones held two high pairs in the hole and failed to make a set, ending up with only a pair of queens. Graham, meanwhile connected with the board in two spots, and his two pair sent Jones to the rail.
Three-handed play lasted over two hours. On numerous occasions, a player was all in and survived either with a double-up or a chop. Eventually, though, Graham knocked out Greenstein in third place when he flopped two pair to beat Greenstein's pocket aces.
After the lengthy three-way contest, heads-up play didn't last long. Graham held a 4-to-1 chip lead over Marco Johnson after Greenstein's elimination. Within 10 minutes, Johnson was all-in and at risk. Johnson called all in after flopping a pair, but was behind Graham's pocket kings. A third king hit the felt on the turn, securing Graham's victory. He walked away with his first bracelet and the $255,942 first prize.
Final table results
| Place | Player | Prize |
| --- | --- | --- |
| 1 | Jarred Graham | $255,942 |
| 2 | Marco Johnson | $158,379 |
| 3 | Barry Greenstein | $99,091 |
| 4 | Noomie Jones | $71,924 |
| 5 | Gabriel Blumenthal | $53,096 |
| 6 | Loni Harwood | $39,803 |
| 7 | Eric Rodawig | $30,275 |
| 8 | Joao Simao | $23,338 |
| 9 | Perry Green | $18,223 |
Day 1 of Event #32: $5,000 No-Limited Hold'em (Six Handed) started with 516 entries on Tuesday. Only 128 returned for Wednesday's Day 2. They were highlighted Jonathan Little, who started the day as chip leader, and current Player of the Year leader Daniel Negreanu, who was second in chips behind Little. Negreanu ended up busting in 39th place, once again ended the day leading the field. He'll return with 1,290,000 in chips for Thursday's Day 3.
In addition to Little, two other players have surpassed the 1 million chip mark. Allen Bari finished the day in second (1,191,000) and Vasile Buboi in third (1,100,000). Dan Smith (719,000), Andrew Robl (554,000), Erick Lindgren (525,000), Jonathan Aguiar (455,000), and Lee Markholt (431,000) also return for Day 2. Several notable pros finished in the money, but will not return for Day 3: Brian Rast (54th), Olivier Busquet (51st), and Eric Froehlich (49th), Daniel Negreanu (39th), and Justin "Boosted J" Smith (19th).
Check back with PokerNews Thursday at 1 p.m. local time as the remaining 14 players work their way to the final table stage, and potentially, a life-changing bracelet win.
Event #33: $2,500 Seven-Card Razz
David Bach led the field after Day 1 of Event #33: Seven-Card Razz with 51,300 in chips. He led again at the end of Day 2, bagging 303,000 in chips at the end of the night. Of the 301 players who entered this event, 131 returned for Day 2. By the end of play on Wednesday, only 14 remained. Ivan Schertzer is in second place behind Bach with 262,000 in chips, and Rick Fuller finished the day in third with 205,000.
This tournament paid only 32 players, and accomplished Razz player Calvin Anderson earned the infamous bubble boy title when he busted in 33rd place. From there, the in-the-money eliminations came at a rapid pace and included Jerry Case (32nd - $4,759), Stephen Chidwick (31st - $4,759), Matt Vengrin (30th - $4,759), Huck Seed (28th - $4,759), Archie Karas (26th - $4,759), Billy Baxter (24th - $5,752), Max Pescatori (22nd - $5,752), Esther Taylor (20th - $5,752), Steve Diano (18th - $5,752) and Scott Epstein (15th - $6,950).
The third and final day of the 2013 WSOP's only Razz tournament will kick off at 2 p.m. on Thursday. Join us here at PokerNews as we bring you all the action and eliminations on the way to crowing a champion.
For the first time in WSOP history, the 2013 schedule includes a turbo event. Event #34: $1,000 Turbo No-Limit Hold'em deviates from the WSOP standard of using 60-minute levels. The first four levels are scheduled for 30 minutes, the next 13 levels are 40 minutes, and all levels thereafter are 60 minutes.
The new event proved quite popular, attracting 1,629 runners. With the short levels and the accelerated pace, all but 35 had busted by the end of play on Day 1. Victor Figueroa leads the remaining field with 354,000 in chips. He is trailed by Noah Vaillancourt in second (301,100). Figueroa and Vaillancourt are the only players above the 300,000 mark. Jason Duval is also still alive (193,000). Duval is looking for his second bracelet in 2013 after winning Event #28: $1,500 No-Limit Hold'em earlier this week. Perhaps the most famous face at the tables for Day will belong to actress Jennifer Tilly, who returns with 113,000.
Some of the notable players falling victim early in the day included three former Main Event Champions: Joe Cada, Greg Raymer and Jonathan Duhamel. Additionally, we saw Maria Ho, David Williams, Erik Seidel and Allen Cunningham hit the rail during the day. The tournament paid 171 players, including plenty of notables. Antonio Esfandiari (139th), David Peters (132nd), Eric Crain (98th), Shannon Shorr (95th), Melanie Weisner (93rd) and DJ MacKinnon (91st) made the money but won't be returning for Day 2.
Day 2 will begin at 1 p.m. Thursday. Stay tuned to PokerNews.com as we bring you all of the coverage from the floor of the Amazon Room as the players battle for a World Series bracelet.
A field of 640 players turned out for Event #35: $3,000 Pot-Limit Omaha. After eight levels of play on Wednesday, only 137 remained. Joshua Ladines leads the field with 152,100 chips. Ladines, with three WSOP cashes, had his deepest run in 2007 when he finished 16th in a $2,500 event for $16,775. With an eighth-place finish or higher, Ladines would earn his highest career score.
Joining Ladines atop the leaderboard are Ryan Chapman, Christophe Lachave, and Elie Payan. In Level 7, Payan was the beneficiary of a crucial river card that gave him a straight and eliminated 2010 November Niner Joseph Cheong.
Among the other survivors were pot-limit Omaha specialists Jared Bleznick and Josh Arieh. Arieh, who has two bracelets including one in PLO, bagged 99,500 chips. Bleznick, an online high stakes PLO cash game player sealed up 75,500 chips. On one of the last hands of the evening. Bleznick eliminated 2012 Main Event final tablist Jeremy Ausmus. Ausmus went in blind, and Bleznick called with two kings, holding as the flop, turn, and river produced all blanks.
Play will resume Thursday at 2 p.m., and the tournament is scheduled to play another 10 levels. Join us here at PokerNews for continuing coverage of this and every tournament at the 2013 WSOP.
On Tap
Day 23 will feature six events. Three bracelets are scheduled to be awarded, as Event #32: $5,000 No-Limit Hold'em (Six Handed), Event #33: $2,500 Seven-Card Razz, Event #34: $1,000 Turbo No-Limit Hold'em will play down to a winner. Day 2 of Event #35: $3,000 Pot-Limit Omaha will resume with 137 players. Two events will kick off with Day 1, Event #36: $1,500 No-Limit Hold'em Shootout and Event #37: $5,000 Limit Hold'em.
Video of the Day
Headphones are ubiquitous at the World Series as many players listen to music at the tables. Lynn Gilmartin spoke to several players about what they listen to while they play.
Be sure to follow our Live Reporting page for continuing coverage of every event at the 2013 World Series of Poker, and follow PokerNews on Twitter for up-to-the-minute news.