UK & Ireland Players Impress in Opening SCOOP Events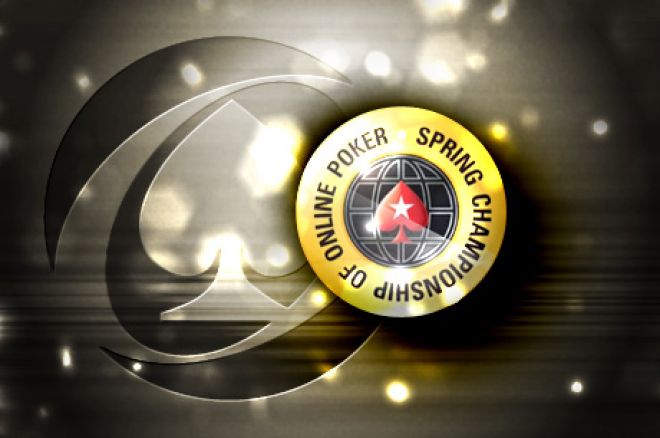 The first five events of the Spring Championship Of Online Poker are in the bag and the United Kingdom is already celebrating its first taste of victory thanks to a "Gowardo" and "Roxie Hart," although other have also won bags of cash!
SCOOP Event #1: No Limit Hold'em 6-Max
The very first SCOOP event of 2013 saw 25,319 players buy into the $27 Low event and create a massive $621,581.45 prize pool. Several slices of this money is now nestled in the PokerStars accounts of UK & Ireland-based poker players including those belonging to "Gruaiggorm" (26th) and "DelizardXX" (20th) of Ireland and "luetch1" of the UK. Luetch1 busted in 18th place, the furthest any of our players managed to progress.
The $215 buy-in Event #1 Medium was full of big names and established pros, as you would expect. One of our own, namely Jono "Spyver" Beck looked set to go all the way and challenge for the $168,606.22 first place prize, but his tournament ended with him in 13th place, good for $6,910.00 addition to his bankroll.
SCOOP Event #1's High buy-in was set at $2,100 yet still attracted 848 runners! A deep run was had by Sida "supfoolio" Yuen (15th) but his superb performance was put into the shade by the fact two UK players reached the final table. "Akut" won $50,880.000 for their sixth place finish, while "Amadi_017" picked up $84,800 for coming fifth. The tournament was eventually won by former European Poker Tour London champion Benny "towliestar" Spindler who added $301,040 to his bankroll.
SCOOP Event #2: No Limit Hold'em
Gowardo was one of 26,678 players to buy into SCOOP Event #2 Low for $27 and what a great decision that has turned out to be because Gowardo battled his way through the huge field and became the tournament's champion earlier today.
A number of the UK's players made deep runs, "avi912" finishing in 32nd place, "matt20" in 23rd and Luke "lukeboy88" Davies in 19th. Progressing even deeper were "Fabaz" in 14th and Leeds' "alijongman" in 12th.
The deepest run of all came from the aforementioned Gowardo who first struck a deal five handed that secured him a $40,000 pay day and then went on to take down the tournament and the additional $8,000 that was left for the winner. Congratulations.
In the SCOOP Event #2M, the UK had another final table appearance when "BubsenMan" finished in seventh place for a cool $34,533.30. Special mentions must also go to "bullstopper" and Thomas "GaggleoKings" Ambler for their 16th and 19th place finishes respectively.
Staying with SCOOP Event #2 but looking at the $2,100 buy-in High event, we can see another set of deep runs by players from the UK. Jack "jackellwood" Ellwood came close to a massive score but ultimately finished in 27th place, just one spot before Stoke's "Flong78" in 26th. Former European Poker Tour Loutraki champion Zimnan "Zimmy86" Ziyard crashed out in 18th leaving "Legazdo's" 14th pace finish the deepest run by one of our players.
SCOOP Event #3: No Limit Hold'em Rebuy 6-max Action Hour
At time of writing, the third SCOOP event was still in progress.
SCOOP Event #4: Fixed Limit Badugi
The $27 buy-in Low event saw plenty of Brits make it into the money places. The deepest runs were had by "helixtris" in sixth place, "WeakyLeeks" in third and by the eventual champion "Roxie Hart."
The $215 buy-in Medium event was not as kind to our players, although "john_baird_1" did progress rather deep, busting out in 14th place from the 320 starters. The $2,100 High buy-in saw just 47 entries but there were some of the best poker players in the world. "Jackal69" held his own until busting in sixth place in a tournament won by the inform Paul "paulgees81" Volpe who defeated Shaun "shaundeeb" Deeb heads-up for the win.
SCOOP Event #5: No Limit Hold'em Rebuy Turbo
The $11 buy-in Low event saw a bumper crowd of 12,558 make 22,129 rebuys and purchase 8,014 add-ons to smash the $250,000 guarantee by over $175,000! The biggest winner from the UK & Ireland was "carpediem200" who finished second to Belgium's "JacktShipper" for a score of $41,206.46.
Event #5's medium event featured a $109 buy-in instead of $215 but that did not stop an $829,400 prize pool being created! Fresh from his 15th place finish in the High SCOOP Event #1, Sida "supfoolio" Yuen put in another fine performance to finish seventh for $20,735.00. Amazingly, that was not our region's best finish because "PhilRoyal888" made it into sixth place before losing his stack. That cash was worth $29,029.00.
You would imagine there are not many people who can afford to play a $1,050 rebuy tournament on a regular basis but that did not stop 437 turning out for this event. As one would expect, the field was stacked with uber-talented players and one such player, David "sexygee" Gent, almost added a SCOOP title to his massive Sunday Million win but fell in 14th place.
Like "supfoolio," "Amadi_017" had a deep run in the High buy-in of Event #1 and he helped himself to even more prize money by finishing third for a massive score of $139,545.00, an amazing result. The eventual champion also has the UK listed as he country but we know that Ana "ana marquez" Marquez is Spanish, don't we?
Tonight sees Event #3 completed along with the Heads-up tournaments, Five Card Draw and a standard – albeit with a $1,050 buy-in – No Limit Hold'em event. The very best of luck to all UK & Ireland players in tonight's events.The SCOOP Main Events are just around the corner and you could be playing in the $109 Low and $1,050 Medium for free. To find out how, head over to our dedicated SCOOP Freerolls landing page.
Get all the latest PokerNews updates on your social media outlets. Follow us on Twitter and like us on Facebook now!