Stephen "stevie444" Chidwick Wins his First SCOOP Title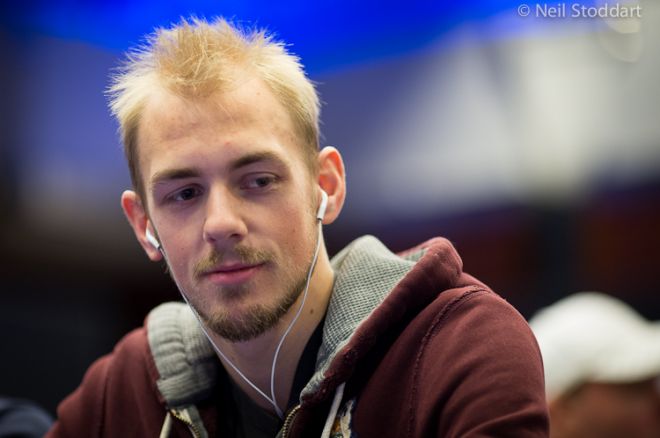 Three more tournaments, each sporting fantastic structures, took place in the 2013 Spring Championship Of Online Poker last night and again players from the United Kingdom and Ireland who enjoyed plenty of success.
SCOOP Event #27: Fixed Limit Triple Draw Deuce-to-Seven
Triple draw deuce-to-seven is a game that seems to be gaining in popularity and it is certainly going to have gone up in a number of UK & Ireland players' estimations after last night's results.
The $27 Low buy-in event attracted 1,668 players to the PokerStars virtual felt, the majority of who were outlasted by "GrowsOnTrees" (28th), Jamie "buffyslayer1" Wilby (19th) and "crack2" (4th). Superb results by those players.
The Medium buy-in event featured a $215 buy-in so when 376 players bought in a prize pool of $75,200 was created. A large percentage of the prize pool is now nestled in the PokerStars accounts of our players thanks to some deep runs by the likes of "AceOddity" (18th), "$IERRA_TANGO" (9th) and Stephen "stevie444" Chidwick (7th).
Although the above resulted are impressive to say the least, it was the $2,100 High buy-in event that saw the UK & Irish players really shine. After "Wrathchild57" busted two from the money, "Jackal69" cashed in seventh place and burst the final table bubble. This left Rory "Mafews" Matthews and Stephen "stevie444" Chidwick to fly the Union Jack at the final table.
Matthews was the first played eliminated but Chidwick bulldozed his way through to take down the tournament for $52,320.00 – his first-ever SCOOP title! Ship it, etc!
Shortly after his victory, Chidwick updated his Facebook status with, "After 6 years of being titleless I finally got the monkey off my back...2k triple draw champion for 50k and a watch!"
SCOOP Event #28: Seven-card Stud Hi/Low
The prize money continued to roll in during the 28th event of the 2013 SCOOP when play switched focus to Seven Card Stud Hi/Low.
Although the $27 Low buy-in did not see any of our players at the eight-handed final table, "NathanKiely" (14th) and "wpefer" (11th) came very close to reaching it.
The $215 Medium event almost bagged the UK its second title of the night but it just was not meant to be. "Wallyayay" was part of a three-handed deal that saw him walk away with $12,850.65, but he could not quite make it through to the end and fell in second place.
Honourable mentions must go to "Irish Jack" who finished seventh and "HornyAnimal" of the UK in 13th.
SCOOP Event #29: No Limit Hold'em
Event #29 is currently paused and will remain so until 22:00 tonight. The $11 buy-in currently has 217 of the 18,102 players remaining, while the $109 Medium is down to 177 players from the 5,213 who started. The more substantial $1,050 is on the pure bubble as 172 of the 1,534 players remain and 171 places are paid!
Tonight's events are Razz, a No Limit Hold'em Knockout and Pot Limit Omaha Zoom! Good luck to all heroes and wizards playing tonight.
Get all the latest PokerNews updates on your social media outlets. Follow us on Twitter and like us on Facebook now!