SCOOP 2013: UK & Ireland Surpass $4 Million in Winnings!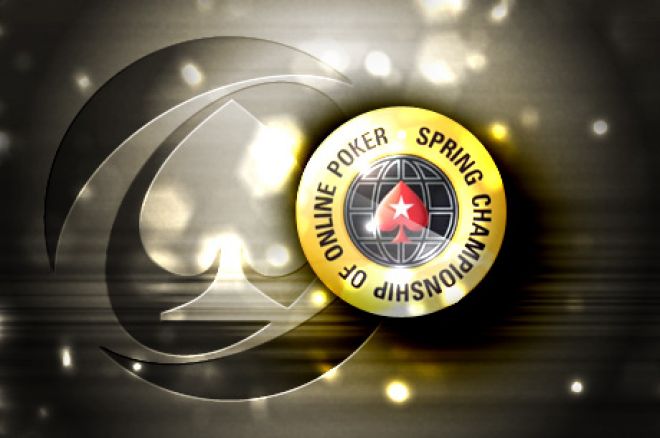 The PokerStars Spring Championship Of Online Poker (SCOOP) has so far being extremely profitable for players from the United Kingdom and Ireland, who now have combined cashes in excess of $4,000,000! Here's a look at how the recently finished tournaments panned out for layers from our countries.
SCOOP Event #21: No Limit Hold'em
The standard No Limit Hold'em events are always one of the most popular formats on PokerStars, so when a $27 buy-in tournament has a $300,000 guarantee slapped on it you just know the players are going to flock to it.
One such player was "Run Bad King" who must ave run good at some point because although he finished 4/23693, he actually picked up more prize money — $35,892.38 – than everyone but the eventual champion thanks to a deal that was struck when the tournament was down to the final five players.
Honourable mentions must go to "B0PPER," "weedan," and "thehun895" who all made it into the last 45 places, which out of a massive field such as this is a major achievement.
There was no final table appearance from UK & Ireland players in the $215 Medium buy-in, but James "jamerOK" Cawley almost made it all the way through the 5,905 strong field before busting in 21st place.
Large score were had by "JackRich" and "callmemanu," both of the UK, in the $2,100 High buy-in event. "JackRich" finished in 10th place, bursting the final table bubble, for a score of $19,483.20 while "callmemanu" progressed onto the final table, finally being eliminated in fifth place for a cool $92,906.00.
SCOOP Event #22: No Limit Hold'em
Running parallel to the standard No Limit Hold'em event was another standard No Limit Hold'em event, albeit with slightly larger guarantees placed on them. The $27 buy-in attracted 25,172 players, smashing the $400,000 guarantee by over $215,000!
Two of our players won large percentages of this huge sum of money, "monk419" picking up $8,682.51 for his seventh place finish and "hartwith" coming ever so close to glory by finishing second for $45,921.54.
The $215 Medium buy-in beat its guarantee by over $660,000, which is amazing considering the buy-in size. Once again, one of our very own reached the final table, "mariivida" finishing in sixth place for a $51,509.60 pay day.
Despite costing $2,100 to enter, the High buy-in event saw 1,048 players register for it, creating a prize pool of $2,096,000 and a first place prize of $377,280. John "dagunman" O'Shea came agonisingly close to that giant sum, busting out in 10th place for a welcomed $22,008.00.
SCOOP Event #24: Mixed No Limit Hold'em / Pot Limit Omaha
Two of the most popular poker format collided in Event #24 when players got to play a a round of No Limit Hold'em followed by a round of Pot Limit Omaha.
The deepest run by one of our players was had by Ireland's "kidious23" who fell in 11th place, turning his $11 investment into $452.76.
"kidious23"'s finish was almost mirrored by "Chip-phage" in the $109 Medium event as he finished in 16th place for a score of $808.20. Again, the final two tables were all someone could reach in the $1,050 buy-in High Event, Elliot "Crazy Elior" Sion busting in 14th place for $4,525.00.
SCOOP Event #25: Fixed Limit Hold'em 6-Max
Fixed Limit Hold'em may not be as popular as it has been in previous years, but that did not stop each of the three SCOOP tournaments being well attended.
A crowd of 3,463 turned out for the $27 buy-in event, which more than tripled the $25,000 guaranteed prize pool. Recipients of some of this money were "pele06" (13th), "tomacampi" (11th) and "rosjim" (6th). Top "poo-flinging" as many people call the fixed limit game!
At the 2014 SCOOP the UK & Ireland-based players may be banned from the $215 Medium buy-in in order to give everyone else a chance at some money. It was Calvin "cal42688" Anderson who won the event but he was pushed all the way by runner-up Nick "nabourisk" Abou Risk, "b8chatz" (3rd), "jonstarz" (4th) and "john_baird_1" (8th).
The High buy-in cost $2,100 to enter and it proved to be a painful couple of grand for "john_baird_1" because he burst the money bubble when he busted in 19th place. Two of his fellow Brits did make it into the money places though, Stephen "stevie444" Chidwick (14th) and "Jackal69" (12th) being those players.
SCOOP Event #26: Pot Limit Courchevel Hi/Low Turbo 1R1A
The tournament with the longest name in poker history debuted at the 2013 SCOOP and was well received across the board. The $11 Low saw 3,209 unique players take to the felt with a handful of UK players going deep. They were "theluckystump," (19th), Ben "F3nix35" Dobson (13th), and "puggie06" who went furthest finishing ninth.
The United Kingdom's 13th outright win of the 2013 SCOOP came in the $109 Medium buy-in and came courtesy of "ratskerops." The final couple of tables were very tough, being the home to the likes of Paul "padjes" Berende, Dan "djk123" Kelly and Noah "Exclusive" Boeken. Despite those big names our man came out on top and scooped the $28,155.00 first place prize.
Our only cash in the $1,050 buy-in High event was credited to John "dagunman" O'Shea whose tournament came to an end in ninth place, worth $6,750.00.
What's in Store?
Another three events take place tonight and they should be fun to play in. There is a Fixed Limit Deuce-to-Seven Triple Draw tournament, a Stud Hi/Low event and a No Limit Hold'em event too. Which of the trio are you going to play in?
Get all the latest PokerNews updates on your social media outlets. Follow us on Twitter and like us on Facebook now!