Memorable WSOP Moments: Grant Hinkle Makes Quads Against James Akenhead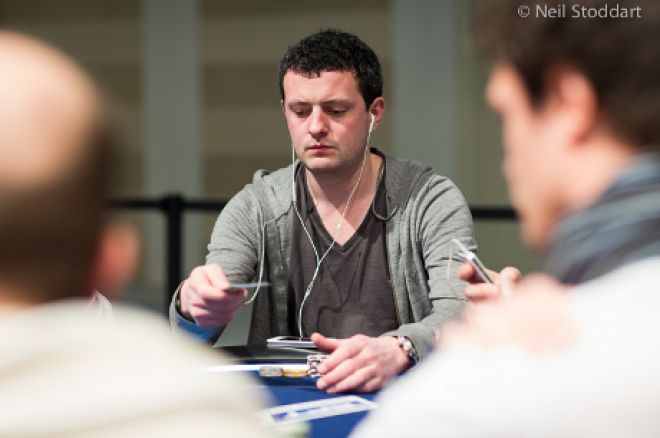 In the run up to the 2013 World Series of Poker, UK & Ireland PokerNews will be delving through the WSOP archives and pulling out memorable hands and stories from them. One such memorable moment was the final hand from Event #2 of the 2008 WSOP.
Event #2 was a $1,500 No Limit Hold'em tournament that attracted an almost unbelievable 3,929 players to The Rio All-Suite Hotel & Casino. This record-breaking field was whittled down to the final table of nine over the course of three days of intense poker action and one of our own, James Akenhead, had navigated his way through the minefield that is a large-field tournament to take his place on one of poker's biggest stages.
One by one the finalists lost their stacks. First to go was Joe Rutledge and he was followed to the rail over the course of Day 3 by David Bach, Melvin Jones, Aaron Coulthard, Mike Ngo, Theo Tran and the yet-to-be shamed Chris "Jesus" Ferguson.
Ferguson's exit, at 02:17 in the morning of June 6, 2008, left Akenhead to take on Grant Hinkle heads-up. The winner would leave the tournament a WSOP champion, a finish worth a place in poker's history books and the not-so-shabby $831,462 first place prize.
Hinkle began the one-on-one encounter with a 7,595,000 to 4,235,000 chip lead but that did not faze Akenhead who constantly attacked Hinkle in a relentless fashion. After 75-minutes (and 39 hands) of heads-up play, Akenhead took a 6,735,000 to 5,050,000 lead, only for Hinkle to get his ose in front once more.
Then on the 160th hand of the final table one of the most memorable hands in the long history of the WSOP went down. Here's how the legendary Dave "F-Train" Behr described the hand on the PokerNews Live Reporting pages.
Hand #160 -

Grant Hinkle has the button in Seat 10. He raises to 350,000. Akenhead tries to pop it up again, this time by raising to 1.2 million. Hinkle moves all in and Akenhead quickly calls. Here it is! The moment we've been waiting for over the last two hours.

Akenhead is the one who is all in. The hands are opened:

Hinkle:

Akenhead:

Wow, a stone bluff from Hinkle and now he's in very rough shape. The shouting has begun from the gallery, who have all suddenly found that last reserve of energy to remain on their feet. Side bets are being made on what the flop will contain. Here it comes...

Pandemonium in the Milwaukee's Best Light All-In Lounge! Akenhead is dead to running cards. The crowd is absolutely floored. Akenhead cannot believe his misfortune. He knows he's on thin ice. And just to add insult to injury...

Hinkle makes quad tens! Akenhead is drawing dead. The meaningless river completes the hand. Akenhead is eliminated in second place and collects $520,219.

Grant Hinkle is the winner of Event #2. He earns $831,462 and a coveted gold bracelet for his triumph. The winning hand was the all-powerful .
We are sure you will agree — Akenhead does — that the hand was ridiculous. According to the PokerNews Odds Calculator, Akenhead was a 62.46% favourite in the hand, which is probably much closer than you would have thought. Once the flop was dealt Akenhead's equity in the hand plummeted to just 0.61% as he required the turn and river to be both aces or both kings. Of course, we know that never happened.
What the hand go down in real time, below.
Akenhead's second place finish netted him $520,219 in prize money and a legendary bad beat story.
Get all the latest PokerNews updates on your social media outlets. Follow us on Twitter and like us on Facebook now!