Best of the British Isles: James Atkin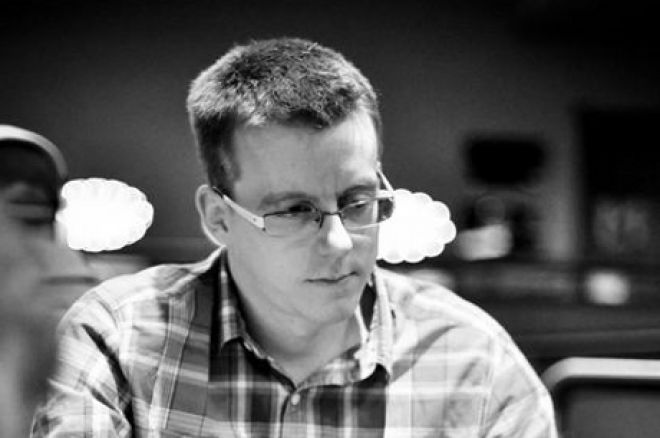 UK & Ireland PokerNews continues with its Best of the British isles feature by sitting down and chatting with online grinder James "Epitomised" Atkin.
James, introduce yourself to the UK & Ireland PokerNews readers.
My name is James Atkin, I'm 28-years old from Lincoln. I studied Law at Keele University. I'm a keen runner, professional wrestling fan, and an 'on hiatus' rapper!
If any of you want to check out James' excellent rapping, head to his music site! Tell us your poker story, how did you get involved in this crazy game?
Mine is a somewhat typical poker story. A few of the guys at my university used to play a game and invited me over one night and I got a taste for it. I played recreationally for a year or so before I randomly began to start winning. I built up a roll playing HUSNGs (heads-Up Sit and Go tournaments) in 2005, and then became a high stakes cash game player for a while, playing up to $150/300 FLH and $20/40 NLH in 2006/07. My inability to deal with the swings involved inevitably led me back to grinding HUSNGs in 2007/08, from which I transitioned over to MTTSNGs (Multi table Sit and Go Tournaments) in 2009. Switching to MTTSNG was the best thing I ever did, and haven't really looked back.
Currently I'm playing mostly turbo MTTs, with a few reg speed MTTs and turbo SNGs thrown in.
What made you decide to turn pro?
I really just stumbled into it. I started making money in poker in my last year at Uni, and ultimately poker cost me my degree (which is obviously not something I'm proud of) but essentially I just kept playing after this happened and it somewhat naturally became my profession. Funnily enough the only 'real' job I have ever had was working in my local shop on a Sunday when I was 17!
What is your poker set-up like? Where does the magic happen?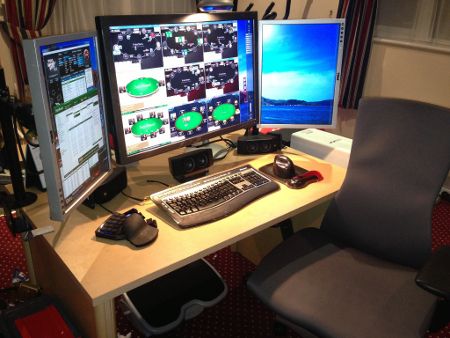 I have a top-end desktop computer, which I actually just finished installing two SSD drives into. I use the often duplicated 30" monitor with two 20" monitors in portrait either side. I recently splashed out on a Herman Miller Embody chair, and I really like my Evolutent 4 mouse, which I started using after injuring my right arm last year. HM2, TableNinja and StackAndTile are my friends :)
Do you set poker goals such as games played per day or any longer term ones?
I generally just try to play poker on as many days as I can. I will try and register in games for a set duration of time, but am pretty flexible as I don't like to play if I feel I'm not sufficiently focussed or whatever.
You're quite a rarity in the online poker world in that you have a young family yet still manage to make a living from playing an insane amount of poker! How do you juggle family life with the poker life? What impact has two small kiddies had on your volume and playing in general. You must have an understanding wife!
I think I manage because I treat it much like a 'normal' job. I choose to play across more traditional work hours (sort of resembling a '9 to 5'). I also picked the house we live in now because it has a converted garage, so my office is actually out of the house therefore the kids don't disturb me. Also, with the perks of working from home and being able to take odd afternoons and random days off when I feel like it, I get to see much more of my kids than most people, whilst still playing a decent amount of the time.
Do you believe the adage "no money in poker everyone is solid?" Is it harder to make a living from this game today than when you first started? Is the situation as bad as people make out?
I consider that phrase to be an exaggeration, it's usually said tongue in cheek when someone makes a ridiculous play, but there certainly is truth in it. Poker is gradually getting tougher, and there seems to be an ever increasing amount of regulars. Gradual improvements in training sites and poker software certainly have an impact on this. However as long as there are new players coming into the game, and people enjoy playing poker as a means of recreation, hopefully it will always be possible to have a some kind of edge on the field.
Do you think you will be still playing poker in five years' time?
I hope so. I'm not so sure about 10 or 15 years time, as I'm getting "poker old" already, but I am happy doing what I'm doing for the time being, and hope I can still make a living out of it for a fair while.
Any thoughts on the state of the game in five years time?
I imagine it will be somewhat similar, only a touch more difficult and reg infested, unless something drastic like the US market opening up occurs. Although, I guess all the segregation going on at the moment is somewhat concerning, so I just hope we're all able to play one another!
You recently finished third in the Monte Carlo event at Dusk Till Dawn for a score of £45,000 (Congratulations, by the way). How do you deal with such a large score as a professional player? Do you reinvest some in your bankroll, have a splurge?
Tyty! It definitely takes a little while to sink in. I'm going for the super-sensible approach with the money. I hadn't been doing quite so well this year, so it's always nice to extend the number of months expenses you have for a bit of breathing room at the tables. I've topped up my online roll just a little, and a majority of the rest is going into savings, bar a couple of luxury items; a new TV and sofa are being discussed. Perhaps the trip to Disney World that was in discussion pre-bink is now a bit more set in stone.
The final table was pretty sick. How do you approach the game when surrounded by top players?
It was a ridiculously tough final table, basically five heros, two solid recreational players and myself. It was the most intense poker experience I've ever had. I think it was a combination of it being on live stream, the quality of the players, depth of stacks and the huge money jumps involved. I just tried to play as well as I could and not spew too hard. I'm still a bit disappointed with a couple of river calls I made but most of my hands kind of played themselves.
The WSOP is coming up. Will you be heading out this year? If so, what will you be playing?
One of the many things that having kids has changed is my motivation to play much live poker. I would still love to go to Vegas, but I find it too difficult being away from the kids. The last time I went was when my eldest son (now 3 and a half) was 9 months old, he was doing something new when I came back and I'd missed it and I hated that feeling. I'll just have to win the ISPT to make up for it :)
You can discover even more about James over at his excellent blog, Atkinator.net.
If you would like to feature in our Best of the British Isles article then drop us an email at [email protected] or contact us via Twitter or Facebook.
Get all the latest PokerNews updates on your social media outlets. Follow us on Twitter and like us on Facebook now!