Andrew "stato_1" Hulme Wins the Super Tuesday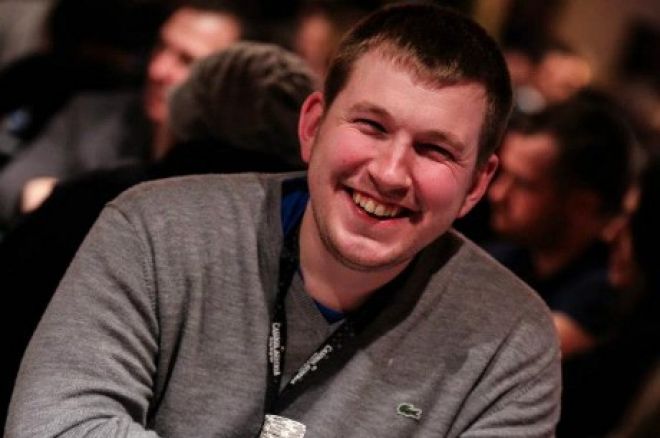 The final Super Tuesday before the 2013 World Series of Poker took place at PokerStars yesterday and PokerNews is delighted to report that one the United Kingdom's Andrew "stato_1" Hulme was its champion.
A crowd of 448 players bought in for $1,050 halting a run of 17-weeks that the tournament has attracted over 500 runners. The turnout still generated a prize pool of $448,000 and is still a remarkable figure considering the Spring Championship Of Online Poker has just ended and the WSOP is literally just around the corner.
The top 54 players received prize money; meaning 55th place finisher was the unfortunate bubble boy. Sadly, it was a Brit who burst the bubble (albeit one now based in Australia), a certain Ashley "DYBYDX" Mason. He committed around 21 big blinds with


against the


of Karel "czlol" Kratochvil and spiked a king on the flop, but crashed out when a jack on the turn improved czlol to a set.
Three hours later and there were only nine players remaining. The final table lined up as follows:
| Seat | Player | Chips |
| --- | --- | --- |
| 1 | Mcrizel | 194,170 |
| 2 | james "jimbomber" Finigan | 346,338 |
| 3 | Ytris1990 | 297,266 |
| 4 | VL-Hannibal | 145,600 |
| 5 | Spowi07 | 455,945 |
| 6 | Andrew "stato_1" Hulme | 207,582 |
| 7 | Gustavo "PIUlimeira" Goto | 120,067 |
| 8 | GaborMarton | 148,220 |
| 9 | moneyinbag | 324,812 |
According to the PokerStars Blog, it took around 30-minutes for the first elimination to occur and when it did, it was Gustavo "PIUlimeira" Goto who busted. A min-raise of 14,400 by "Spowi07" in the hijack was met with a 78,568 all in three-bet from Goto on the button. Spowi07 called with the


and discovered he was behind to Goto's


. He was only behind for the briefest of moments because the flop came down



to improve Spowi07 to a pair of eights. When the

turn and

river completed the board Goto's tournament ended.
Shortly after Goto's elimination there was another exit when Ytris1990 three-bet all in for 81,370 over the top of Hulme's opening raise of 14,440 with what turned out to be a pair of fives. Hulme made the call with


and went on to not only spike an ace on the flop, but to improve to a club flush by the river! Game over Ytris1990.
Next to go was one of the trio of British players at the final table, VL-Hannibal. Down to just 51,520 chips and with blinds of 4,000/8,000, VL-Hannibal open-shoved from the button and found a called in the shape of Spowi07 in the small blind. VL-Hannibal had made his move with


and needed to hit because Spowi07 held the


. However, neither player improved on the





board and VL-Hannibal's tournament came to an abrupt end.
On the very next hand, Mcrizel decided his


was more than good enough to play for his 74,833 stack just as Hulme thought his


was good enough to call with. Mcrizel's medium sized pair stayed the best hand up to the river of the





board, the river pairing Hulme's seven and leaving Mcrizel to pick up sixth place money.
Five became four shortly after the players returned from the 10-hour break and it proved to be the final break moneyinbag would have in this tournament. Hulme min-raised to 20,000 in the cutoff and then snap-called when moneyinbag three-bet all in for 201,405 in the small blind. The


was displayed in front of Hulme, making it obvious why his call was almost instantaneous, and he was nicely in front of the dominated


of his opponent. The board ran out





to send moneyinbag to the rail in fifth place.
A couple of hands later and the United Kingdom's James "jimbomber" Finigan doubled up through GaborMarton when his


held against the


. That hand left GaborMarton short stacked so it was no surprise when he moved all in with


three hands later. Unfortunately for GaborMarton, Spowi07 woke up with


. Again, neither player improved once the community cards were in view, Spowi07 winning the hand by the virtue of his jack kicker.
Having not been able to strike a deal when five-handed, the final three players requested some time to talk about another deal. This time they managed to agree on the numbers, which left an additional $6,000 for the eventual champion, and play resumed.
Third place went to Spowi07 who saw the same hand that he eliminated ninth place finisher Goto with, the


, come back to haunt him. After paying off Hulme's set of eights on all three streets, Spowi07 found himself armed with 412,721 chips at the 6,000/12,000 level. These chips went into the middle when Finiigan open-shoved from the small blind with


and Spowi07 called with


. An eight appeared on the flop and it was enough to bust Spowi07 in third place and take the tournament into the heads up stage.
The players were evenly matched in chips going into heads-up, Hulme trailing slightly by 1,009,825 to 1,230,175, but that all changed on the following hand.
Hulme min-raised to 28,000 and Finigan called. The duo shared a



flop, a flop thatFinigan bet 42,000 chips at. Hulme then raised to 112,000 and called when Finigan moved all in. Finigan held the


for bottom pair and a gutshot straight draw, while Hulme turned over the


for top pair. The

turn failed to alter anything and neither did the

river, leaving Hulme to climb to a 2,150,000 to 85,000 chip lead.
Two hands later and the tournament was won. Hulme pushed all in with


and Finisgan called with


. Hulme hit a four on the flop and a seven on the river to eliminate his fellow countryman and win the final Super Tuesday of May. A massive congratulations!
Super Tuesday Final Table Results (May 28, 2013)
| Rank | Player | Prize |
| --- | --- | --- |
| 1st | Andrew "stato_1" Hulme | $74,000.00* |
| 2nd | James "jimbomber" Finigan | $55,077.03* |
| 3rd | Spowi07 | $67,774.17* |
| 4th | GaborMarton | $35,840.00 |
| 5th | moneyinbag | $25,088.00 |
| 6th | Mcrizel | $19,040.00 |
| 7th | VL-Hannibal | $14,560.00 |
| 8th | Ytris1990 | $10,080.00 |
| 9th | Gustavo "PIUlimeira" Goto | $7,436.80 |
Get all the latest PokerNews updates on your social media outlets. Follow us on Twitter and like us on Facebook now!