Sam Trickett Discusses the WSOP Caesars Cup, Bracelet Hunting, and Poker Fame

Brett Collson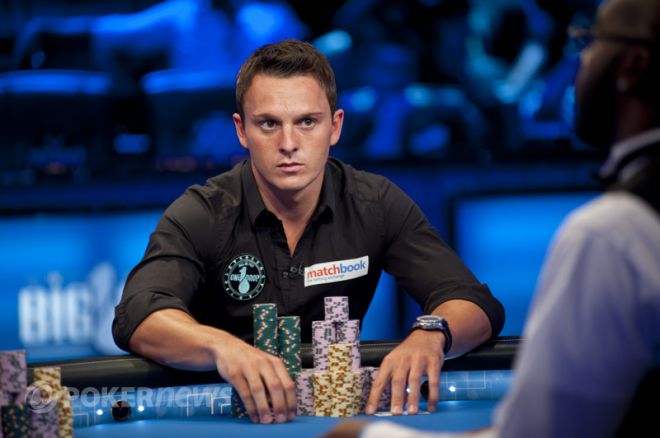 In a few short years' time, Sam Trickett has gone from being a complete unknown in the poker world to one of the most feared high-stakes players in the game. His rise to fame was bolstered by some tremendous results in high roller tournaments around the globe, including a pair of million-dollar scores at the Aussie Millions and a $10 million payday at the Big One for One Drop last summer.
Through his many accomplishments, Trickett has become one of the faces of European poker, enough to be named to captain of Team Europe for this week's Caesars Cup at the World Series of Poker Asia Pacific in Melbourne, Australia. Trickett will select a team of European all-stars to face off against Phil Ivey's Team Americas (which includes Phil Hellmuth, Daniel Negreanu, Antonio Esfandiari and Greg Merson) and Joe Hachem's Team Asia Pacific (Shane Warne, Jackie Glazier, Jeff Lisandro and Andrew Hinrichson).
Despite his aforementioned success, though, there's still one major thing Trickett is missing. He discussed that and more with PokerNews during a break at the WSOP Asia Pacific Main Event on Thursday.
We've got the Caesars Cup coming up this week and you're the captain of Team Europe. Phil Ivey and Joe Hachem have announced their teams but we haven't heard from you yet. Do you know who you're going to pick?
I have a pretty good idea, yeah. Marvin [Rettenmaier] is a definite. I've got a few others I haven't spoken to yet but I know they want to play. So I just figured I'd see if any more Europeans turn up before I picked it.
What does it mean to represent Europe in this event?
It's good. It's nice to compete for Europe and play against extremely good players like Ivey, Negreanu and Antonio [Esfandiari]. It's always good fun to play against these guys in whatever type of poker. I'm proud to be playing for Europe.
How do you think your eventual team will stack up against the other two?
I don't think we've particularly got the best players we could pick from Europe but we're still going to have a good, solid team. I think our team will probably be better no-limit hold'em tournaments players than Team America. I'm not saying they're better players all around but for hold'em tournaments we'll probably have a stronger team.
You've had a lot of success here, especially at the Aussie Millions in the past. What do you attribute that to? Do you feel more comfortable here? Is there something different? Or is it just coincidence?
I think a lot of it is coincidence. They hold two high rollers a year and I predominantly play high rollers so I'm twice as likely to get a big result here than anywhere else. So that has something to do with it. But I like it here. The weather is good, the venue is good, the staff's good. All of those things mixed in are probably the reason why I've had success here.
Are you glad they brought the World Series to Melbourne?
Yeah. I'd like there to be a few more events because for me it's a long way to come just for a few events. I only really get geared up for like three or four of them so I wish they'd just add a few events.
How would you compare this World Series so far to the ones held in Las Vegas and Europe?
As far as Main Events go I think this is the softest I've ever seen. They just satellited several player in this tournament. I definitely got really lucky with my starting table, but looking around every table looks really soft. This is one of the best Main Events I've ever played. I'm really exited about this one.
I'm assuming you're playing the $50K High Roller coming up. If you had the choice to play a high roller tournament or a huge cash game here or in Macau, which would you choose?
Huge cash games. I just love cash games. Don't get me wrong; I love high rollers. They're my favorite type of poker tournament. I just love high-stakes cash games. They're my favorite form of poker so I'll always choose cash.
That said, what would it mean for you to win a WSOP bracelet? Not just here, but anywhere.
If you want to know the truth, early in my career I was bothered [by not winning one]. I wanted to get recognized and I wanted to be a name. I figured that would help me. But I feel like I've proven myself in other ways. I've built my name up a little bit and for the last year I didn't really care.
But just recently I decided I want a new goal and a new task. People are talking about bracelets a lot and I kind of want one now! I realized that I haven't got one and I'm hungry for one again. At first I was hungry for one and then I lost it for a bit and now I want one.
Especially with Ivey winning another one yesterday, right?
Yeah, I get jealous when I see all the good players winning them and I'm not. They're doing something I haven't done. I just want to go out there and do it. I'm quite hungry for one again now.
Does that drive you to play more tournaments? Are you going to be playing more events in Vegas this summer? You haven't played many the past couple years.
No, I never really play that many in the World Series because I like to go out partying. It's like my summer as well and I treat it as kind of a vacation. I only played like five last year but I'm probably going to play a bit more this year because I want a bracelet now. I should probably play a few more.
Keep it locked in to PokerNews.com as we bring you more players interviews during the World Series of Poker Asia Pacific Main Event.
Get all the latest PokerNews updates on your social media outlets. Follow us on Twitter and like us on Facebook now!