PartyPoker Weekly: Did You Win in our Spring Rush Promotion?

PokerNews Staff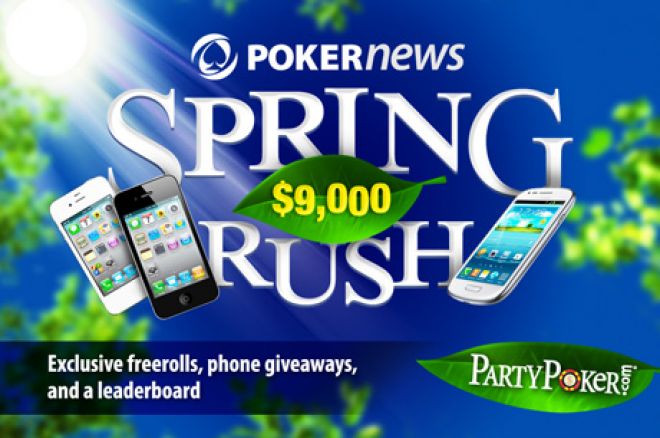 The PokerNews PartyPoker $9,000 Spring Rush was well received by everyone who competed across the various games and the feedback from the players was great.
The $100 Daily Freerolls saw scores of players walk away with cash prizes, while "AndrewCzech", "chinchidel1," "mattej555" and "leatFishes" each won a Weekly Phone Giveaway tournament and should now be in possession of a brand new mobile phone!
The $2,500 added tournament was even better value than anyone anticipated with only 62 players buying in by the time registration closed. The top 10 finishers won prize money, with "gadragos" the unfortunate soul who burst the money bubble and was the last player to go home empty handed.
$2,500 Added Tournament Results
| Rank | Player | Prize |
| --- | --- | --- |
| 1st | OneRocky1 | $814.90 |
| 2nd | TheLukker7 | $519.85 |
| 3rd | sintulis222 | $337.20 |
| 4th | pokeras15 | $281.00 |
| 5th | pokerkatimaus | $224.80 |
| 6th | zuikelis1 | $182.65 |
| 7th | Siraena | $154.55 |
| 8th | bursuc1 | $126.45 |
| 9th | mk34952 | $98.35 |
| 10th | thangdv88888 | $70.25 |
As you can see from the table above, the cash prizes were significant and the winner took home over $800, going to show the effects adding $2,500 to a prize pool can have!
There was also $1,000 set aside for the top 10 performers across the promotions. Every time a player competed in one of the $100 freerolls, the phone giveaway tournament of the $2,500 added event, they were awarded leader board points. The top 10 points earners across the promotion shared $1,000 in cash, as shown in the table below:
| Rank | Player | Prize |
| --- | --- | --- |
| 1st | Siraena | $400 |
| 2nd | Nietzsche_Ninja | $200 |
| 3rd | whiskeybar1989 | $100 |
| 4th | LeadUs | $80 |
| 5th | gadragos | $65 |
| 6th | NiZoM28 | $50 |
| 7th | avepoker | $40 |
| 8th | mk34952 | $30 |
| 9th | pietruszka_kra | $20 |
| 10th | devuxx | $15 |
PartyPoker and PokerNews would like to thank everyone who played in the Spring Rush promotion for doing so and would like to offer congratulations to those who profited from this amazing promotion.
PartyPoker is also aware there were a few technical problems that prevented some players from competing in some $100 freerolls and is currently working on a form of compensation for those affected.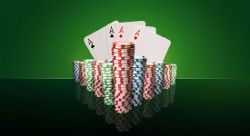 Boost Your Bankroll with PartyPoker's Freerolls
Freeroll tournaments are one of the best ways to get a taste for online poker and can be fantastic for building a bankroll from scratch. Thankfully, PartyPoker realises this and runs a plethora of freeroll tournaments every month with combined prize pools of $100,000!
There are country specific freerolls running throughout the day, each sporting a $150 prize pool. The largest PartyPoker freerolls is the weekly $1,500 New Player Freeroll, which as the name suggests, is only open to new players. Players who take advantage of our free $50 bankroll offer can also compete in this $1,500 freeroll making signing up too PartyPoker a very attractive proposition indeed.
For more details of the free $50 offer scroll down to the bottom of this article.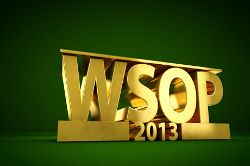 Have you won your WSOP yet?
The 2013 World Series of Poker begins on May 29 and you could find yourself in the thick of the action thanks to PartyPoker and its WSOP promotions.
Between now and June 16, PartyPoker is running satellite tournaments that eventually award one of two WSOP packages. There is at least one $2,500 WSOP side event package and a WSOP Main Event package to be won every week; have you won yours yet?
Every Sunday at 14:50 ET until June 16 there will be a $700+$50 WSOP satellite on PartyPoker that will award 1 in 20 players a $14,000 2013 WSOP Package! One package is guaranteed, but we believe there will be more given away as the WSOP draws ever closer. Each Main Event package consists of:
$10,000 WSOP Main Event buy-in
$2,000 in spending money
Hotel accommodation in Las Vegas for 10 nights
Also on Sundays, but at the slightly later time of 15:45 ET, a $275+$25 Las Vegas Experience satellite takes place in which one $5,000 package is guaranteed. The $5,000 package consists of:
$2,500 WSOP side event buy-in
$1,650 in spending money
Hotel accommodation in Las Vegas for seven nights
Don't be disheartened if the main satellites are out of your price range because PartyPoker is running plenty of qualifier tournaments that feed into them. These qualifiers cost between $1 and $80 to enter, although there are a number of daily freerolls in the lobby, too.
Take on the world and become poker's next superstar by qualifying for the 2013 WSOP with PartyPoker. You don't want to miss out!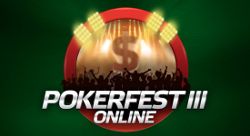 PokerFest III Kicks off in less than a week — $4,000,000 is Guaranteed to be won!
PartyPoker's ever-popular PokerFest series returns this Sunday (April 21) for its third instalment and everything is pointing towards PokerFest III being the biggest and best PokerFest to date. There are 64 events to compete in and an unbelieveable $4,000,000 in guaranteed prize pools to play for, making PokerFest III the richest online festival PartyPoker has ever run.
PokerFest III has something to offer to all players, regardless of their bankroll and skill levels. Four PokerFest tournaments will be played each day, one will have a points buy-in, and low, medium and high buy-in tournaments so everyone can get involved.
The opening event is a $215 buy-in $350,000 guaranteed that begins on April 21 at 19:30 CET. Thirty minutes later, a $2,500 guaranteed tournament will cost only 20 PartyPoints to enter — essentially a freeroll when you consider how easy it is to earn PartyPoints.
Some of the highlights of Pokerfest III include an $80,000 guaranteed $54 rebuy, a $10,000 guaranteed $11 NLH Bounty, a $450,000 guaranteed High Roller that costs $1,060 to enter and the grand finale, a $1,500,000 guaranteed Pokerfest III Main Event.
Satellites are running now for the various Pokerfest events with freerolls and special offers feeding into the Main Event. Be sure to check out the dedicated Pokerfest III pages at PartyPoker for full details.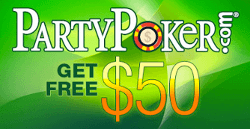 PartyPoker Wants to Give you $50!
With PokerFest III just around the corner, a free $50 could really come in handy as it could be used to buy into a wide range of tournaments. What would you say if we told you that PartyPoker is giving PokerNews customers a free $50 just for signing up for a PartyPoker account? Well that is exactly what PartyPoker is promising PokerNews customers — a free $50 poker bankroll.
There are no hidden catches, all you need to receive the free $50 poker bankroll is follow the simple steps highlighted below.
Download the PartyPoker software through PokerNews
Create a new PartyPoker account and enter the bonus code "UKFREE50"
Fill out the registration form in the PartyPoker cashier
Return to PokerNews and fill out our brief registration form
Check your email inbox for a confirmation email from free50@pokernews.com
Once you have received the confirmation email, $20 will be placed in your PartyPoker account. You must earn at least 40 PartyPoints before you will be able to withdraw the free $20. If you do not earn 40 PartyPoints within 60 days, the initial $20, or whatever remains of it, will be forfeited. PartyPoints are earned at a rate of two PartyPoints per $1 in rake or tournament fees, so earning 40 within 60 days is easy.
Once you have earned 40 PartyPoints, an additional $30 will be deposited into your account, bringing the total free cash to $50. You must then generate 160 points before you can cash out any of the $30 and must do so within 120 days, otherwise the $30, or the remainder of it, will be forfeited.
Get all the latest PokerNews updates on your social media outlets. Follow us on Twitter and like us on Facebook now!