Dusk Till Dawn Supremo Rob Yong Speaks to UK & Ireland PokerNews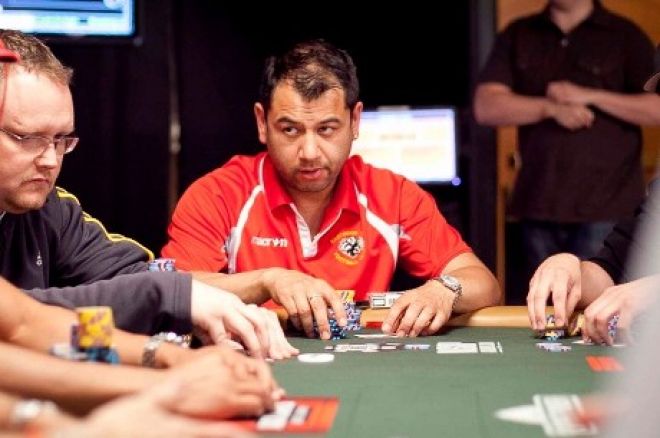 Here at UK & Ireland PokerNews we want to urge everyone in the UK & Ireland to get behind Dusk Till Dawn and the International Stadiums Poker Tour. Whatever your thoughts were on the ISPT prior to DTD's involvement, there is no denying that UK poker players owe Dusk Till Dawn a debt of gratitude for expanding the UK live scene beyond everyone's expectations.
We grabbed a few words with DTD owner Rob Yong ahead of the event to talk about the landscape of UK poker:
What made you want to take on the ISPT challenge in the first place?
I liked the idea of the event when I met with them, but I didn't like the idea of playing tablets in the stadium. Two years ago we met and disagreed on the format. They were willing to put $30 million in escrow for me to operate the event. This was at the same time that their Full Tilt deal was almost certain to happen. I think the $30 million in escrow was based on an assumed purchase of Full Tilt.
Maybe if they had said they were going to use Full Tilt for the software from the start the original format might have worked - people probably would have had confidence in the idea then. In reality this was always going to be a tournament which was run with day ones online and live, day two at the stadium. We've done this before at Dusk Till Dawn with our Grand Prix event and we advised them loosely on this format.
Nobody quite knows how many players to expect for this event, what are you aiming for?
The plan is we have to generate half the field and the rest of the world generates half, we have to get around 800 people in for day two. There are some contracts already with casino groups who have bought a set number of packages each, so there is more traffic than some people think.
For me to get 800 people in we need to generate 500 players through satellites and day ones, which means we need 5,000 runners at €300. We have guaranteed 1,000 seats, which is 20%, it looks big, but it's not in terms of how many we need.
If you have to pay an overlay do you just consider that a marketing expense?
That's a misconception. We take it on the chin, but it's a failure of the tournament. I find overlays embarrassing, they come in useful for people trusting you in the future, but I would rather not have them at all.
You recently partnered with the Genting chain, is the long term plan expansion?
Once we finished the Caribbean Poker Classic the next project was to look for partner to help us leverage our brand. Genting had an amazing first year, six of their events clashed with my deepstacks, so they really hurt us.
They are enthusiastic, they are not greedy, they look after their players, I like how they do things and they caused me a lot of problems. It's possible now there could be a Genting Poker Series event now at Dusk Till Dawn, we already have two Sky Poker events and two UKIPTs, so it makes sense.
We had a lot of offers to franchise the DTD brand in the UK and abroad. So far we have always said no because it's something we like to keep within our control, a bit smaller and hobby sized. It's not something I would write off, but if we are going to grow and have a global brand, it would be with bigger events like the ISPT.
There was a lot of opposition to you opening five years ago from the other casinos, but as a direct result all the poker rooms have improved to keep up with Dusk Till Dawn. Do you think you have improved poker for everyone in the UK?
I certainly think we have helped the local rivals as we brought travelling players into Nottingham. A lot of players come to DTD for the tournaments then head over to places like the Gala to have a drink and play the house games. I think a lot of new card rooms are modelled on DTD. I certainly don't think poker would be where it is today had we not opened.
What we do now is the 'norm' for poker rooms. The difference is what the other casinos do once a month, we do every week. We guarantee £30,000 a week for £100, we guarantee £150,000 every month for £300, and our lowest weekly guarantee is £5,000 for a £25 buy-in. What the other card rooms do infrequently I believe they do as good as us, but we do it frequently.
Is it important for you to be always raising the bar in terms of what people think is possible for UK poker?
It's all about taking the next logical step. If we had not guaranteed £1 million last year for UKIPT Nottingham we probably wouldn't be able to guarantee a million for the winner of the ISPT. We have several times broke the European attendance record, we've had an event in the Caribbean, we have had a £1 million guaranteed tournament and now we are guaranteeing €1 million to the winner.
The next thing I want to do is a £5 million guaranteed UK Poker Championships, where everyone plays day one at their local card room and play the day two onwards at Dusk Till Dawn. I'd like to get all the major chains involved, now we have Genting as a partner that's potentially another 44 UK card rooms, we could get Gala and Grosvenor involved too. After the initial problems we had trying to open DTD, I think that would be a fitting end to the story if all the card rooms in the UK came together for this special event.
Here at UK & Ireland PokerNews we want to wish Rob Yong and Dusk Till Dawn the best of luck with the ISPT and urge all of our readers to get involved. More than 1,000 satellite seats will be guaranteed in this event, to see the full schedule click here.
Get all the latest PokerNews updates on your social media outlets. Follow us on Twitter and like us on Facebook now!