Carl Pilgrim Continues to Give; ISPT Day 1 Seat Up For Grabs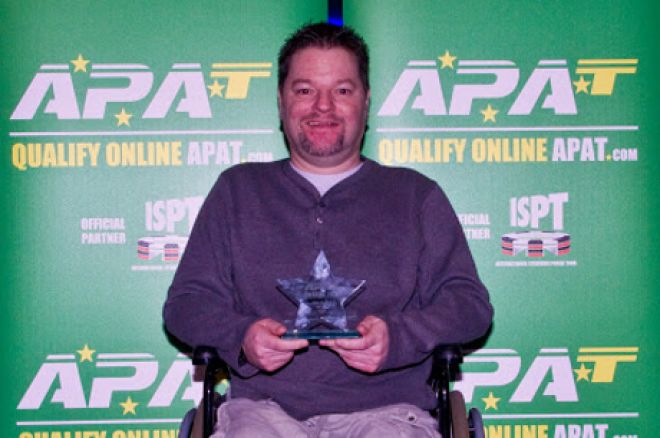 Cast your minds back to December 2012 and one PokerNews article in particular, the one where APAT member Carl "fandango" Pilgrim got into the festive spirit by giving away a Genting Poker Series Main Event seat that he had won. Fast forward to today and Pilgrim is at it again, this time giving his fellow APAT members a chance to win a ISPT Day 1 seat, worth €300.
Pilgrim wrote on the popular APAT forum:
After the huge success of the GPS charity freeroll and also the Bakers Dozen tournament, I have decided to again run a charity/ freeroll for the ISPT Day1 seat I recently won for topping the POTS table..

I have been in touch with Des, Leigh and Matt and they have given me the go ahead to run this on the APAT site, thanks guys!!

It will be similar to the GPS tournament and will be a one off freeze out with a bounty or two to spice things up somewhat.

I was overwhelmed with all of your generosity last time and a huge amount of £1,450 was raised, what with Richard Bakers Dozen also raising a significant amount and Grant organising a fund raising event at work Muscular Dystrophy have benefitted greatly I am hoping to push the total as near to £2,000 as possible..

I will be chatting with Matt soon regarding tournament details and will keep anyone interested updated via Facebook and here on the forum.

As before the tournament will be open to anyone who has pledged a small donation to my just giving page, last time people where incredibly generous and came as a bit of a shock to me especially just leading up to Christmas!!

I was thinking if everybody who wanted to play pledged £5, this would boost the total up nicely and would be good value in the chance of winning a €300 ticket which in turn could go on and win a top prize of €1,000,000 , if anyone is feeling a little a little flush and can afford to donate more it would be greatly recieved.

http://www.justgiving.com/Carl-Pilgrim

Although no details have been finalised, I will be asking that the winner of the freeroll will share a percentage of any possible winnings between myself and also a percentage to MD, and as a bounty prize I will be giving a small percentage of my action in the up and coming GPS leg in Southend August..

Will keep this thread updated as things progress..
The tournament takes place at 20:00 UK time on Sunday 28 April, with late registration open for an hour. The tournament is going to be password protected and the only way to discover the password is to make a donation to Pilgrim's Just Giving page.
The only other terms are that whoever wins the €300 ISPT Day 1 seat has to donate 10% of any winnings to the Muscular Dystrophy Campaign, 20% to him – it was his seat after all – and they can keep 70% of any winnings for themselves, which could mean a cash haul of €700,000 if they went on to win the ISPT London Main Event!
Even if you do not plan on competing for the ISPT seat we would urge you to make a donation to Pilgrim's charity of choice if just for the amazing gesture this man, a Muscular Dystrophy sufferer himself, has made yet again.
Pilgrim is one of the most popular and revered members of the close-knit APAT community thanks to his generous side and his love of telling — often terrible — jokes! When he is not entertaining his friends and fellow APAT members on Facebook and on the forum, Pilgrim can be found battling it out at the felt up and down the country at APAT events. He is one of the most accomplished APAT players and has three gold medals (outright wins in major events) to his name. No mean feat when one considers that APAT counts WSOP, WPT and EPT winners amongst players who have made APAT final tables
Get all the latest PokerNews updates on your social media outlets. Follow us on Twitter and like us on Facebook now!