Best of the British Isles: Toby "810ofclubs" Lewis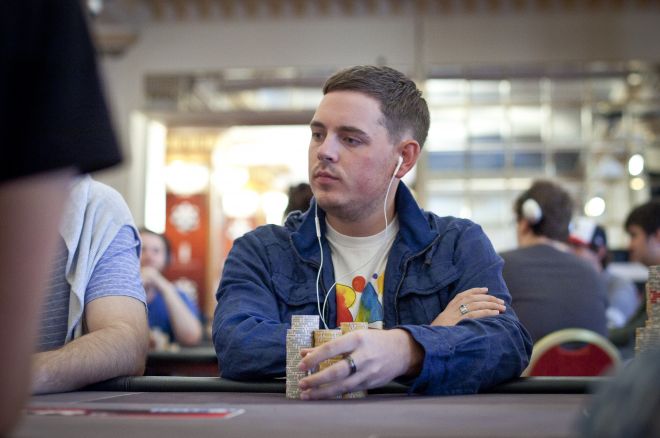 The UK & Ireland is full or world class poker players and one of them took the time to sit down with PokerNews and give an interview. Known in online poker circles as "810ofclubs," Toby Lewis has amassed over $2,800,000 from tournament poker and has won an additional $1,800,000 in the live arena. Oh, and he had a European Poker Tour title to his name too! Let's see what he had to say.
For those readers who may not have heard of you tell them a little bit about yourself.
Hi, my is Toby Lewis, I'm 23 years old and I'm originally from Southampton, but now live in Surrey which is around 45-minutes from central London.
What is your poker story? How did you get involved in poker? What games and stakes did you play and what do you play now?
Like most people I didn't plan on playing cards for a living but I just kind of fell into it. I started watching and playing poker with my friends at home after playing golf all day in the summer holidays. This was when I was 16 or 17 then when I turned 18 I started going down the casino, never to gamble on roulette or blackjack but I did go there alot for poker; I mainly played £5 rebuys or £15 freezeouts at that time. I was probably all-in every time lol.
Then I finished college and decided to defer a year and it really went from there. I found myself playing every single minute of the day for at least the first 18 months, just ask my dad! I started at 50nl ($0.25/$0.50) and managed to get to1000nl ($5/$10) then I won a live tourney in Brighton and fell in love with tourneys. Thanks have to go to Bram's dad Paul (Christopher Brammer) for driving us down that day :) These days I'm travelling playing live tourneys a decent amount and playing HSMTT online, still loving every single day to be honest.
Describe what a typical day is like for you. How many MTTs do you play at once? How much would you say you invest on a daily basis?
Over the past year my schedule has been erratic online due to travelling for live stuff or being in the US. If I'm at home I always make sure I'm in the $100 rebuy or late reg the $265 Knockout on PokerStars. I've being trying to play less tables than usual because it is getting harder to win so you really have to work out how your opponents are playing and play less robotic yourself , so my tables are down to 12-15 at peak now I guess. Sundays I guess it's get to 20 at peak, which is too much but I can't let comps with $20k+ ftw go ,lol. My buy-ins vary but if I had to put a figure on it I would say $5k during the week and $8-10k on weekend. I don't keep track just try to win.
Playing a lot of volume is important in MTTs to try reduce variance. How do you deal with the constant non-cashes or other negative effects of variance? What is your worst downswing?
Umm I think I've been reasonably lucky to be honest. I did have a bad period of maybe $60-70k downswing, but that was combined with a massive backing downswing so I was bang under it for a while, not fun. Thankfully that's long gone! When I'm on a downswing I play and play until I'm out of it, my friends will begrudgingly tell you there hasn't been many downswings of late though!
PokerStars are currently running a "Sick setups" promotion. What is your poker grind setup like?
My setup isn't sick but it's pretty sweet. Got a 27" iMac and a 27" Thunderbolt adjoined. Bram's got two Thunderbolts each side of the iMac and I get jelly when I see it but it does get bloody hot with that many screens and power kicking about.
You won EPT Vilamoura in 2010 for a career-best score of €467k. How did it feel to win such a prestigious title and a huge sum of cash at such a young age? How did you keep your feet on the ground?
I think I was very fortunate to win at the time looking back on it, I didn't know nearly as much as I do now yet I haven't won as much as that since. I definately made a few too many mistakes that's for sure but nothing too drastic and now I'm very aware of how the world goes round. I'm very much ready for another big title now, becoming the first-time double EPT champion springs to mind!
You recently finished 6th in WPT L.A.Poker Classic. How did you end up in the States? Was it specifically for the WPTs there? What's the standard like in them compared to EPT and Euro-based WPT?
My friends and I were planning a trip to see one of our best friends from home that moved to Vancouver around a year ago, then I got Bram involved and decided we would play LAPC then Shooting Stars afterwards, fitting Vancouver in between in hindsight it didn't leave enough time for all three really.
As for the standard, I think it's like most high stakes live tourneys these days there was soft tables and tough tables, luckily for me with 50 players left there were a lot of tough players but with 20 left a high proportion of them had busted.
Did the IveyPoker patch help you run good?!
I guess it must have, I haven't had much involvement so far with Ivey Poker because the site hasn't launched yet. That said, I'm optimistic and keen to see how it does longer term.
The 2013 World Series of Poker is just around the corner. Have you thought about what events you will play?
Yes I've been thinking about it since the schedule came out! I'm going to head to Las Vegas a bit later this year because I was burnt out at the end of the series last year and this time around I desperately want to be fresh for a deep main event run, so my first event this year will be the $5k 6max.
Who are the biggest influences in your poker career? Which players would you say are the best in the UK and or World?
My biggest influences are a couple of close friends but I'm not going to name names because there's a few and I don't want to up their egos too much :)
Best players again are all opinionated, for me Chris "Moorman1" Moorman, Christopher "NigDawg" Brammer, Craig "mcc3991" McCorkell, Paul "paolo69" Foltyn and Tom "hitthehole" Middleton are still the best online players from the UK. As for as live players go, I really respect how hard Roberto Romanello works but JP Kelly is still my favourite live player.
Worldwide I would have to say Mike "Timex" McDonald or Mike "SirWatts" Watson are the best MTTers followed by Sam Trickett, Andy Moseley and Tom Macdonald for cash games.
Have you got any tips for up and coming Toby Lewis wanabees?!
Work your socks off! Get lucky at the right times and try to keep a sensible head in tough situations.
Keep your eye out for Toby Lewis in the coming months because we believe another massive score is just around the corner for him.
Get all the latest PokerNews updates on your social media outlets. Follow us on Twitter and like us on Facebook now!