Best of the British Isles: Sebastian Saffari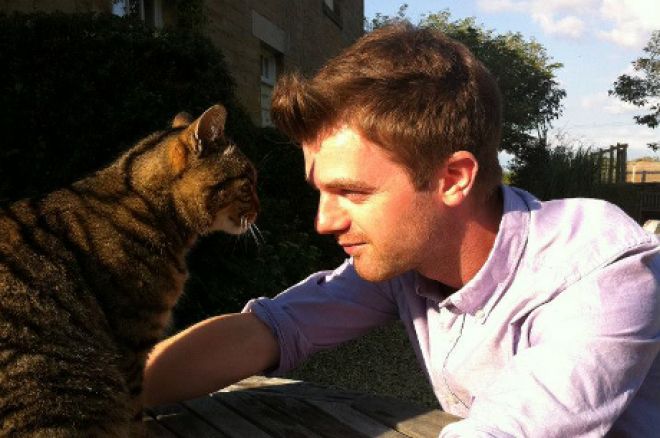 in the latest edition of the Best of the British Isles we turn our attention to the North-East of England and a multi-table tournament grinder who is currently ranked second in the UK & Ireland for online poker tournaments. Without further ado, let's get the ball rolling.
Thank you for taking the time out of your busy schedule to speak to us. Can you let our readers know a little bit about yourself?
My name is Sebastian Saffari, I'm 27, born in London but I grew up in Newcastle and still live there.
What is your poker story? How did you get involved in poker? What games and stakes did you play and what do you play now.
I first got into play poker on a University skiing trip during my second year. I was always into gambling and games in general and as soon as I got back home I started smashing the £2 Sit and Go's on William Hill. I was instantly hooked, but not to the gambling, just the game itself. I played solely on the old Cryptologic network for the next two years, span a decent roll, inevitably lost it playing stakes I shouldn't have been, that was a common theme; I was not one of the guys who deposited 50$ and never looked back, I was pretty reckless with my money.
I worked for my dad after finishing university at an interior design company and it didn't mix too well with poker. I'd get back from work and go off for $900 in the PokerStars $100 rebuy, the standard was a lot higher on the American sites compared to the Euro skins I was accustomed to and really made me understand how bad I really was! I still seemed to do well in the PLO cash games that were just getting popular with Americans, I remember going to work one day and spinning $100 into $17,000 when I should have been doing other stuff! Needless to say, I managed to lose it all back that week trying to get to the nosebleed games!
I took 10th in EPT Budapest in November 2008 for €32,984 which was doubled thanks to a swap with the winner, William Fry. After that I finally made the decision to quit my job and play full time. After a rocky start I eventually realised I was a tournament player and have played nothing else during the past three years.
Describe what a typical day of grinding like for you. When do you start playing? When do you typically finish playing?
Being a tournament player from Europe the schedule is a little brutal, although things have started earlier since Black Friday. I always start at 17:00 to make the $100 rebuy and then keep registering until around 22:00. After 22:00 I only play turbos. Doing so means my day can finish at 01-02:00. The old days were horrendous, a day would often end at 07:00! I am in Canada at the moment and things are so much easier. I had to be up at 11:00 to play the FTOPS and would be finished by 18:00, I am definitely going to be over that side of the Atlantic more in the future.
How many tables do you play at once? How much do you spend buying in per day? Some of you guys spend a fortune!
I try and play 12 tables at once as I like them bigger with no overlap on my screen. On Sundays I can play up to 20 but that's not that comfortable and easy to miss spots or timeout. My daily buy-ins vary on the day; Sundays they add up to around $10,000, Tuesday and Saturdays $7,000, and $5,000 or other days.
Playing a lot of volume is important in tournament poker to try reduce the dreaded variance. How do you deal with the constant non-cashes or other negative effects of variance? What is your worst downswing?
It sounds obvious but making final tables is the way to deal with downswings. There's no excuse to blow-up before hand when things are going bad as those third and fourth place finishes are crucial to breaking even for the day, which for me is always the first checkpoint. If you can get close to even each session it makes tomorrow's session a lot easier.
When things are going bad you need to work harder and try and find the scores from somewhere. You can be running bad in general, but you will always run some stacks up somewhere so you have to make the most of them. That being said, I have had a few $25,000 losing weeks, they have often come after big heaters when I've played carelessly or when the old Full Tilt Poker ran their multi entry weeks where everyone did their nuts in!
You've climbed to second in the UK rankings on PocketFives recently after some superb results. Any reason for the sudden spike in form? Running well? Playing well? Have you changed some elements to your game?
Running well can never be underestimated. You never realise how good/bad you've run till after your on the other side of it. Run good makes you play better and allows you to put it in bad and still get there, your confidence is high and you feel on top of your opponents. When you run bad you have the added problem of questioning yourself and overanalyzing spots where you most likely did the right thing but people keep finding hands against you. It's important to have friends in the game to remind you of this.
Overall though my recent form has been down to the fact that I'm a much better player than I was six months ago, I have a good group of core players that I talk to, who have different styles and that helps you keep an open mind.
The 2013 World Series of Poker is just around the corner, are you planning on playing in any events? Who will you travel with if you do head off to "Sin City?"
I've been going to Vegas the last three years with the same guys. We're doing the full schedule again, which is pretty intense. We always get a house which makes things easier,; it's really nice to get away from it all at the end of the day. I honestly don't know how other people stay on the strip for the duration.
Who are the biggest influences in your poker career? Which players, in your opinion, would you say are the best in the UK and or in the world?
My biggest influences will always be the people I talked poker with throughout my career, even when I first picked up the game. I have learned a lot from talking to Mat Frankland, who has always had a good outlook on things. Another friend Mark Radoja has been around poker a longer and has invested his winnings well, which is a financial model I'm keen to emulate; it's very easy to get carried away and blow your money.
I can only really comment on tournament players who I think are the best and I tend to go with players who seem to get the job done more often than not. Toby Lewis and Martin Jacobson seem to be good examples of that. Chris Brammer bashes me up enough and is another guy who seems to crush, as is Jon Spinks. Obviously, Moorman is a legend and grinds an insane amount which is good inspiration because you have to put the hours in. Sometimes you want to moan about bubbling final tables and how bad you've ran but you have to just get on with it.
What are your poker plans for the coming months? Lots of online grinding or more live MTTs?
I'm going to enjoy the rest of April in Canada, I've been grinding 11:00 to 01:00 while the FTOPS was on, but now the weathers getting better I'll take more days off. May will be spent playing SCOOP back in Newcastle and hopefully it will be the same as the WCOOP when it was sunny and we played golf every day before each session! That's probably just bokked the weather but fingers crossed!
After that its off to Vegas for the WSOP. I've got a good feeling about this summer — I say that a lot though!
Have you got any tips for Sebastian Saffari wanabees?
It's really tough for people getting into poker these days, I came in at the end of the poker boom so have a lot of experience. Back then games were softer and no one really knew what was optimal. Now things are figured out a lot faster and your average fish has better fundamentals than winning players did 10 years ago.
You have to be realistic about how much effort you're going to put into it and whether you're someone who enjoys learning because its all about education. I have always had a good thirst for knowledge, but have to say I was lazy for improving my game away from the table and always preferred playing. Its easy to see who the guys who have put in solid work are and they've all done very well.
For people in the game its always important to have a good group of players to talk to, it means you have the potential to be as good as the best player you know if you can take things from their game to improve your own.
Get all the latest PokerNews updates on your social media outlets. Follow us on Twitter and like us on Facebook now!