Best of the British Isles: Oliver Price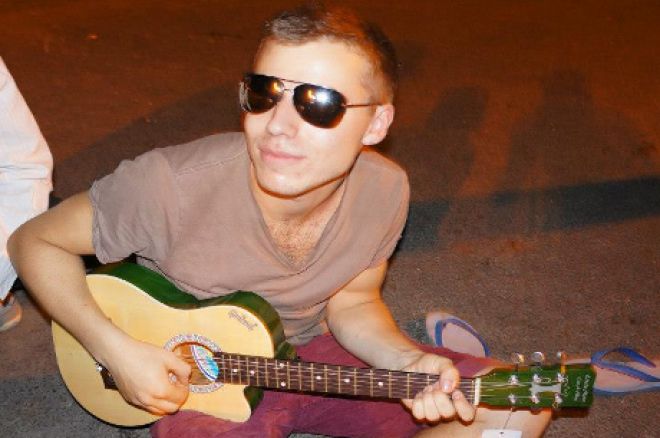 A couple of weeks ago, Oliver Price chopped the PokerStars Sunday Million heads-up for over $180,000. He took some time out from his busy schedule to talk to PokerNews and let our readers know a little more about him.
Thanks for agreeing to talk with us, Oliver. Tell us a little bit about yourself.
My name is Oliver Price, I'm 22, and grew up in south-east London. I'm currently living with a few friends in a flat
in East London.
How did you get into poker? What games did you play in the beginning of your career and what do you play as your main game now?
When I was around 14, I started to play £5 home games with friends and instantly had a fascination for the game. It didn't take long for me to discover the game was popular online too, and with the rather relaxed age enforcement from certain sites at the time, I started playing real money games online by the time I was 15.
I've gone through phases where I'll play more live cash, or online MTTS, but my main focus has generally been towards online cash games. I'm currently playing 2/4 and 3/6 NL 6-max on a multi-platform site called Muchos Poker, and then usually end up
grinding MTTs most Sundays.
Is there a particular reason that you prefer cash games to tournament poker?
There might be minimal recognition given to cash game players, but they have always appealed to me over MTTs for a number of reasons. You just have more control with things like setting session times or selecting who you're playing against. This is especially true on smaller networks where the community of regulars isn't large; I enjoy playing against a lot of the same people day in day out. There's nothing like finding a leak in a player who's sitting at five of your tables. These are all luxuries that aren't so inherent in grinding MTTs.
When did you decide it was time to play poker professionally?
I was a few months into university in Brighton before deciding to take poker on full-time. It was a questionable decision at the time, but my heart was never fully in my degree and poker was what I wanted to do. I did continue to live in Brighton for a few years though. It's a really great town with a pretty good poker scene too.
You recently finished second in the Sunday Million for $184,688. That must be an amazing feeling. Can you remember how the tournament panned out? Where there any particular spots that stood out? Did Sami "Lrslzk" Kelopuro or Aaron "Aguskb" Gustavson give you much trouble?
I'd had next to no success in the Sunday Million before this result, reassuring myself that I was just plugging away for the chance of a big pay-day. So naturally it felt pretty good to have such a big score roll in. That's an unimaginable number of hours grinding cash, so to book that much in one night is really special.
It's difficult to sum up how the tournament panned out as there were so many stages to it and I was adjusting my play at different points depending on my table etc. For example, deep into the tournament there were a few very good aggressive players around my left, so I was only opening hands that I wasn't folding to three-bets with. On the other hand, a little earlier in the tournament I was sitting reasonably deep with two fish at the table, so I opened up my range massively so that I could be playing pots versus the fish, who will be making a ton of mistakes.
I came into the final table seventh in chips and to my delight people started busting out reasonably quickly. I was lucky enough to find myself all-in with kings twice, which did most of the work to seeing me through to the final three. The big names at the table had busted out by this point, and even though it was a relatively soft two opponents left, I suggested we make a deal and the other two players agreed. I managed to get a little over my ICM from both of them which was nice. After that I was still hungry to win it, and got myself in a decent spot heads up, but fell at the last hurdle.
Do you think your cash game background gives you an advantage when you play tournaments?
Of course, all the work I put into my game for playing cash will always be applicable to tournament poker to some extent too. But compared to players that are dedicated to tournament poker, with every concept or piece of theory they come across being set around tournament strategy, there really is no substitute. Unless I'm willing to put the same sort of work into my tournament game then I will always be at a disadvantage to tournament pros. But on Sunday's when tournaments are oozing value this becomes pretty insignificant.
What does a typical day look like for you when you are grinding out a living?
Even though the games tend to be better in the evenings, I generally prefer to play during the day and leave the evenings free. I can sometimes slip into nocturnal patterns, especially if I'm playing a lot of live, but I normally feel a lot better being up by midday and on the tables by 14:00. This means I can clock-off around 18:00 and do whatever.
I keep telling myself I need to put in more volume as I only play on average 30,000 hands a month, which isn't a lot for a pro, but I'm quite easily distracted and usually if I receive a phone-call to do something away from the felt, poker generally takes a back-seat! I'm not sure how much the Sunday Million win will help with this, but it's something that I'm working on.
What are your main hobbies away from the felt?
I would love to tell you something cool like free-running or crocheting, but most of the time away from the tables you'll find me playing FIFA. In-fact, if there's anyone out there who's interested in a Heads-up/ online-FIFA challenge, then get in touch!
I do like to travel and go out a lot too, as well as playing guitar and the occasional game of squash or football.
Who would you say are the people who have influenced you the most in poker?
The two players that instantly come to mind, would be Andrew 'balugawhale' Seidmen and Phil Galfond. I know neither of them personally but I would say they've both had a pretty big impact on how I approach and shape my game. Reading Andrew's Easy Game Volume 1 and 2 was a massive game changer for me, and I've watched/ read a lot of his other content since, and it really is top-class. And Phil has always been leagues ahead of anyone else I've seen when it comes to talking/ writing about the game. I've recently signed up to his new training site RunItOnce, and really look forward to seeing how the content on there develops.
If you could swap place with any one in poker for a day who would it be and why?
Patrik Antonious. He's just the man.
The World Series of Poker is just around the corner, will you be heading out there? If so what events are you planning on playing?
I was out there last year for the first time and, although I didn't play any events, it was definitely my intention to come back this year and give it a shot. I've had a quick scan of the schedule, but I'm not sure of my dates yet so I don't know exactly what I'll be playing. The $2,500 4-max and the Main Event stand out the most at the moment, and then I'll probably play a couple of $1,000s and $1,500s as well.
Have you any tips for up and coming players who are either just getting into poker or are looking to take their game to the next stage?
Game-select. Something that most players including myself don't really do enough of. An average player game-selecting very well will often have a higher win-rate than a good player game-selecting poorly. Taking shots at higher limits when you feel you're comfortably beating the stake you're at is very important too.
Do you want to feature in the Best of the British Isles feature? Drop us an email at matthew.pitt@pokernews.com or leave a comment in this article.
Get all the latest PokerNews updates on your social media outlets. Follow us on Twitter and like us on Facebook now!