Best of the British Isles: Mat "checktrap11" Cuthbertson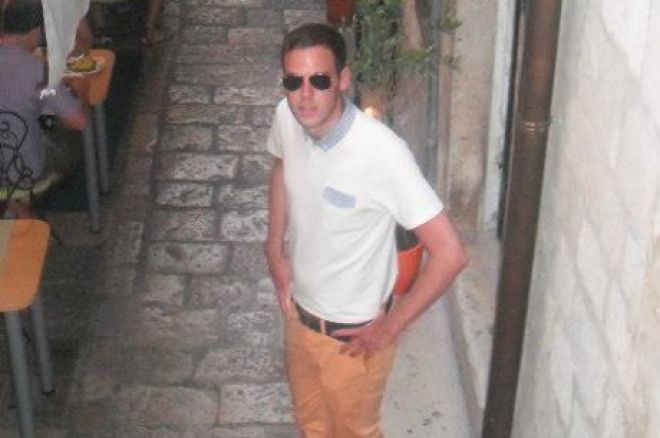 Next up in our Best of British Isles feature is Mat Cutherbertson, an online grinder with a difference. What is different about this online MTT specialist? He holds down a full time job yet still manages to be ranked in the top 20-30 of the United Kingdom. Keep reading to find out more about him.
Thanks for taking the time to speak to UK & Ireland PokerNews. Tell us a little bit about yourself.
I'm Mat Cuthbertson, I'm 26 and live in London. I was born in Leeds although I moved to a town in Suffolk called Bury St Edmunds when I was 10 so quickly had the Yorkshire accent beaten out of me!
Pokerwise, I play on Stars and FTP as 'checktrap11'
How long have you been playing poker for? What games did you first start playing? What do you play now?
I started playing poker in my first year at Leeds University in 2004. They had a poker society which ran micro stakes cash and MTTs every week and there were a few decent home games that I regularly donated to.
By my second year I was mainly playing online MTTs anything from £5-£100 depending on which month it was and when my Student Loan came in!
These days my average buy in is around $100 but I play anything from $20 through to some of the bigger Sunday stuff like the $215s, $100r and the Sunday $500.
I believe you almost turned pro but decided not to. What made you change your mind?
After graduating I took year out, worked a ski season in France and then did some travelling. When I came back to the UK, I had no idea of what I wanted to do and did seriously contemplate playing poker full time.
There were loads of reasons I didn't go down that route and to be honest I'm glad I didn't. While I loved the idea of it, my parents definitely didn't. Secondly, I felt I could beat the games I was playing but I wasn't convinced I had the right mindset to deal with the inevitable swings and pressure of poker being my sole source of income.
Probably the main reason was some sound advice from my Dad that poker wasn't going anywhere; it was more important to start a career and treat poker as profitable hobby.
Being ranked 27th in the UK for online poker tournaments is evidence you can juggle working a full time job with grinding MTTs very well. What does a typical day look like for you? What effect does a full time job have on your poker playing because I think deep runs must be a nightmare!
Yeah it is tough. I played over 2,000 MTTs last year and there were a couple of times where I would be deep in something and get 1-2 hours sleep before going into the office. It's a lot easier to deal with when you win rather than busting in ninth or something, but it's not sustainable in the long run.
These days I'm a lot more sensible about the schedule I play – you soon learn roughly what time certain tournaments finish and so I plan around this. When I'm playing during the week I'll only reg turbo's or early stuff that finishes at a decent hour. It can be frustrating not playing some of the better value tournaments that start later, but it's tough to play your best poker when you know you have to be up in a couple of hours.
That rule goes out of the window on Sunday's though!
You are currently backed by Elio Fox and Paul Dlugozima. How did that deal come about? Do they have input into your play? How do you think being backed helps or even hinders you?
I had my own action last year but took the decision in October to withdraw my bankroll and use it as a deposit on a flat. I wanted to carry on playing at the level I was at, so I went about seeking a backer. Zima and Elio run one of the best organised and respected staking organisations, so I was pleased to do a deal with them.
In terms of input, they are really supportive and always happy to work with you on developing your game and it's useful to be able to speak to other guys in the stable as well. The backing debate is probably too long to go into here but for me it works perfectly given my life situation. The downside is obviously the fact you split your profits, which was tough to take at first, but for me this is most definitely outweighed by the fact that you can focus on playing your best poker without getting too worried about the inevitable beats or a downswing.
Being friends with Martin Jacobson and Sebastian Saffari must be great for developing your own game. Would you say these two have had major influences on your poker progress? Who else has had an influence on your poker playing?
The best way to improve your game is definitely talking to and getting to know the thought processes of people that are better than you. Martin's obviously a sicko but we haven't actually discussed too much poker. Bassy and I started playing together at Leeds and he's probably had the biggest influence on my game. Not just in terms of discussing certain spots or general strategy but more seeing how dedicated and motivated you have to be if you want to win consistently. Other than that, I'm in a few good MTT Skype groups which help and Dan Charlton / judgedredd13 always talks a lot of sense.
Do you have any poker related goals? How do you plan on achieving these goals?
I don't really have major goals other than to continually work on improving my game. In terms on achievements a six-figure score would be nice!
What is the most common mistake you see your opponents make in your games?
Bluffing me – I call too much! On a serious note there are two things I notice a lot. One is people missing great spots for value bets on the river and the second is getting involved in unnecessary and high variance preflop levelling wars; I'm definitely guilty of this.
Who are the best players you come across on a regular basis?
There are so many good UK players these days but those that stick out for me online at the moment are Chris Moorman, Rick Trigg, Ross Loggie, Toby Lewis and Bassy Saffari. Outside of the UK I'd say David 'betudontbet' Emmons. The guy is just ridiculous.
You're yet to register a "flag" on your Hendon Mob page, do you have any plans to play more live poker to rectify this?
Ha, I won the £25 r/a once at Gala in Leeds back in 2005 but I guess they don't count that! I've played a couple of live events and would definitely like to play some more this year. I'm going out to Vegas in the Summer and will play the Main Event so hopefully I can rectify that.
Do you have any tips you would like to share with our readers?
Win flips and run well!
Get all the latest PokerNews updates on your social media outlets. Follow us on Twitter and like us on Facebook now!