Best of the British Isles: Andrew "Stato_1" Hulme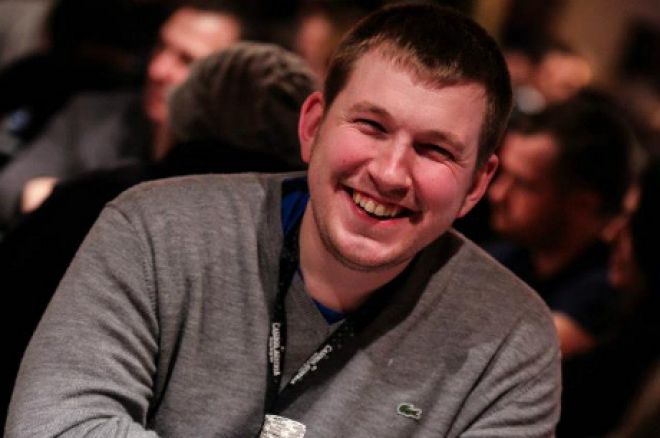 The United Kingdom and Ireland has some of the world's best and most consistent poker players. Some of them are continually in the limelight, others prefer to get it quietly as it were. One of the latter is Andrew Hulme, who sat down with UK & Ireland PokerNews recently and talked about all things poker.
Thank you for talking to us Andrew. Tell PokerNews readers a little bit about yourself.
My name is Andrew Hulme, I'm 24 years old, was born in Peterborough and grew up in Stamford in Lincolnshire, which was recently voted the nicest place to live in the country! Running good from the start I guess! Now I live in Mapperley in Nottingham with three other professional poker players; Alex Goulder, Paul Jenkinson and Tom High.
What is your poker story? How did you get involved in this crazy game? What games and stakes did you start out playing what is your main focus now?
My story is fairly generic I'm afraid. I watched Late Night Poker and WPT Coverage on TV and was instantly hooked. I remember playing a £32 pot in the common room at sixth form one lunchtime and feeling like a boss. I was definitely a bit of a teachers pet at school and playing poker was the only thing I ever did that was against the rules!
I learned more about the game while at Warwick Uni, where I used to go to pokersoc and we had a pretty impressive bunch of poker alumni such as Rupert Elder, Kanu7 and Ash Mason to name a few, so I was pretty keen to attempt to at least try and partially follow in their footsteps. I started off playing $4.40 180man sngs on PokerStars, and was pretty convinced that I was one of the best players in the world when I luckboxed winning two of them in a row, how naïve I was! These days I play pretty much any tournament online between $20-$200 with some occasional shots at higher stuff.
Why do you use the "stato" references in your usernames? Are you a bit of a maths geek or just a Fantasy Football fan?!
I think it does stem from the fantasy football guy, but slightly indirectly. I travel back to Stamford to play cricket every weekend in the summer and have since I was about six years old. I've always had a pretty good head/memory for figures and I'm partially ashamed to admit that I knew everyone's batting averages when I was about 11 years old and I was dubbed Stato by someone in my team — I think after the Fantasy Football character — and it just stuck. I don't really use it for any new sites these days as it reasonably valuable for people to not know who you are.
Describe what a typical day grinding multi table tournaments is like for you. When do you start playing? When do you typically log off and go to bed? How many MTTs do you play at once? How much do you spend buying in per day?
A typical grind day for me begins at about 18:00, but I can start later if I've got something on and am busy. I would pretty much never start after 22:00 though. I tend to register everything until about 23.30, then if I'm feeling good or deep in a couple of games that might take a while, I quite often bring out the "re-reg" and can often end up playing till 06:00. It's can get pretty intense but I genuinely enjoy it every time I play so I don't mind at all!
With respect to buy-ins, I'm probably in for about $4-5k most days, maybe twice as much on Sundays.
One of the worst aspects of tournament poker is it is so high in variance. How do you deal with the negative side of variance, which is an area that so many players struggle with.
I'd probably say this is one of my biggest strengths. I'm certainly not under any illusions that I'm one of the best MTT players in terms of raw ability, far from it, but I'm fairly disciplined and don't think I make too many massive mistakes even when things aren't going so well.
My worst downswing is around $50k (look away now mum!) I think which is obviously annoying, but I don't feel like it really affected me too much and I wasn't feeling down about it or anything. I'm currently being backed though, so when I lose it's not actually my money – this obviously helps.
What is your grinding set up like?
Terrible! I just bought a new Sony Vaio recently which is pretty sick, but I more often than not just play on a laptop. We do have monitors and stuff but quite often all of us in the house prefer to be together when playing so congregate in the living room.
You recently climbed into the top 10 in the UK rankings on PocketFives after some superb results. Is there any reason for the sudden spike in form? Are you running well or playing well or combination of both?
I'm definitely running well, that's for sure. I'd like to think I've improved as well. I don't really think I've changed too many specific things but just gained more and more experience. It definitely helps that I live with other poker players too as we're constantly talking and thinking about the game. Actually, thinking about it, my labelling and note taking has definitely improved, but only from terrible to below average!
The 2013 World Series of Poker is just around the corner, are you planning on playing in any events?
Hmmm, I've not decided 100% yet. I went last year and had a great time with some very limited success. It will depend on a few things, not least who else of the people I went with last year are going. I've got my eye on Australia in January 2014 for Aussie Millions, England Ashes tour, and Australian Open tennis, so might just save my money for that instead. In reality though, I'm probably not going to be able to resist going, it is amazing!
Who are the biggest influences in your poker career? Which players would you say are the best in the UK or who do you have the most respect for?
Firstly I should mention my family and in particular my nan. I used to go to her house from a very young age as it was only around the corner and play card games with her. If only she knew what it would lead to she probably wouldn't have let me play to be honest. My mum is also now poker's biggest fan despite hating it initially, but is always there to keep my feet on the ground!
There must be a hundred people within poker who have had a positive influence in my career, but if had to pick out a couple I would probably say one would be Keith Johnson, a high stakes sicko who plays as KungFuMonk online. Incredible person to have as a backer and to learn from because his overall attitude to the game really is exemplary.
The other is Simon Deadman. He's one of the first people I met when I started going to Dusk Till Dawn and we got on pretty well from then on. Watching him play live poker really is something to behold. He doesn't miss anything and has always impressed upon me the importance of being a professional and always really paying attention to what's going on, even if I haven't always listened! Also he manages to maintain being chatty and friendly towards all the other players, which I think a lot of younger players, myself included, sometimes neglect and are too quiet.
I don't think I'm any near qualified to even estimate who the best players in the UK and the World are, but some UK players who I really respect are people like James Atkin (epitomised), George Bedi and Julian Thew, I can only imagine how difficult it must be to juggle having a family with the sort of lifestyle that poker brings, but these guys have stood the test of time, been successful, and are, probably by no coincidence, some of the nicest guys around!
What are your poker plans for the coming months?
I tend to travel for live MTTs more during the winter, mainly because I don't want to miss any games of the cricket season, so I favour staying around home more in the summer so it's easy for me to get back to Stamford. Also, in terms of live MTTs this winter, things have gone absolutely terribly, I'd have been so much better off if I'd just stayed at home, so not really feeling live poker at the moment.
What are your tips for up and coming Andrew Hulme wanabees?
I'd be amazed if there are any, but I guess: Win all-ins, and put in as many hours as you can to overcome variance. Also be willing to deviate from the norm, and try new things otherwise you can definitely become predictable and your game can very easily stagnate.
Get all the latest PokerNews updates on your social media outlets. Follow us on Twitter and like us on Facebook now!