PokerStars Launch 5 Card Omaha and Three Other New Games!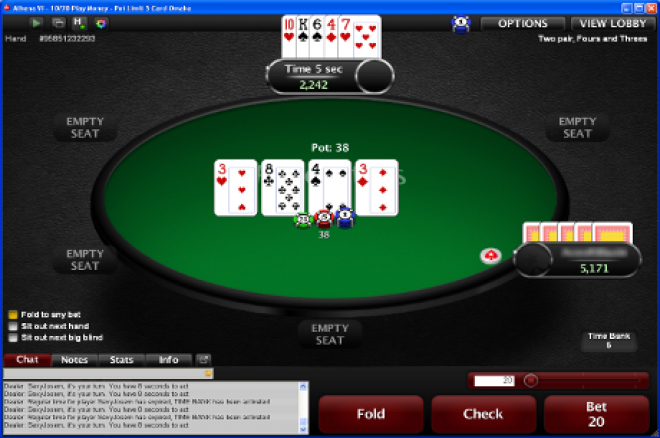 Within the next week PokerStars will start dealing 5 Card Omaha and three other new and exciting cash games.
Five Card Omaha is becoming increasingly popular in mixed live cash games and now it will be possible to play this fun game from the comfort of your own home – or even on your favourite mobile device thanks to the superb PokerStars Mobile App.
The other new games set to launch are 5 Card Omaha Hi/Lo, Courchevel and Courchevel Hi/Lo.
As the name suggests, 5 Card Omaha and its Hi/Lo variant play the same was as standard Omaha except each player receives five hole cards instead of four. Players then use exactly two cards from their five hole cards to make the best five-card hand.
Courchevel is extremely popular in France but that popularity has started to filter through to the UK. This crazy game generates tons of action thanks to each players being dealt five hole cards and then the first card of the flop is dealt face up before the first round of betting takes place!
All four new games will be available at 6-Max tables at the following stakes:
Pot Limit - $0.10/$0.25 to $200/$400
Fixed Limit (Hi/Lo variants) - $1/$2 to $1,000/$2,000
Team PokerStars Pro David Williams loves 5 Card Omaha and he gave this little tip to PokerNews readers.
"One tip: mate the nuts! Drawing to the second-best hand is a fast way to lose your chips!"
Download PokerStars via PokerNews and you will be offered a very lucrative sign-up package. Enter the marketing code UKPOKERNEWS and the bonus code STARS600 and you will be eligible for a 100% match up to $600 first deposit bonus. In addition to that bonus, you will also be eligible for all future promotions PokerNews and PokerStars hold together, which in the past two years has seen over $500,000 in prize pools up for grabs!
Get all the latest PokerNews updates on your social media outlets. Follow us on Twitter and like us on Facebook now!