PartyPoker Weekly: Win Superb Prizes Every Day in the Daily Deal Promotion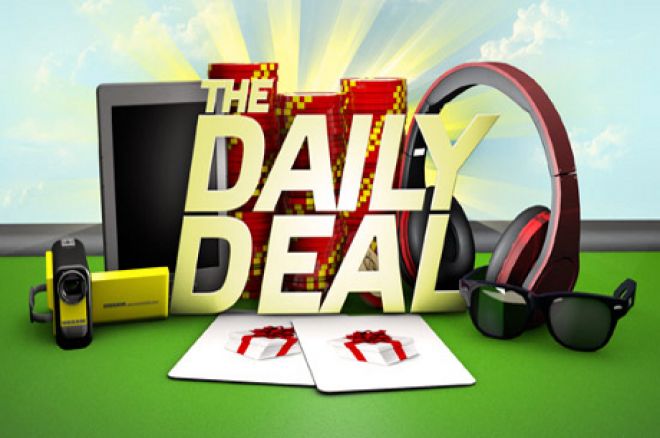 Win a Special Prize Every Day Throughout March
It may be a blanket statement but we believe that everyone loves to receive gifts and it appears that PartyPoker believe the same thing because they are giving away special prizes each and every day during the month of March.
The Daily Deal promotion will see PartyPoker players receive a free prize every single day during March just for logging into their PartyPoker account! These free gifts include freeroll entries, FastForward cash vouchers and tournament dollars, while one lucky PartyPoker customer will win a Kindle Wi-Fi.
In addition to the free daily gift, you can earn as many extra free gifts as you like by playing at real money tables! You can win Ray-Ban sunglasses, Nike equipment and even cold, hard cash! Check out the graphic below to see examples of what you can win!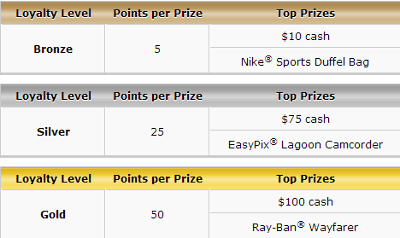 Please be aware that if you win a FastForward Poker voucher you will have to activate it in the "bonus" section of your PartyPoker account.
Log into your PartyPoker account today and see what special prize you have won! Good luck!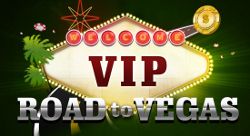 Win Your Seat to the 2013 WSOP
The 2013 World Series of Poker is just a few short months away and you could be heading to Las Vegas to compete in one of its many side events or the $10,000 Main Event for free thanks to the VIP Road to Vegas Promotion.
This fantastic promotion kicks off on March 4 and runs through to April 21, which gives you plenty of time to accumulate as many PartyPoints as you can each day. Earn 250 PartyPoints on 10 days during the promotional period and you will receive an additional 750 PartyPoints to spend as you wish, but if you are prepared to put the hours in at the tables PartyPoker will reward you with a WSOP package!
Earn 800 PartyPoints per day for 45 days and a $5,000 WSOP side event package will be yours. Increase your PartyPoints haul to 1,500 per day for 45 days and you will be awarded a WSOP Main Event package that is worth $14,000!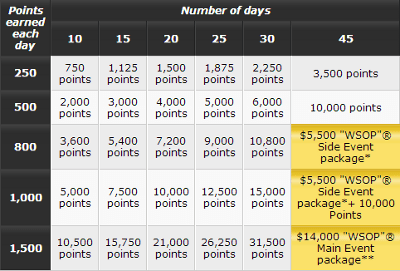 The $5,000 and $14,000 packages can be exchanged for $3,000 and $9,000 in cash respectively.
Any player who wins a WSOP package will enjoy a true VIP experience. At the 2012 WSOP, PartyPoker VIPs were treated to helicopter rides, had lavish pool parties thrown and much more besides.
This promotion is only open to PartyPoker players who are Palladium or Palladium Elite VIP status. You will automatically become a Palladium VIP member if you earn 9,000 PartyPoints in a calendar quarter.
Take the FastForward Challenge and win a Cash Bonus Every Week
FastForward Poker, PartyPoker's offering to the "fast-fold" world, allows players to play hundreds of hands per hour thanks to seating them in a player pool rather than at one fixed table. Instead of having to wait for a new hand to be dealt, players can click the "Forward Fold" button, and be whisked from their seat and placed on a new table with new cards and different players.
This means that waiting for premium holdings are a thing of the past and it is now easier than ever before to play several hundred of hands per hour! Being able to play more hands per hour potentially increases your hourly win rate and thanks to a brand new promotion that is focussed around FastForward Poker, your hourly rate could be boosted even further.
The FastForward Challenge will see you awarded a poker bonus of between $5 and $100 just for playing FastForward poker. Earn just a single point on four days across the week and a $5 poker bonus will find its way to your account. Earn one point every day for seven days and this bonus increases to $10.
The maximum bonus this promotion yields is $100, awarded to anyone who earns 100 points per day for seven consecutive days. Points are awarded per $1 paid in rake. What's more, FastForward poker plays so fast that you will be plowing through hands in such a rapid fashion that the points will just rack up.
| Points Per Day | Four days in a week | Seven days in a week |
| --- | --- | --- |
| One point per day | $5 poker bonus | $10 poker bonus |
| Five points per day | $15 poker bonus | $20 poker bonus |
| 25 points per day | $35 poker bonus | $40 poker bonus |
| 50 points per day | $45 poker bonus | $50 poker bonus |
| 100 points per day | $75 poker bonus | $100 poker bonus |
As an added incentive to grind, PartyPoker will award you with an extra cash bonus if you qualify for a bonus for 12 weeks in a row.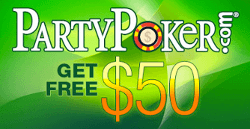 Grab a Free $50 Bankroll While You Can!
Don't have a PartyPoker account, but after this article you really wished you did? Then let PokerNews help you and give you a free $50 that you can use to start your online poker career. This free $50 offer cannot and will not last forever, so we urge you to take advantage of it sooner rather than later, otherwise you may miss out on some free poker cash!
Download the PartyPoker software through PokerNews
Create a new PartyPoker account and enter the bonus code "UKFREE50"
Fill out the registration form in the PartyPoker cashier
Return to PokerNews and fill out our brief registration form
Check your email inbox for a confirmation email from free50@pokernews.com
Once you have received the confirmation email, $20 will be placed in your PartyPoker account. You must earn at least 40 PartyPoints before you will be able to withdraw the free $20. If you do not earn 40 PartyPoints within 60 days, the initial $20, or whatever remains of it, will be forfeited. PartyPoints are earned at a rate of two PartyPoints per $1 in rake or tournament fees, so earning 40 within 60 days is easy.
Once you have earned 40 PartyPoints, an additional $30 will be deposited into your account, bringing the total free cash to $50. You must then generate 160 points before you can cash out any of the $30 and must do so within 120 days, otherwise the $30, or the remainder of it, will be forfeited.
If you experience any problems with this or any of our promotions, please contact our Ticketed Promo Support System.
Get all the latest PokerNews updates on your social media outlets. Follow us on Twitter and like us on Facebook now!