UKIPT Cork: Thomas Finneran Wins the Title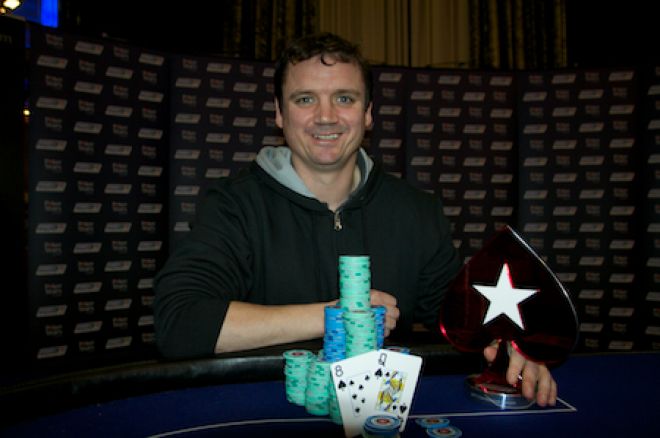 The PokerStars UKIPT Cork Main Event has concluded and it is Thomas Finneran who has won the title. Finneran walked away with the coveted UKIPT trophy and €55,440 in prize money after besting a final table that lasted just under seven hours.
The first elimination saw Nicholas Newport sent to the rail in eighth place, around an hour into play. Finneran opened to 35,000, Newport three-bet all-In for 230,000 and when the action was back on Finneran he snap-called. The reason for this instantaneous action was because he had be dealt


! Newport turned over


and was in really bad shape. Newport's exit was confirmed when the board ran out





.
Next to be eliminated was Pascal Tongi who lost back-to-back hands to go from hero to zero. The first hand saw him call the 10 big blind shove of Fridjon Thordarson with


to find himself up against the lowly


. A nine on the flop was enough to double Thordarson up and leave Tongi nursing a 75,000 stack. A few minutes later, Tongi moved all-in from the button with


and Finneran called from the big blind with


. The board fell





and it was game over for Tongi.
Shortly after Tongi's demise, Alexander Rhys-Davies joined him on the rail having lost his chips to a resurgent Thordarson. Rhys-Davies had been trying, and succeeding, to rebuild his stack by moving all-in preflop. Twice he won the substantial blinds and antes but on the third occasion he attempted to chip up, this time with


, he ran into the


of Thordarson. Rhys-Davies paired his nine on a



flop but could not find a second pair or trips on the

turn or

river.
Deborah Worley-Roberts was the next player to fall, her exit leaving the UKIPT without a female winner once again. With blinds now at 12,000/24,000/3,000a Pawel Keller opened to 50,000 from the button and Worley-Roberts defended her big blind with a call. Worley-Roberts then check-called a 60,000 continuation bet on a



flop, leading the dealer to place the

onto the turn. Worley-Roberts checked again and Keller bet again, making it 90,000 to play. Worley-Roberts then check-raised all-in for round 400,000 and Keller quickly called. Worley-Roberts opened


for a flopped two pair but she was in big trouble against the


that had completed a straight on the turn. The

completed the board and Worley-Roberts headed to the rail.
The level came to an end and the blinds increased to 15,000/30,000/3,000a and during this level Finneran really upped his aggression and saw his stack swell to 2,500,000 as a result. It grew even larger still when he sent Thordarson to the rail in fourth place. The action passed to Thordarson on the button and he moved all-in for 392,000. Fnneran was in the big blind and after exchanging a few words with Thordarson, Finneran called. Thordarson showed


and Finneran had him dominated with the


. Both players paired their king on a





board but Finneran's ten-kicker came into play and the tournament was rapidly running out of players!
Three-handed play lasted for more than a level until Keller's exit was confirmed after a preflop clash with Stephen McGrath. A min-raise to 100,000 by Keller was met by a 225,000 three-bet by McGrath in the big blind. Keller called and it was heads-up to the



flop. McGrath continued with a 250,000 bet and Keller called. The turn put the

into play and McGrath bet again, 300,000 was the size. Now Keller moved all-in for 992,000 and McGrath called, slightly covering his opponent. Keller turned over the


for a flush draw and McGrath the


for top pair. The river was the

and with that Keller was eliminated and heads-up set.
During a short break the two remaining players agreed to take €5,000 from the first place prize and add it to second, meaning the winner would now walk away with €55,440 and the runner-up €45,600. McGrath held a 3,050,000 to 2,575,000 chip advantage but the tables were turned after the first hand of play.
Finneran opened to 100,000 and McGrath called. McGrath then led for 100,000 on the



flop and Finneran called. The

turn saw McGrath bet 200,000 and then call when Finneran raised to 450,000. McGrath fired for a third time upon the blank river, but only 150,000. FInneran raised again, setting the price to play at 750,000 and McGrath called, showing


in the process. McGrath had grown somewhat attached to his top pair and it cost him dearly as Finneran had made a straight with his


and Finneran now led by 3,900,000 to 1,700,000.
From that point on Finneran was in control and it was no surprise to see him run out as the eventual winner. McGrath had shoved, went uncalled and showed aces in one hand and then he tried his luck again by moving all-in preflop with what turned out to be


. This time Finneran called with


and was rewarded with an eight on the flop, another one on the turn and a full house completing queen on the river. Finneran had won!
UKIPT3 Cork Main Event Final Table Results
| Position | Player | Prize |
| --- | --- | --- |
| 1 | Thomas Finneran | €55,440* |
| 2 | Stephen McGrath | €45,600* |
| 3 | Pawel Keller | €24,960 |
| 4 | Fridjon Thordarson | €19,360 |
| 5 | Deborah Worley-Roberts | €14,780 |
| 6 | Alexander Rhys-Davies | €10,510 |
| 7 | Pascal Tongi | €7,885 |
| 8 | Nicholas Newport | €5,910 |
*denotes a deal was struck when heads-up
Next stop for the UKIPT is London between March 6-10. Satellites are already in the PokerStars lobby so win your seat today!
Lead image is the courtesy of the excellent Mickey May, who retains all copyrights to the image.