Kick Off The New Year With A Free $50 From Both Poker770 & PartyPoker!

PokerNews Staff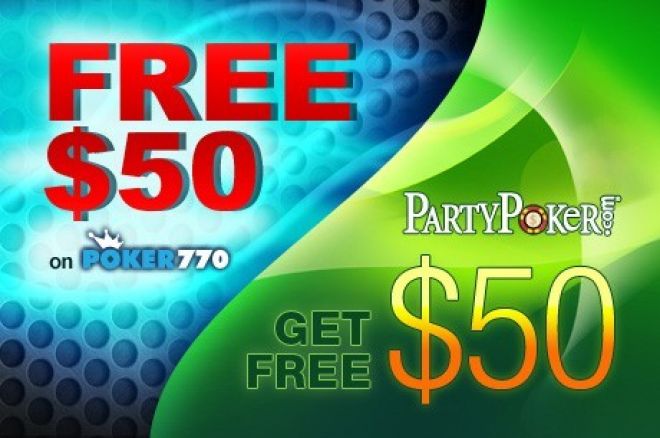 What better way to kick off the New Year than to get a free $50 deposited into your account? That's exactly what PokerNews will do when you sign up for either Poker770 or PartyPoker. What's more, you can make it $100 if you sign up for both!
To get a free $50 on PartyPoker, simply download the PartyPoker software through PokerNews, create a new PartyPoker account and enter the bonus code "UKFREE50", and then fill out the registration form in the PartyPoker cashier. From there, return to PokerNews and fill out our small registration form and then check your email inbox for a confirmation email from free50@pokernews.com.
Once you have received a confirmation email, $20 will be placed in your PartyPoker account. You must earn at least 40 PartyPoints before you will be able to withdraw the free $20. If you do not earn 40 PartyPoints within 60 days, the initial $20, or whatever remains of it, will be forfeited.
PartyPoints are earned at a rate of two PartyPoints per $1 in rake or tournament fees, so earning 40 within 60 days should be a very easy task even for those that play at the micro-stakes.
Once 40 PartyPoints have been earned, a further $30 will be deposited into your account, bringing the total free cash amount to $50. You must then generate an additional 160 points before you can cash out any of the $30 and must do so within 120 days otherwise the $30, or the remainder of it will be forfeited.
To get a free $50 on Poker770, just download Poker770 through PokerNews, enter the bonus code "news50uk", then fill in and submit the details on the form. It is as simple as that.
Still don't believe us? Let PokerNews' own Lynn Gilmartin show you how simple it is:
Once your information is submitted and your account is verified, $25 will be released immediately into your account. From there, earn at least one Poker770 point within the first 60 days of receiving that bonus to lock up the money (if you don't earn at least one point in that time frame, you'll forfeit your right to the money). To release the other $25, you just need to earn 500 Poker770 points within the next 120 days. This is applicable to players in Andorra, Australia, Austria, Brazil, Canada, Germany, Greece, Holland, Iceland, Luxembourg, New Zealand, Portugal, Spain, Switzerland and the U.K.
For players residing in either Argentina, Belarus, Bolivia, Chile, China, Croatia, Czech Republic, Denmark, Estonia, Finland, Hungary, India, Japan, South Korea, Latvia, Lithuania, Macedonia, Madagascar, Mexico, Montenegro, Norway, Paraguay, Peru, Poland, Russia, Serbia, Slovakia, Slovenia, South Africa, Sweden, Ukraine, Uruguay or Venezuela, your free $50 will be split into three parts instead of two, but getting your hands on the free money is still very easy. Here's how your free money will be released:
The first $10 will be released into your Poker770 account immediately
Another $20 will be released once you have earned 500 Poker770 points within 120 days.
Finally, the last $20 will be released once you have earned another 500 Poker770 points within 120 days
To withdraw any of the cash, you just need to generate $50 in cash-game rake/tournament fees or by depositing $100 into your Poker770 account. Do either and then you can cash out your free $50; moreover, you can withdraw any profits over the initial $50 any time you like.
If you'd rather have a generous first-deposit bonus, simply send an email to support@poker770.com and they'll hook you up with one of the industry's best bonuses.
These special offers are only available to new PartyPoker and Poker770 customers who have yet to make a deposit onto either site. Make sure you enter the bonus code "news50uk" on Poker770 and "UKFREE50" on PartyPoker.
If you experience any problems with this or any of our promotions, please contact our Ticketed Promo Support System.
Get all the latest PokerNews updates on your social media outlets. Follow us on Twitter and find us on Facebook!