Season 9 PokerStars.net EPT Prague Day 6: Ramzi Jelassi Wins €835,000!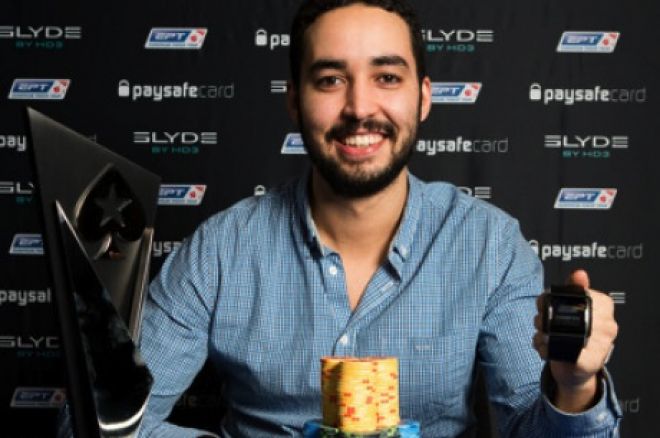 The PokerStars.net European Poker Tour Prague main event has been completed after a grueling 14-hour final table. The winner, and the latest name to be written into the EPT's history books, is Sweden's Ramzi Jelassi, who picks up a life-changing €835,000 for his efforts — and of course a superb Slyde watch and the coveted EPT trophy.
Going into the eight-handed final table, Jelassi was the chip leader with 5,675,000 chips; around one million more precious ceramic discs than his nearest rival Aleh Plauski. Here is how the final table lined up.
EPT Prague Final Table Seat Draw
| Seat | Name | Chips |
| --- | --- | --- |
| 1 | David Boyaciyan | 4,635,000 |
| 2 | Sergey Kuzminskiy | 1,850,000 |
| 3 | Ramzi Jelassi | 5,675,000 |
| 4 | Ben Warrington | 2,200,000 |
| 5 | Sotirios Koutoupas | 3,775,000 |
| 6 | Mark Herm | 1,700,000 |
| 7 | Aleh Plauski | 4,705,000 |
| 8 | Diego Gomez | 1,380,000 |
First to be eliminated was Mark Herm, the talented American just never got going at all. On the 52nd hand of the final table, Sotirios Koutoupas saw the action fold around to him on the button and he raised. Herm three-bet all-in for 1,190,000 and Koutoupas called. Herm revealed


and he found himself up against the


of Koutoupas. The board ran out





and Herm's tournament came to an abrupt end.
An hour later, and on the first hand back from a scheduled break, Aleh Plauski lost his chips to Jelassi. It seemed like Plauski could not do anything right from the moment he sat down and although he started the day second in chips he was the second player to be eliminated. In Plauski's final hand, Jelassi opened to 160,000, Plauski three-bet to 350,000 and Jelassi four-bet to 540,000. Plauski decided his


were good enough to move all-in for 2,450,000 and Jelassi called with pocket nines. The final board read





, busting Plauski and boosting Jelassi's stack to just under 11,000,000.
Following Plauski out of the door was Russian student Sergey Kuzminskiy, whose tournament ended at just before 17:00 CET. Dutchman David Boyaciyan raised to the table standard 180,000 and Kuzminskiy – who had three-bet all-in at least three times during the past few orbits – moved all in once again, but this time he was called. Kuzminskiy flipped his cards onto their backs to reveal


and he found himself in a coinflip against Boyaciyan's pocket tens. By the river the board read





and Kuzminskiy shook the hands of his former table mates before heading out of the tournament area.
Five became four with the exit of the lion suit wearing Spaniard, Diego Gomez. That was not a mistype; Gomez really was wearing a lion suit. On Day 5, Gomez promised to wear some pyjamas if he made it through to the final table and he lived up to his promise by taking his seat whilst sporting a lion "onesey." The tournament became a less eccentric place when Gomez open-shoved for 1,840,000 in the small blind with what turned out to be


and Boyaciyan snap-called with


. Although Gomez caught a nine on the



flop but could not find any more of his outs, as the turn and river were the

and the

respectively.
Four handed play lasted close to two hours before British pro Ben Warrington finally ran out of luck. Warrington has been all in on a number of occasions and each time his bet either went uncalled or his hand held, but when Koutoupas opened to 210,000 under the gun, then called, when Warrington three-bet all in for 1,815,000 you just had the feeling something was about to give. Warrington turned over


and he was up against the


of his Greek opponent. The



flop was no help to Warrington and the

turn certainly wasn't either, as it locked up the hand for Koutoupas. The

river completed the hand and Warrington headed to the sidelines.
Three-handed play took longer than expected, partly because the players took 40-minutes to discuss a deal and when they could not agree in full, they were sent on a 60-minute dinner break to complete those discussions. When the players arrived back at the felt they still had not managed to agree and the decision was made to play out the tournament with the original pay out structure. The deal stalled because Boyaciyan was demanding a minimum of €440,000 (he was offered €415,000); how ironic that would turn out to be.
At just before 23:00CET, Koutoupas opened to 240,000 on the button, Boyaciyan three-bet to 560,000 and Jelassi cold four-bet to 1,225,000. Koutoupas folded and Boyaciyan made the unconventional play of calling. The flop came down



and Boyaciyan moved all-in, Jelassi called and turned over


. Boyaciyan revealed his cards,


, and he was nicely in front. The

turn gave Jelassi some extra outs to the diamond flush and the Poker Gods answered Jelassi's prayers and gave him the

on the river. Boyaciyan became the third place finisher.
Jelassi went into heads-up with a 16,980,000 to 8,940,000-chip advantage – Jelassi held 66% of the chips in play – but it was far from a done deal. The one-on-one battle spanned over 100 hands, during which time Jelassi opened up several leads before Koutoupas closed them again.
The last few hands started to go Jelassi's way and his superior experience started to shine through. The final hand of the PokerStars.net EPT Prague main event saw Jelassi open to 400,000 (blinds 100,000/200,000/20,000a), Koutoupas three-bet to 1,000,000 and Jelassi put his opponent all-in for the second time in two hands. The first time Jelassi did this Koutoupas folded but amazing Koutoupas chose


to call off his stack with. Jelassi flipped over


and the sizeable rail surrounded the table as the dealer fanned out the



flop. The turn was the

and the river the

, and with that Jelassi became the latest Swedish pro to become and EPT champion!
EPT Prague Final Table Results
| Position | Name | Prize |
| --- | --- | --- |
| 1 | Ramzi Jelassi | €835,000 |
| 2 | Sotirios Koutoupas | €510,000 |
| 3 | David Boyaciyan | €310,000 |
| 4 | Ben Warrington | €250,000 |
| 5 | DiegoGomez | €196,000 |
| 6 | Sergey Kuzminskiy | €150,000 |
| 7 | Aleh Plauski | €108,400 |
| 8 | Mark Herm | €75,000 |
For a deeper analysis of the tournament, please refer to the PokerNews Live Reporting pages.
The next EPT stop is at the PokerStars Caribbean Adventure's 10th Anniversary in just a few short weeks time. PokerNews will be there. Will you be? We hope so.
Get all the latest PokerNews updates on your social media outlets. Follow us on Twitter and like us on Facebook now!