Sam Grafton Wins The GUKPT Grand Final; Takes Home Over £100,000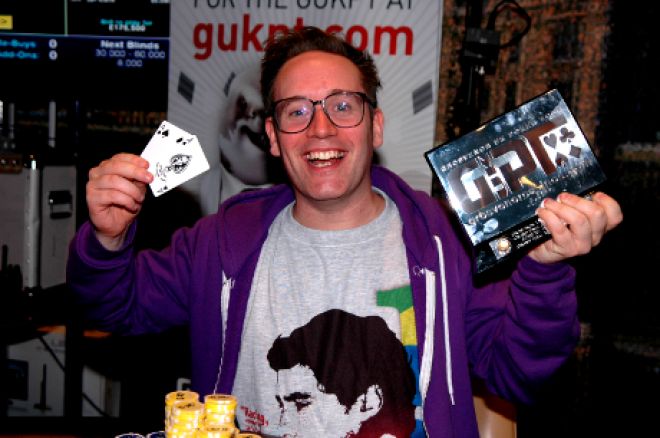 The 2012 Grosvenor UK Poker Tour (GUKPT) played out its Grand Final over the weekend, a £2,500 buy-in tournament that attracted 137 of the region's best poker talent to the famous London Victoria Casino.
Among the 137 starters were the likes of Sam Razavi, Neil Channing, Toby Lewis, James Akenhead, Stuart Rutter and Michael Tureniec, but amazingly none of the players mentioned here made it through to the top 13 finishing positions where the prize money was shared out.
Over the course of the first day's play, the 137 hopefuls were whittled down to just 68 and these were reduced further still on Day 2 when all but the final table of nine were sent to the rail. The bubble burst when Christopher "NigDawG" Brammer's ace-king held against the dominated king of Jamie Roberts; Roberts' demise meaning everyone still with chips in front of them had locked up a payout of at least £5,150.
Simon Deadman ws the first player to pick up some prize money, and he was followed to the sidelines – via the cashier cage of course – first by Ramey Shaio, Black Belt Poker's Jamie Burland and Jan Sjavik. With just nine players remaining the final table looked lined up as follows:
| Seat | Name | Chips |
| --- | --- | --- |
| 1 | Sandeep Khosa | 192,500 |
| 2 | Victor Ilyukhin | 434,500 |
| 3 | Matt Moss | 857,000 |
| 4 | Jon Spinks | 568,000 |
| 5 | Dave Maudlin | 165,800 |
| 6 | Peter Charalambous | 182,800 |
| 7 | George Hassabis | 262,800 |
| 8 | Chris Brammer | 242,500 |
| 9 | Sam Grafton | 520,100 |
Each of the final tablists wanted to get off to a good start as the tournament resumed on Day 3 and Sam Grafton certainly did that. The man known affectionately online as "TheSquid" found himself on the right side of an aces versus kings scenario – Jon Spinks the unfortunate soul holding the cowboys — to see his stack swell past one million chips!
Shortly after Grafton's double up the tournament lost its first player. The dangerous Brammer turned up fashionably late by 20 minutes and then busted no sooner than he had taken his seat! With blinds 6,000/12,000/1,500a, Brammer opened to 24,000 and then called off his remaining 200,000 chips when Matt Moss three-bet all-in from the big blind. Brammer turned over


and was nicely in front of the


of Moss. The



flop kept Brammer in the lead, but a six on the turn completed Moss' unlikely straight and left Brammer drawing dead. A deuce on the river completed the hand and Brammer busted out.
Joining Brammer as a spectator was Sandeep Khosa who lost a coinflip to Peter Charalambous. The latter moved all-in from late position with what turned out to be king-queen and Khosa put himself at risk of elimination by calling off his stack with pocket jacks. It looked to be a decision that would pay off as the flop fell



but a king spiked on the turn to leave Khosa drawing to two outs. They failed to materialise and the GUKPT Grand Final was down to seven players.
Seven became six with the elimination of Dave Maudlin. The action folded to Spinks in the small blind and because Maudlin only had 70,000 chips in front of him, Spinks moved all-in to put the maximum pressure on his opponent. Maudlin looked down at nine-seven and made the call, to find himself up against the queen-seven of Spinks. Neither player improved by the river and Spinks won the pot with queen-high, busting Maudlin.
Sixth place went to George Hassabis who entered a raising war on the



flop with Charalambous that resulted in Hassabis all-in holding


to the


of his opponent. The

turn gave Hassabis a few more outs to a gutshot straight but the

was not one of them, and Hassabis' tournament came to an abrupt end.
The tournament lost one its most dangerous players when Spinks exited in fifth place. Finding himself short of chips, Spinks got his chips into the middle in a blind-versus-blind confrontation with Moss. Spinks held a respectable hand in king-jack but was trailing Moss'


, that was until the flop came down



! Spinks had flown into the lead but any hopes of double up were cut short when the turn was another eight, gifting Moss trips. A deuce on the river sealed Spinks fate and he left the tournament area.
Following Spinks into the cold of the London night was SPinks' executioner, Moss. Down to 220000 chips Moss moved all-in and was called by Grafton. Moss flipped over pocket aces and was in great shape against the queens of Grafton. The




board was no help to Grafton, but the queen on the river was enough to crack Moss' aces and send the youngster home earlier than he would have had planned.
The tournament reached its heads-up stage when Victor Ilyukhin committed his chips with queen-nine (middle pair) on an



flop only to discover Charalambous had flopped two pair with his ace-eight. Despite turning a nine, Ilyukhin could not find a Grafton-esque suckout on the river and heads-up was set.
Grafton trailed Charalambous by 800,000 to 2,600,000 (blinds 25,000/50,000) but doubled up almost straight away when his ace-queen held against ace-six. Grafton then started to turn the screw and it was little surprise when he came out on top a short time later.
Charalambous opened to 115,000, Grafton moved all-in and Charalambous made the call. Grafton showed


and was in need of some help from the board as Charalambous had been dealt pocket tens! The



flop contained two spades, gifting Grafton a flush draw. A non-spade queen hit the turn, meaning Grafton had to his his flush to win as airing his ace would improve his opponent to a straight. The dealer burned a card and then placed the

on the river, and Grafton completed his flush and busted Charalambous from the tournament.
| Position | Name | Prize |
| --- | --- | --- |
| 1 | Sam Grafton | £102,700 |
| 2 | Peter Charalambous | £72,800 |
| 3 | Victor Ilyukhin | £45,400 |
| 4 | Matt Moss | £28,250 |
| 5 | Jon Spinks | £22,250 |
| 6 | George Hassabis | £17,100 |
| 7 | David Maudlin | £13,700 |
| 8 | Sandeep Khosa | £10,300 |
| 9 | Chris Brammer | £7,700 |
Shortly after receiving his trophy and prize money, Grafton spoke to the GUKPT media team and said, "I've got a real sense of achievement. The quality of the field made it tough competition – it's something you can be proud of. Starting out playing, the list of the great British pros that I looked up to when I was starting out, they're all the old GUKPT champions – like Paul Foltyn, Sam Trickett and Karl Mahrenholz. To add your name to that list, it's great.
Thanks to the GUKPT for the lead image and hand histories
Get all the latest PokerNews updates on your social media outlets. Follow us on Twitter and like us on Facebook now!