Roberto Romanello Creates Game-Changing Tournament Format!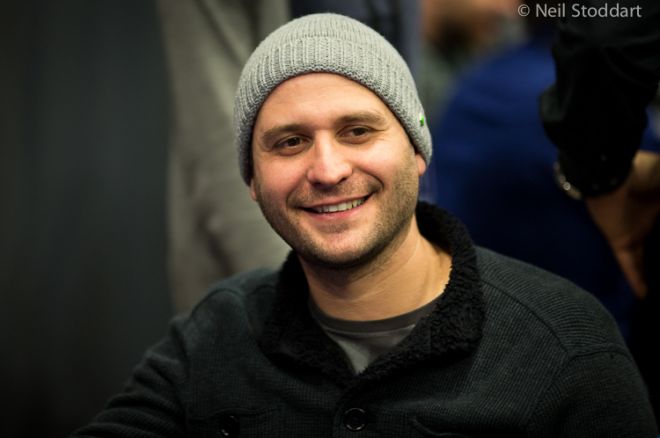 As readers of UK & Ireland PokerNews you are most likely a fan of poker and as a fan of this fantastic game you will almost certainly want to see the game thrive and move onto another level. The problem we face in taking the game to the new levels is that it is difficult to create new formats that work, but that is exactly what is happening right now.
The United Kingdom's number one ranked live poker tournament player, Roberto Romanello is best known for his victories in the European Poker Tour Prague main event and in the World Poker Tour Bratislava main event, but now he could be known as the person who changed tournament poker as we know it. You see, Romanello has come up with a brand new poker tournament format called Multi Prize Pool Poker (MPP Poker) and is launching it at the Dusk Till Dawn poker club on Jan.10.
As the name suggests, Multi Prize Pool poker sees multiple — read that as three — prize pools played for during a single tournament. This allows for increased guarantees, creates three bubbles and a number of different dynamics that will, no doubt, spice up the action. So how does MPP work? Keep reading and all should become clear.
Please be aware Multi Prize Pool poker (MPP) is a trademarked name and there is a patent pending on the entire concept
Each MPP tournament offers three buy-in levels, which creates three prize pools. If the buy-ins were £25/£50/£100 players could choose to buy into the prize pool 1, prize pool 2 or prize pool 3. In this example, prize pool 1 is the default prize pool and the first £25 from any buy in goes into this prize pool. Any player buying into prize pool 2 (£50) will first have £25 invested in prize pool 1 and £25 invested in prize pool 2. Finally, any player buying into prize pool 3 will have £25 invested in the first prize pool, £25 in the second prize pool and £50 invested in prize pool 3.
The graphic below, originally posted on Blonde Poker, gives a good example of the concept in action.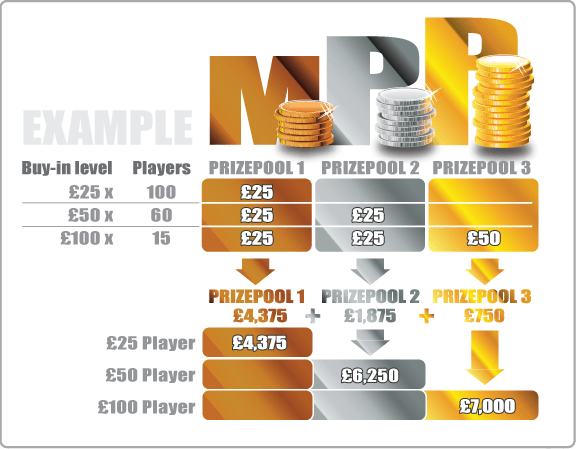 All players start with the same starting stack as they are competing in the same tournament, it is only the payouts that are different to a standard tournament.
If a player buys into the lowest buy-in they can only win money from the prize pool they have bought into , so a player who bought into prize pool 1 (£25 in our example) and went onto to win the tournament would win the first place prize from prize pool 1. However, if the tournament's overall winner had bought into prize pool 2 (£50 in our example), they would win the first place prize from both prize pool 1 and prize pool 2! Completing our example, a player who bought into prize pool 3 (£100 in our example) and went onto win the tournament would walk away with the first place prize from all three prize pools! Basically, players can win money from their own buy in level and any that are lower too!
This exciting new format has a wide range of benefits and I think the poker community will welcome it with open arms. The concept not only allows players with small bankrolls the chance to play in a single tournament with huge guarantees, it also allows players with smaller bankrolls play in tournaments where their idols are competing. Many poker players wish they could sit down at the felt with the likes of Romanello but to do so they would have to buy into tournaments with a buy-in of £500, £1,000 or even £5,000. With MPP poker they will be able to rub shoulders with their heroes for a much smaller investment.
It is not only recreational players who benefit from this either, MPP improves the game for everyone. Players who can afford to buy into the larger buy-in prize pools benefit from having larger guarantees to play for. Also,the fields will be weaker due to the increased number of lower buy-in players and with it being possible to cash or win their respective prize pools without having to actually cash in the tournament, they can be freerolling on the prize pool 1!
I spoke to Romanello on Christmas Eve and he was very excited about how MPP could take off. We spoke about how local card rooms around the UK are seeing dwindling attendance figures and how this could give them a much needed boost.
"I came up with the idea of MPP three years ago," explained Romanello, "But I didn't know how to develop it from an idea into an actual product. I approached Rob Yong and Simon Trumper because of their success with Dusk Till Dawn and I am delighted that I did and that they are both on board. Rob's expertise and guidance has turned my idea into a reality. Simon is working tirelessly to get the necessary software up and running and his talents in the live poker world are second to none. I honestly do not know where my idea would be without these two and I am so grateful for their continued help."
Simon Trumper, the Live Tournament Manager at the Dusk Till Dawn poker club where the inaugural MPP tournament will take place, is also very excited about where MPP poker could lead. He had this to say about Romanello's new concept:
We are really excited about this new concept which we will be exclusively offering, promoting and developing at Dusk Till Dawn.

We have been working on MPP with Roberto for most of 2012 preparing it for patent and trademark while working out the best way to run it from an operational point of view. As you can imagine, from a systems point of view running 3 tournaments in one and linking 3 payouts is not simple to do. Our tournament system is one of the best i have seen with its ability to run 5 separate events simultaneously but there is so much more required to run 3 events simultaneously as one. The programme is currently being rewritten with intention to launch with a big MPP event late Feb / early March.

In the meantime we are going to start with a soft launch in January where we will run the event using 3 tournament screens to show the 3 prizepools, players remaining in each, places paid and prizes.

Where we see this leading is huge guarantees that will benefit all bankrolls eg we would normally guarantee a £500 Deepstack at £100,000, whereas with an MPP event we could have £250 / £500 / £1000 buy ins and a minimum £250,000 guaranteed.

Like all new ideas there will be many questions to answer and i will try to give accurate replies but there are some areas that won't become clear until we actually run it in the club eg the %age of players in each prizepool.

I welcome all questions and feedback whether positive or negative and look forward to our very first MPP event on Thursday Jan 10th.

As this concept develops and we learn we may need to make changes that hadn't been realised.

Cheers and a happy Xmas
The inaugural Multi Prize Pool poker tournament will take place at DTD on Jan. 10, 2013 and will feature three prize pools of £25, £50 and £100. A bumper crowed is expected and I should be competing in all three prize pools so expect a full report once the tournament has been completed. I am very excited about this new format and even more excited that it is one of our very own who has come up with this potentially game-changing concept.
Get all the latest PokerNews updates on your social media outlets. Follow us on Twitter and like us on Facebook now!