Five Thoughts: A Photo Finish for Rettenmaier and Smith

Rich Ryan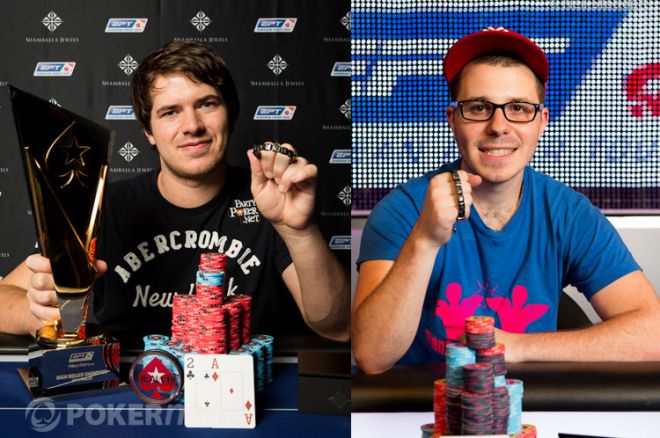 My sincere apologies for not providing you with Five Thoughts last week, but I was fully focused in the Czech Republic, covering the PokerStars.net European Poker Tour Season 9 Prague Main Event. Luckily, I was front and center for the closing ceremonies of this year's amazing player-of-the-year race.
In 2011, Erik Seidel crushed the live tournament circuit, earning over $6.5 million in the process. His continuous success was mind-blowing, and many members of the industry argued that it was the greatest one-year performance in the history of tournament poker.
In 2012, neither Marvin Rettenmaier nor Dan Smith earned more than $3.8 million, but they won a combined 10 tournaments (Seidel won four in 2012). On Saturday, Rettenmaier capped off his year with a win in the €10,000 High Roller at EPT Prague, and not to be outdone, Smith won a €5,000 side event a few hours later.
Rettenmaier locked up the BLUFF Magazine Player of the Year award in the process, while Smith locked up the Global Poker Index Player of the Year award.
It's only fitting that the two split the awards, because if the public voted for the POY award, I bet that it would be very close to 50/50.
Howard Swains, an excellent writer who contributes to the PokerStars Blog, gave a great analogy about the POY in Prague, comparing it to the state of men's professional tennis. In any other era, Rafa Nadal, Novak Djokovic, or Roger Federer would win everything. Every Grand Slam, every invitational event, and every gold medal at the Olympics. Everything.
Unfortunately for them, they have to compete against one another, making it very difficult to win anything.
The POY races in 2012 are very similar. In any other year, Smith, Rettenmaier, Phil Hellmuth, or Greg Merson would've won every award uncontested. Just to give you an example, Eugene Katchalov, the 2011 BLUFF Magazine Player of the Year, earned 1,089.28 points. Merson, who currently sits in third place in the 2012 standings, has already earned 1,157.55 points. Rettenmaier has earned 1,348.52 points.
This was a remarkable year for tournament poker, and Rettenmaier and Smith's performances will not be forgotten anytime soon.
1. P-O-Ys! P-O-Ys! P-O-Ys!
Rettenmaier looked exhausted on Saturday night. His heads-up battle with friend and fellow countryman Fabian Quoss lasted around two hours, and with a last-second surge, Rettenmaier took it down. In his interview with our own Sarah Grant, he claims he even forgot what the first-place prize was.
After Rettenamier spoke with Jens Knossalla, a hilarious member of the German media who had Rettemaier call his mother and put her on speakerphone, Chad Holloway and I had an opportunity to speak with "Mad" Marvin. That conversation will be featured in this week's PokerNews Podcast, but my biggest takeaway was just how tired Rettenmaier looked and sounded.
He told us that, unless he binks a large event at the 2013 Aussie Millions – his next tournament stop – he wouldn't try to repeat as POY next year. It's that draining. He also said that he hadn't even planned on going for the title this year until he won a €2,000 side event at the EPT Grand Final.
As for Smith, he had his eyes on Rettenmaier throughout the entire High Roller final table, making periodical visits to check on the German's stack. At one point, Rettenmaier was worried Smith would find another tournament to play in after Prague.
"Please tell me you aren't playing in anything else after this," he told Smith.
Smith shook his hand, responding, "If you were celebrating about winning, I would've probably played something just to spite you. There is a 10K in Lebanon on Christmas."
Rettenmaier's head shot up.
"No," he told Smith. "That's in January."
The banter was a perfect combination of competitiveness and respect. Rettenmaier wasn't flaunting the fact that he was passing Smith, and Smith wasn't complaining about being passed. Still, you could tell that they both wanted it. They were both competing until the bitter end.
This is great for poker, and I hope that we have two equally competitive, respectable players battling it out for the awards next year. Congratulations to both Rettenmaier and Smith, you guys crushed it in 2012.
2. The Dirty Jersey
For my entire life, I've been teased for growing up in New Jersey. That teasing heightened to mockery when The Jersey Shore launched, and the "armpit of America" became a punch line for people all over the world.
Well, "gym, tan, laundry" may soon be replace by online poker.
On Monday,the New Jersey state assembly passed an Internet gambling bill by a vote of 48-24-4. The bill, referred to as A2578, will be voted upon in the Senate on Thursday, and State Sen. Ray Lesniak is confident that it will pass.
"We're all teed up and ready to get it approved in the senate Thursday," Lesniak told our own Matthew Kredell. "It will be voted on and it will pass for sure."
With the federal push on hold after a disappointing lame duck session, the great Garden State is stepping up to the plate and holding the torch for online poker in the United States. Perhaps the most important part of A2578 is that it was amended earlier this month to remove a clause that would've prohibited companies that operated following the enactment of the Unlawful Internet Gambling Enforcement Act to apply for a license in the state.
On the heels of that amendment, the Wall Street Journal reported that PokerStars is interested in purchasing the Atlantic Club, a struggling hotel and casino in Atlantic City. When asked about the amendment and the report from the WSJ, Lesniak told Kredell that New Jersey would welcome investment from the world's largest poker site.
While the land-based casinos in Nevada are lobbying against PokerStars and attempting to launch their own sites in the state, New Jersey is putting its faith in an online poker site that has great software, a superb reputation, and years of experience. As someone who's been a customer of PokerStars, and a resident of New Jersey, I couldn't be happier.
Come on New Jersey Senate. Do the right thing. And, when it's your turn Governor Chris Christie, leave the veto stamp in your drawer. This is a great move for both poker and the state economy, as well.
3. Bonjour, Paris
On Monday, the World Series of Poker reported that the 2013 WSOPE will be held at the Casino Barrière Enghien-les-Bains, just 10 miles outside of Paris, France. It will be held Oct. 11 through 24, and in the press release, the WSOP called the new venue the "most comfortable and conductive setup for poker players in the WSOPE's seven-year history.
Ty Stewart, Executive Director of the WSOP, told PokerNews that the move from Cannes was motivated by the poplarity of the French Rivera. Because of big events like the G-20 summit, the WSOP was always forced to run the WSOPE during a crowded time of the year.
In 2012, the WSOPE conflicted with both the PokerStars World Championship of Online Poker and the Jewish holiday of Yom Kippur.
"We're not doing the event justice if we're not mindful of the poker calendar and the players key religious observances first," Stewart told PokerNews. "We made it tough on players to attend in 2012, and we're not making that mistake again."
Steward deserves credit for both publicly admitting mistakes and more importantly making the change. In today's poker climate, the calendar is jam-packed with events every single month. While other tournament circuits choose not to adapt, the WSOP has stepped up to the plate and made a necessary change. You can certainly say they made the change to increase profits – they are a business after all – but larger fields also mean larger prize pools. No one can debate that.
There are also millions of Parisians right down the road who can either qualify or directly buy in to the events.
In the press release, the WSOP also hinted at introducing players to "some of the most exciting destinations in Europe." When asked about another future move, Stewart said that the WSOP is looking at options. It would be interesting to see the WSOPE change venues like the Olympics or the World Cup, but that that would be difficult for the WSOP from a business sense. Most of these venues would want multiyear deals or guarantees, and the WSOP already has a deal with BarrierePoker.fr, a company that obviously only operates in France.
4. FTOPS XXI Comes to a Close
On Sunday, the Full Tilt Online Poker Series (FTOPS) XXI concluded with Day 2 of Event #31: $2,100 No-Limit Hold'em Multi-Entry, Event #34: $240 No-Limit Hold'em Multi-Entry Six-Max Knockout, and the Main Event: $640 No-Limit Hold'em Multi Entry.
Kevin "A_theKevlar_2" Schulz ($255,780) and Ronny "ronnyr37617" Kaiser ($142,609) took down events 31 and 34 respectively, but the big story was the Main Event, which nearly doubled the $1.5 million guarantee. The tournament attracted 4,766 entrants, generating a total prize pool $2,859,600, and the winner was Yann "yadio1111" Dion. After a heads-up deal with "CSWAMI," Dion took home $453,229 and will now don the gold jersey. "CSWAMI" banked $413,2229.
The final standings looked like this:
| Place | Player | Prize |
| --- | --- | --- |
| 1 | Yann "yadio1111" Dion | $453,229* |
| 2 | CSWAMI | $413,229* |
| 3 | AmplifiedSample | $253,933 |
| 4 | Scott "iRockhoes" Augustine | $188,734 |
| 5 | Gerald "Aberdonian85" Cochlan | $140,121 |
| 6 | Sorel "Imper1um" Mizzi | $97,227 |
| 7 | Maksim "MAMOHT_T" Viktorovich | $65,771 |
| 8 | Steve "betrthanphil" Tripp | $45,754 |
| 9 | Steve "Zugwat" Silverman | $31,456 |
*Denotes heads-up deal leaving $40,000 to the winner
Despite suffering a small dip in traffic since returning, Full Tilt is back in full swing. Some of the lower stakes players in Prague were buzzing about the upcoming MiniFTOPS series, and tons of players were scattered around the city looking for good Internet on the weekend in able to play the final FTOPS events. Keven Stammen didn't get much going on Day 1a of the EPT Prague Main Event, but he was simultaneously going deep in FTOPS Event #17: $120+9 No-Limit Hold'em Knockout.
He finished second, earning $72,661.40.
Sorel Mizzi was unable to close as the chip leader of the €10,000 High Roller final table, but as you can see from above, he final tabled the FTOPS Main Event the following day.
These players are very excited that Full Tilt is back, and the traffic will return to peak form soon enough. Perhaps Full Tilt, being owned by the Rational Group, will also make a return to the U.S. via New Jersey. One can dream, right?
5. Raghavan Wins Big, Klodnicki Finishes Strong Again
Ravi Raghavan, known as "govshark2" online, finally shipped a big score on the live tournament circuit. Last week, he took down the Season XI World Poker Tour Five Diamond World Poker Classic, besting Shawn Buchanan heads up and earning $1,268,571. Before that win, Raghavan's largest live score was for $150,810, which he earned for winning a $2,500 side event during the Five Diamond series.
Every time I've covered Raghavan, he's run terribly. I actually went back into our Live Reporting archives and dug up this gem from 2010:
Table 31 is situated right in front of us, and moments ago were heard Ravi Raghavan's headphones thud on the table. We jumped up to see what had happened, and here's what we gathered.
After a



flop, Raghavan was all in and at risk against Jennifer Harman. Raghavan was well ahead with


and Harman needed some help with a worse flush draw;


.
The

on the turn was clean, but the

spiked on the river, giving Harman a winning pair of fours.
Yes, Raghavan was upset when flipped his headphones off, but he quickly collected himself along with his Beats By Dre, and sincerely wished the table good luck.
After the fortuitous river card, Harman is up to 40,000 chips.
Don't believe me or that hand? Here are a few tweets from Ryan Olisar, a friend and fellow online grinder:
To all poker players who have been on a recent downswing n runnin like shit, just try to keep ur head up n stay positive like @ravirags1234

— Ryan (@OlyDaJew)
Guy runs under par deep in mtts for years and finally gets his time today after many years playin the game day after day w/o breaks

— Ryan (@OlyDaJew)
While Raghavan wasn't the "big story" with Antonio Esfandiari looking to cap off a monster year, he deserves the victory, and I was very happy to see him take the tournament down.
A week later, on the other side of the country, Chris Klodnicki took down the 2012 Sands Bethlehem DeepStack Extravaganza Main Event. Klodnicki earned $135,000 for the victory, putting him over $1 million in tournament earnings for 2012. This is the first time he's achieved that feat, and he now has over $3.9 million in career tournament earnings.
This is the fourth consecutive year that Klodnick has registered a big score in December. In 2009, he won the $5,000 WSOP-C Harrah's Atlantic City Main Event ($215,915). In 2010, he finished second in the $10,000 WSOP-C Harrah's Atlantic City Regional Championship ($221,452). And in 2011, he won the $20,000 Epic Poker League Mix-Max No-Limit Hold'em Main Event ($801,680).
Klodnicki, who finished second in the 2012 WSOP $50,000 Poker Players Championship, has earned $358,000 or more in five consecutive years, and $973,000 or more in three of the last five years.
Congratulations to both Raghavan and Klodnicki for finishing strong. Word is that Klodnicki is lobbying for there to be a $5 million tournament in December of 2013.
Have your own thoughts on these Five Thoughts? That's what the comments section is for below. And don't forget to follow PokerNews on Twitter for up-to-the-minute news.
*The views expressed in this article are those of the author and do not necessarily represent those of PokerNews.